July 12, 2004 Harh 29, 536 Nanakshahi
NEWS RELEASE
SIKH MEN ATTACKED IN AN ALLEGED BIAS CRIME
Queens, NY – UNITED SIKHS is currently investigating an alleged bias crime that occurred in Queens (Richmond Hill), NY. The victim, 54 year old Rajinder Singh Khalsa, was walking to the Tandoori Express Restaurant with his cousin when a group of Caucasian males in their 20s began to harass and taunt the two Sikhs, using references to September 11th and aimed derogatory remarks towards their turbans, a required article of faith for a Sikh. Rajinder Singh Khalsa attempted to explain the religious significance to the Caucasian males, who ignored his explanation and proceeded to physically assault him. He was beaten unconscious and was found to have multiple broken bones, including facial and fractures of the eye socket.
A detailed list of the events, obtained from Rajinder Singh and Gurcharan Singh (the victims), and Mohinder Singh (associate of the victims) of Queens are as follows:
Ø The owner of Tandoori Express (Gurcharan Singh) and Rajinder Singh Khalsa were making their way to Tandoori Express by car (Gurcharan Singh had invited Rajinder Singh to tea at Tandoori Express).
Ø Unable to find parking on 101 Street (where Tandoori Express is located), they parked on the intersecting road, Lefferts Blvd, which is where the restaurant Villa Russo is on.
Ø 2 Caucasian males and 1 Caucasian female were standing in front of the Villa Russo restaurant. The males were intoxicated.
Ø Upon Gurcharan Singh getting out of the car, one of the Caucasian males taunted Gurcharan Singh by saying, "Give me back my curtain". Gurcharan Singh responded, "This is not your curtain. This is my turban".
Ø The Caucasian males proceeded to continue with insults alluding to September 11.
<![if !supportLineBreakNewLine]>
<![endif]>
Ø Rajinder Singh tried to intervene and explain that the turban is a required article of faith of the Sikhs, which had nothing to do with September 11. Gurcharan Singh took this opportunity to call 911. This action infuriated the Caucasian males present and they began to insult the Sikhs' families.
Ø An elder Caucasian male, who was standing by an automobile, walked over and said to Gurcharan Singh that because he had called 911, he would kill Gurcharan Singh. Gurcharan Singh noted the license plate number of the automobile that the elder Caucasian male was standing next to after this threat. This further infuriated the Caucasian males.
Ø The elder man went inside the restaurant and 5-7 more Caucasian males emerged from the Villa Russo and began to shove, and then physically assault Gurcharan Singh, first by knocking his turban off.
Ø Rajinder Singh tried to intervene stating that Gurcharan Singh and himself were members of the Sikh faith that was peaceful, but the Caucasian group then left Gurcharan Singh alone and then proceeded to beat up Rajinder Singh to an unconscious state. Both Gurcharan Singh and Rajinder Singh stated that all the assailants had something in their hands that they were beaten with.
Ø The Caucasian males then fled the scene in their cars and left behind one cell phone, which was given to the police for evidence, along with the license plate numbers.
Both victims suffered extensive injuries, with Rajinder Singh having a broken nose, a fractured eye socket and bruising on the cheeks and forehead (see pictures below).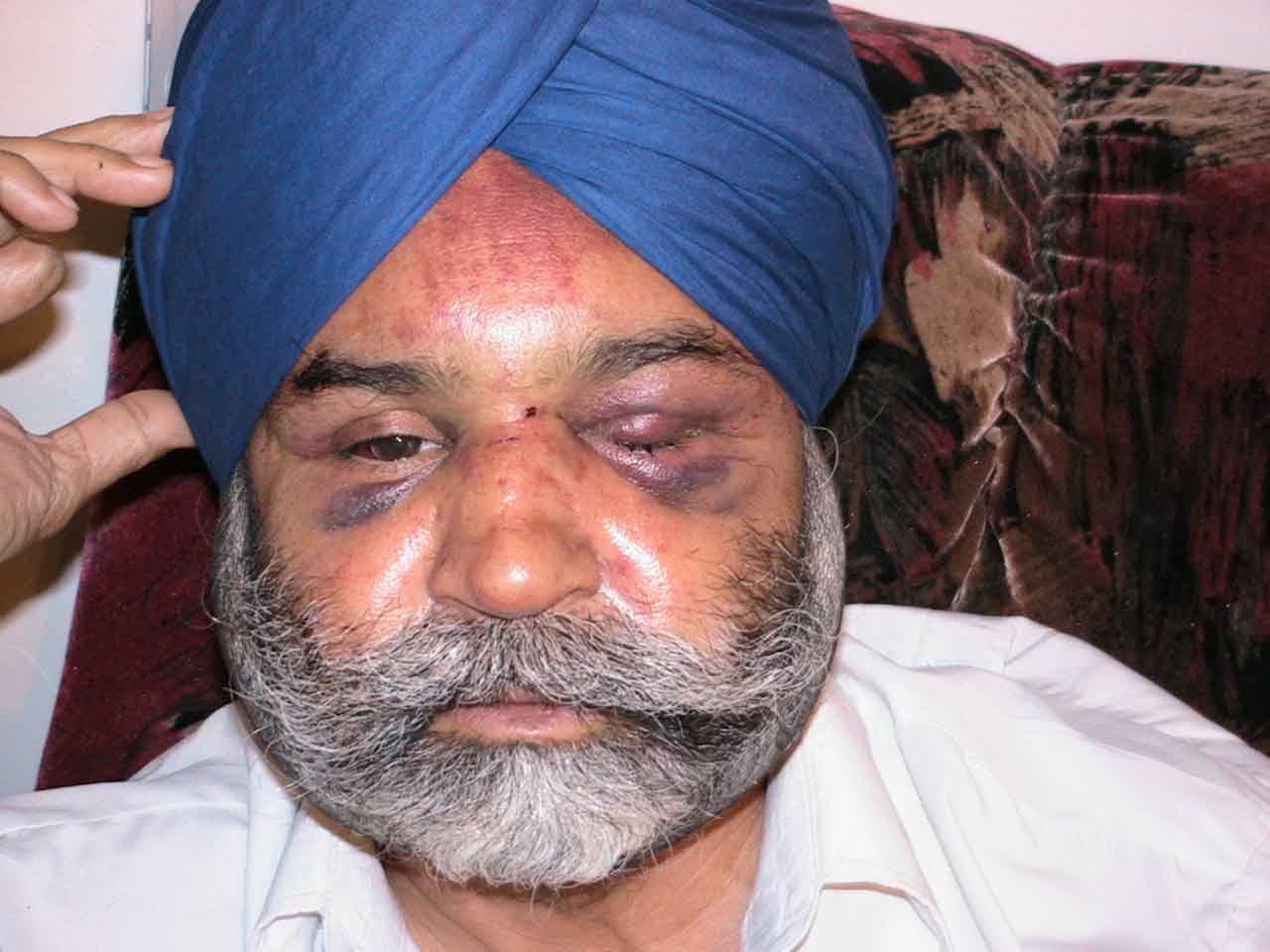 Rajinder Singh Khalsa After the Attack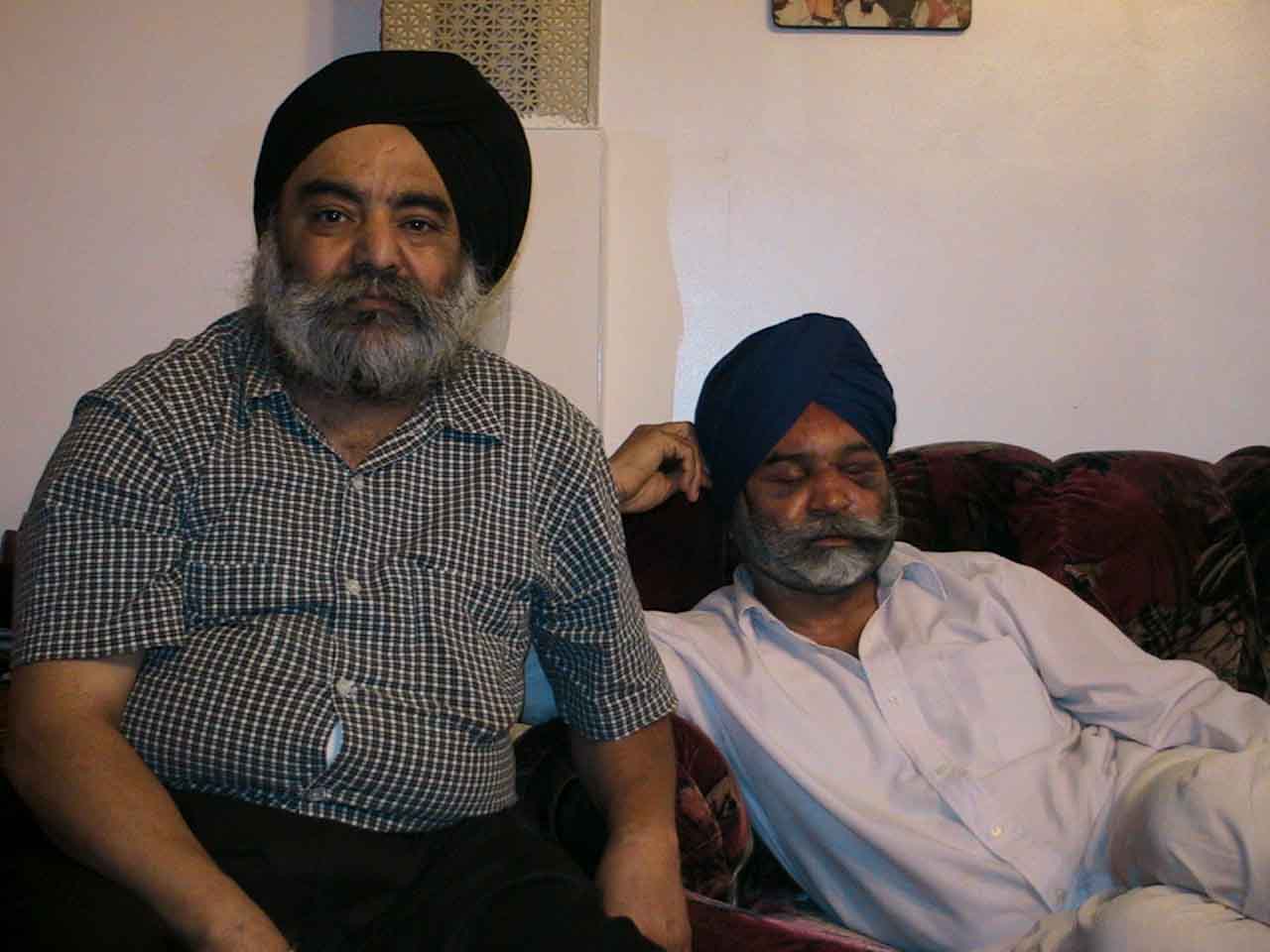 Rajinder Singh and Gurcharan Singh – both victims of the attack.
UNITED SIKHS' Director, Hardayal Singh, as well as other representatives are meeting with the victims, as well as contacting the local authorities involved in the case to assist in any way possible. UNITED SIKHS representatives have contacted the New York attorney general Elliot Spitzer's office, and will be contacting the office of the American Civil Liberties Union (ACLU).
UNITED SIKHS urges that members of the Sikh community remain calm, composed and patient for all the details of the investigation to emerge and for the case to be confirmed a bias crime (as it is still under investigation). Please allow the law enforcement officials to conduct a thorough investigation into the incident and bring to justice those that are involved in this alleged bias crime.
For more information related to this story, please see:
http://www.ny1.com/ny/TopStories/SubTopic/index.html?topicintid=1&subtopicintid=1&contentintid=41473
Our Mission:
To transform underprivileged and minority communities and individuals into informed and vibrant members of society through civic, educational and personal development programs, by fostering active participation in social and economic activity.
UNITED SIKHS is also an avenue for networking between like-minded organisations to establish and nurture meaningful projects and dialogues - whether social, cultural or political- to promote harmony, understanding and reciprocity in our villages, towns and cities. UNITED SIKHS is a coalition of organisations and individuals, who share a common vision based on the belief that there is no greater endeavour than to serve, empower and uplift fellow beings. The core of our philosophy is an unwavering commitment to civic service and social progress on behalf of the common good.
Accordingly, UNITED SIKHS has sought to fulfil its mission not only by informing, educating and uplifting fellow beings but also by participating in cross-cultural and political exchanges to ensure that the promises and benefits of democracy are realized by all.
We at UNITED SIKHS believe that the development of enlightened and progressive societies can be made possible by socially conscious groups of people who make a commitment to develop and direct human potential. Our work, efforts and achievements stand as a testament to our faith in this vision.