July 7th, 2004 23rd Harh, 536 Nanakshahi
PRESS RELEASE
BARCELONA, SPAIN: Council for Parliament of World's Religion (CPWR) is hosting "Parliament of World's Religion" (PWR) in Barcelona from July 7th to July 13th. Different religions and cultural groups are participating for inter-religious dialogues. Sikhs from various parts of the world have come to Barcelona to exchange ideas on the issues of peace. It was disappointing for the Amritdhari (Baptised) Sikhs on the opening day of the Forum when they were denied entry into the main building because they were carrying their swords "Kirpan". Director of the UNITED SIKHS for the North America Kuldip Singh, who is in Barcelona for a presentation in PWR, took the initiative along with a group of Amritdhari Sikhs from Surrey, Canada to resolve the confusion. Despite their earnest efforts the local police and the security officials at Barcelona denied entry to the Sikhs with their Kirpans. Dr. Balwant Singh Hansra, executive committee member of CPWR approached some senior council members to resolve the issue.
Sikhs sat at the entrance for more than two hours and started chanting "Chaupai Sahib". Harjinder Singh Gill, from Surrey, Canada termed this as disrespect to the Sikh religion. Ten year old Takdeer Kaur from Surrey was also denied the permission to take her Kirpan. Sikhs prayed (ardas) in the presence of the local media at the entrance. The Mayor of the City of Juan Calso , who had come for his inaugural speech at the PWR forum, came to enquire about the problem. UNITED SIKHS' volunteers along with Dr. Balwant Singh Hansra, Chicago, a permanent trustee of CPWR, apprised the Mayor of the situation. He happily agreed to allow Sikhs inside the forum with the Kirpan. City Mayor asked the security to allow all the Sikhs with their ceremonial swords. The reluctant officers had no choice but to allow 33 Sikhs to attend the forum.
Rana Pratap Singh, a Barcelona UNITED SIKHS activist, spoke to the local TV media and explained the importance of "Kirpan", which was broadcast on TV the same evening.
(UNITED SIKH volunteers explaining City Police about the Kirpan)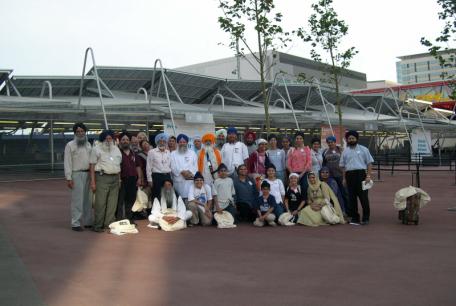 Sikhs waiting for approval to take Kirpan along with them
Following Sikhs took a strong stand against taking off Kirpan at Security Gate.
UK : Giani Gurbax Singh Gulshan, Manjit Kaur Gulshan
Barcelona, Spain: Ajit Singh Purewal, Rana Pratap Singh.
Surrey, Canada: Harjinder Singh Gill, Simranjit Kaur Gill, Gurpreet Singh Gill, Swarn Singh, Kuldeep Kaur, Harinam Kaur, Jaswant Kaur Jawanda, Harpreet Singh Jawanga, Tarnjeet Kaur, Takdeer Kaur, Kamaldeep Kaur, Nirbhau Kaur, Niesha Kaur, Sunrinder Kaur , Kamaljit Kaur Sidhu, Harneet Kaur Sidhu, Manraj Kaur Sidhu, Anup Kaur, Teerath Singh Sandhu, Hari Singh Sandhu, Gagandeep Kaur Sandhu, Harleen Kaur Minhas, Manjot Minhas, Jaswinder Kaur Minhas.
Chicago: Mohinder Singh, Dr. Balwant Singh Hansra
California: Marinder Singh, Giani Tara Singh, Charan Kaur
Atlanta: Kuldip Singh