Sikh girl on US' Kabul mission

CHANDIGARH: She slung an M-16 rifle on her shoulders for the first time when she was 17. At 20, she is patrolling the streets of Kabul.

Meet Indian-born Ranbir Kaur of the US National Guards who first hit headlines in 2003 after becoming the first Sikh girl to join the US armed forces that consists of over 200,000 women soldiers.

Presently on active duty in Afghanistan, 'Specialist Kaur' is attached with the 315th SECFOR and is on a one-and-a-half-year mission in the war-torn country.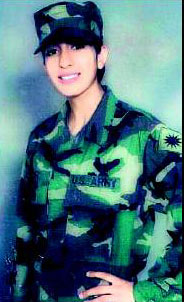 GI JANE: Specialist Ranbir Kaur was recruited to be a supply clerk during the Iraq war

Born in Nijjran village of Jalandhar district, the young warrior reached the US as a seven-year-old after her father Mahan Singh, pursuing dollar dreams, secured a green card in 1990.

Brought up in an isolated town, Earlimart, in California, her brush with the uniform dates back to 2001 when she was a freshman (Grade IX) in high school at Delano, which was the closest city.

"I would see (officers of the) army, marines, air force and the navy standing outside the career centre of the school distributing fliers to students. I thought the uniform was awesome,'' she said.

In 2003, this daughter of a Jat Sikh grape grower faced the ire of white supremacists, who posted spam emails terming her recruitment as a means to seek citizenship. But she was already a US citizen, and the young girl set about proving her detractors wrong through hard training.

"If death doesn't deter me, nothing else does,'' she told TOI in an exclusive interview. "I was so upset earlier that I asked myself, did I join the forces for this treatment? But then, I'm me and I do what I got to do.''

She was initially recruited to be a supply clerk during the Iraq war as rules didn't permit women to fight frontline. "In a situation like Afghanistan, everything is frontline,'' she said.

During the 2005 Katrina hurricane in New Orleans, the devout Sikh was instrumental in the recovery of the Guru Granth Sahib after the New Orleans gurudwara was submerged.

United Sikhs, an organisation, had sought her assistance and Ranbir had got everybody moving after she announced that the living Guru of the Sikhs was under water. Amid random shootings, air force rescue experts David Cruz and Tom Bausmas had rescued the scriptures in an operation that lasted 22 hours.

1. Ranbir Kaur, now 20, became the first Sikh woman to join the US armed forces in 2003. She is now on a one-anda-half-year mission to Afghanistan

2. GI JANE: Specialist Kaur was recruited to be a supply clerk during the Iraq war. She had also helped recover a submerged Guru Granth Sahib after Hurricane Katrina hit New Orleans.
---