Thousands are expected dead and the entire city of New Orleans is under water, amongst other cities, after Hurricane Katrina hit the south-eastern United States in what is being called one of the worst and most expensive natural disasters in American history. The police, armed guards, and medical professionals are struggling to provide essential services with hundreds of thousands of people homeless, displaced and or injured.
UNITED SIKHS has started the GHANAIA Katrina Hurricane Relief project and is working together with US authorities to gather resources and build a team of volunteers, including medical professionals, who will aid the refugees in Louisiana. We need your support, through time, effort and money, to make this project successful.
---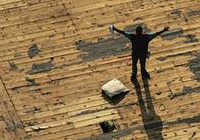 You can give your support to the victims of this latest natural disaster by either donating or volunteering. Please click the appropriate link below.
Please Be Involved, Click here to Volunteer for UNITED SIKHS
Please do not send any more material supplies until further notice as they can now be purchased at nearby stores. Kindly send gift vouchers or donate at www.unitedsikhs.org/donate/
---
---

GHANAIA Katrina Hurricane Relief Gallery
---
Read what our partners say about the UNITED SIKHS GHANAIA Katrina Relief project.
---
Katrina Accounts Statement 03.10.2005 (PDF: 38.4 KB)
---
GHANAIA Katrina Hurricane Relief Project Timeline
---

We require your assistance to increase awareness of the GHANAIA Katrina Hurricane Relief Project. In order to do this, we ask that you use the following downloadable poster to spread the word.
Project Poster (pdf: 200 KB)
---
---
What is GHANAIA
GHANAIA is an international relief effort, established by UNITED SIKHS in 2003 to provide impartial, non-partisan aid and assistance to victims in disaster situations. GHANAIA stands for Giving Humanitarian Aid Necessities Assistance Impartially to All and is inspired by the Sikh saint, Bhai Ghanaia Ji, who served in the army of the 10th Sikh Enlightener, Guru Gobind Singh Ji, and gave water and medicine to ailing war soldiers and victims without prejudice, seeing the same God in all beings. For more information on GHANAIA, please e-mail contact@unitedsikhs.org.
---