Sikhs gather supplies for Asia
Group collects clothing, toys, food to be sent to tsunami victims
By ESTHER WU / The Dallas Morning News
As a member of the Sikh community in North Texas, Gurvinder Singh has been looking for a way to help victims of the tsunamis that devastated south Asia.
"As soon as it happened, the United Sikhs organized relief teams that went into the areas to help," said Mr. Singh, who has been spearheading the local Sikh relief effort. "They have been on the ground since. Now they tell us what is most needed are supplies. We need to get these items to them as soon as possible."
Photograph by Rick Gershon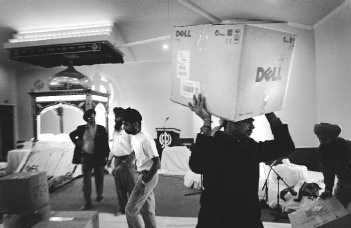 Photograph 1.
Ritesh Patel (right) moved a large box of clothing for the tsunami relief drive at the Gurdwara Singh Sabha Sikh Temple on Saturday in Richardson.
On Saturday, Mr. Singh and his team began loading a ship container with clothing, toys, canned goods and medical supplies that have been donated by the regional chapter of the United Sikhs, as well as other community groups, businesses and individuals.
The container is scheduled to leave for Houston today, where it will depart for Madras, India, next week. "It needs to leave as soon as possible before the monsoon season arrives," Mr. Singh said. "Once the monsoons start, the seaports will be closed."
The project is being organized by the regional United Sikh chapter under the auspices of Ghanaia, an international relief project established by United Sikhs in 2003.
Mr. Singh said Ghanaia has sent 550 tons of supplies to the affected areas already -- including water purifiers, diggers, clothing and medical supplies. "Different chapters have been contributing either by collecting money or supplies," Mr. Singh said. "But we had the opportunity to send our own container."
Through his contacts with the local Sikh business community, Mr. Singh arranged to have a ship container delivered to Dallas. After it is loaded, it will then be shipped overseas at cost of about $3,500.
"We easily raised that money," said Mr. Singh, whose regional chapter includes Texas, Louisiana, Arkansas and Oklahoma. "But we could only fill about half of the 10-ton container."
Appeals went out to community organizations, as well as businesses and individuals. Mr. Singh even asked his bosses for help.
After only two weeks, he believes the container will be completely filled.
"We were thrilled when Gurvinder brought his organization to us," said Deborah Dale, director for people at PCI, where Mr. Singh works.
"Our company had been looking for a way to participate in the relief program, but we usually prefer to take a more hands-on approach. We thought this would be a good way to help and a fun way to participate."
Photograph by Rick Gershon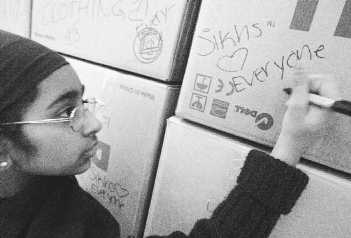 Photograph 2.
Adesh Sharma writes messages on boxes of clothing to be delivered to tsunami victims.
The company's 175 employees collected more than 1,000 pounds of clothing, blankets, teddy bears and canned goods.
Though the Filipino community has held its own fund-raisers for the tsunami relief effort, Lita Cruz has asked them to help collect supplies for Mr. Singh.
"We first met Gurvinder at the tsunami relief rally sponsored by Dallas International," Ms. Cruz said. "He told me about plans for a shipment and that he still had room for more items. So we've collected about a truckload of canned goods, sacks of rice and clothing for him."
Mr. Singh said that when he began this project, he had no idea what it would encompass.
"We set out to fill a 10-ton container," he said. "We weren't sure how we'd do it or even if we could do it. But I knew however much was collected, it is very much needed. Besides, Sikh are determined people. I knew we could do this if we set our minds to it."