About GHANAIA
GHANAIA is an international relief effort, established by UNITED SIKHS in 2003 to provide impartial, non-partisan aid and assistance to victims in disaster situations. GHANAIA stands for Giving Humanitarian Aid Necessities Assistance Impartially to All and is inspired by the Sikh saint, Bhai Ghanaia Ji, who served in the army of the 10th Sikh Enlightener, Guru Gobind Singh Ji, and gave water and medicine to ailing war soldiers and victims without prejudice, seeing the same God in all beings. For more information on GHANAIA, please e-mail: contact@unitedsikhs.org.
---
Media Reports
---
Relief Effort

UPDATE: Volunteers of the GHANAIA Tsunami Relief Project are providing relief aid to tsunami victims in Banda Aceh. We are currently arranging volunteers and making strategic partnerships at ground level to maximize efficiency and effectiveness in the relief process. Our aim is to feed and support the victims of this disaster, especially those who have not yet been reached. Your financial contributions are immediately beneficial and very much needed. Please fundraise in at your community hall, church, gurdwara, etc. on holidays to support this project.
---
Type of Relief
The aim of the GHANAIA Tsunami Relief Project is to provide immediate, personal hunger aid. Ready-to-eat cooked food, in the form of langar, will be made accessible to victims of the disaster in a direct matter. Long-term access to clothing is also part of the project, but will not be initiated until immediate physical health concerns are pacified. It is our effort to give the displaced, homeless and diseased people healthy food and nourishment, as these resources are scarcely available in the most affected areas.
Goals
It is our goal to immediately feed the displaced and homeless victims of this tragedy to prevent malnutrition and further health deterioration. GHANAIA volunteers will also partner with local and international relief agencies to provide the best care to the individuals that need it most.
Locations
GHANAIA will set-up langar camps in Banda Acheh (Indonesia), Sri Lanka, India, and other affected areas. We also aim to extend aid to areas of disaster victims that have been neglected or not reached by current relief efforts.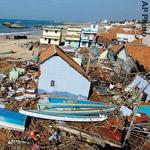 Support
None of this effort is possible without financial contributions. Please exercise your responsibility of Dasvandh (10% Donation from Income) and donate to the Relief Fund. Your contribution will have real, immediate effects that will provide sustenance and hope to the disaster victims.

Please donate, even if you cannot give a lot. Your contribution will help victims directly.