Dear Supporter,
In April, UNITED SIKHS volunteers examined Phoola Maya Tamang at a medical camp set up in Nepal after the devastating 7.8-magnitude earthquake that devastated the nation and left many in need of urgent medical aid. When it was determined that the 57-year-old mother needed further medical care, we transported her to the nearest government hospital, and promised to cover all medical expenses when she was admitted to the high care unit. Phoola was one of over 1,000 individuals treated during our Nepal Relief Effort of 2015.
Little did we know that Nepal would need our help so soon after we bid the nation farewell. But the call has been heard, and we need your help to support Nepal again.
Reports from the Red Cross in Nepal and our contacts on the ground have impressed the need of urgent medical aid to be delivered to Nepal. UNITED SIKHS aims to help supply various medicines and 25,000 urgently-needed blood collection bags (bags that will be used to store blood for individuals in need of blood transfusions), and we need your help to do this. We humbly request you to donate whatever you can to help provide the funds necessary to supply urgent medical care to those in need in Nepal.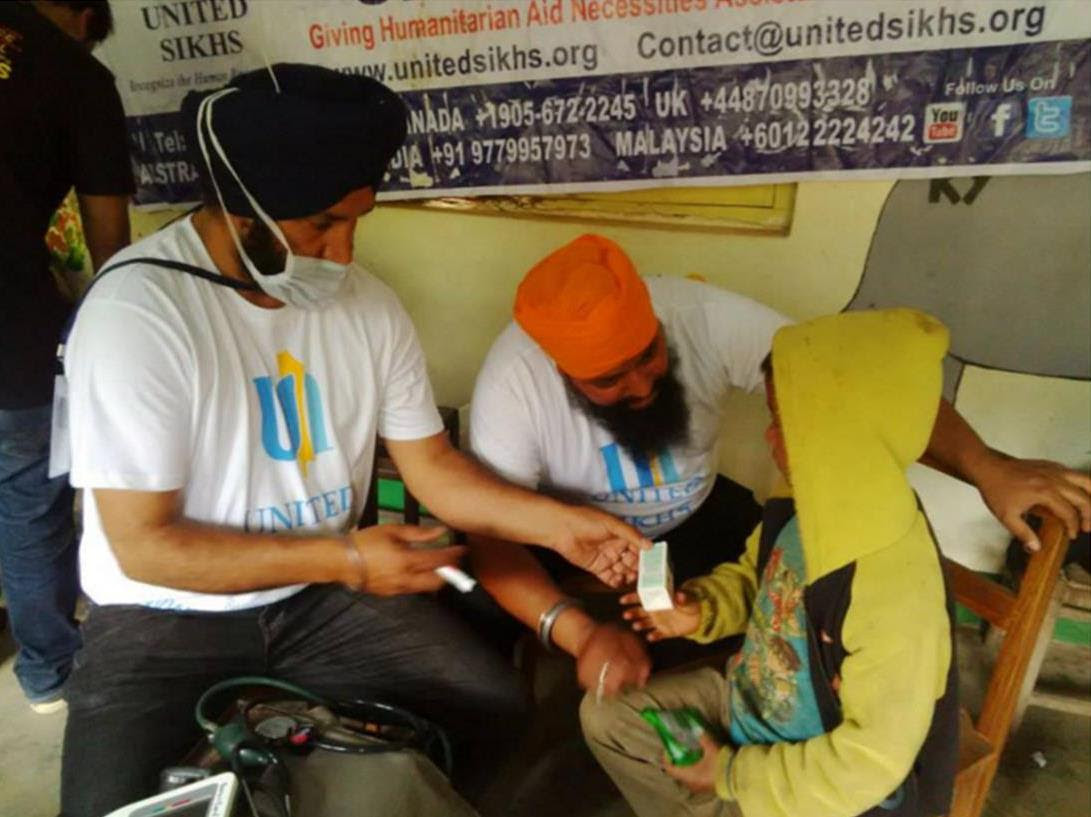 UNITED SIKHS providing medical care in Nepal earlier this year.
Why is medical aid urgently needed?
The current situation prevailing in Nepal has caused one of the most dire fuel-shortages the country has ever seen. Medicine and other supplies are also in dangerously low supply. Life saving medicines such as Injection Adrenaline, Injection Succinylcholine, Injection Nor-adrenaline , Atropine , Anesthesia, and Injection Dopamine are already out of stock in most of the major retailers. Nepal doesn't manufacture injection (IV) products (mostly used in surgery and emergencies), except for one manufacturer with a limited band of the product. Hence the majority of such emergency drugs are rapidly becoming out of stock. Hospitals are also running very low on labor-inducing drugs, and some areas outside of the nation's capital of Kathmandu have been forced to stop performing dialysis. Click hereto track current medical needs.
Earlier this year, we provided thousands with aid and assistance in Nepal. Once again, we have been called on by Nepal–this time with the specific request for medical aid. We cannot heed the call without your support; please donate today.

Keep up to date on UNITED SIKHS initiatives by following our social media accounts:Facebook | Twitter