Two of the 3,000 Syrian and other refugees who have already received hot meals from UNITED SIKHS, thanks to your support.
Today, we'll gather around the hearth with our children and loved ones, as we remember the 300th anniversary of the shaheedi (martyrdom) of the Chhote Sahibzadey, who were six and nine years old when they were bricked-up alive by the Moghul authorities for refusing to give up their Sikh faith. Whilst our thick walls will shield us from the cold, we will recall how they were first kept in a cold burj (tower) with their grandmother, Mata Gujri, as pressure was put on them to give up their faith.
While you cherish their bravery, we also hope you'll think of the young Syrian, Afghan, and Iraqi refugees and their families, who are in need of a hot meal when they arrive on a night-train in Tabanovce, Macedonia. One such family is that of two-year-old Habiba, who arrived in subzero-temperature in Tabanovce this week, leaving behind unthinkable dangers in Iraq, and continuing on an equally treacherous path. Our team struggled to communicate with Habiba's family, who spoke a little English and Arabi, but Habiba's father continued to repeat two words to our volunteers in earnest: "Thank you."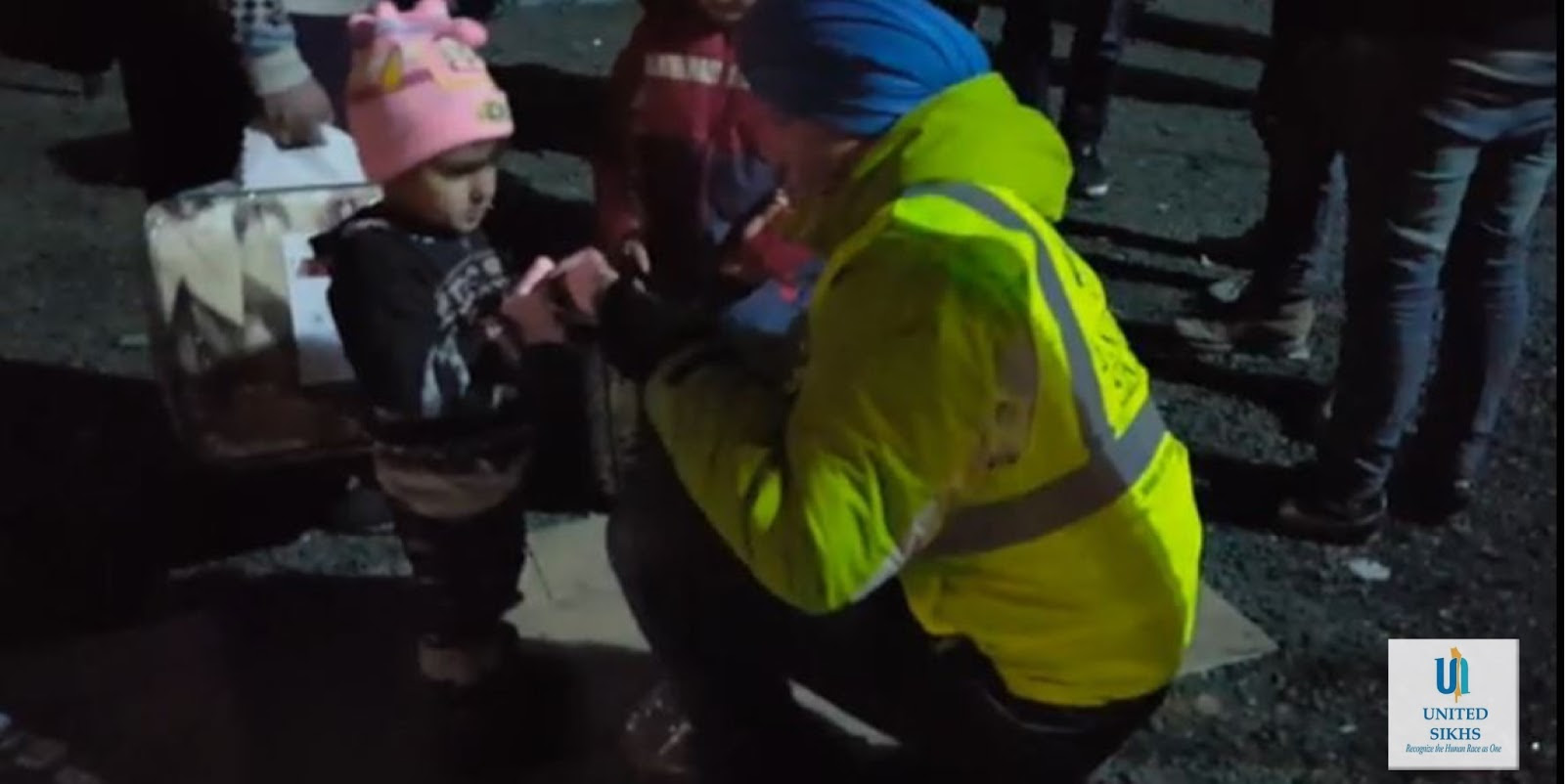 18-year-old UNITED SIKHS volunteer Mussa Suleiman puts gloves on Habiba as her family eats hot daal (lentils) and bread.
In our six days in Macedonia, our team has heard the cries of children separated from their parents, the traumatic tales of survivors who narrowly escaped their home countries, and the tearful thanks of those who receive a cup of hot soup and a piece of bread–provided by your support for the UNITED SIKHS Refugee Relief Effort of 2015.
Over 3,000 refugees have been fed to date. With your support, we need to feed another 20,000 this Winter.

Benny Arben Suljmani, Mussa's father and our partner from the local Bektashi community, says, "The refugees are hit by the coldest subzero temperature here in Tabanovce for the first time on their long and dangerous journey. This is the most important hot meal they will be fed. And we must feed each and every one of them."
Kastriot Rexhepi of NUN Kultura Civil Association Skopje Macedonia said, "In cooperation with partner organization UNITED SIKHS, we provide the hot meal "Mercimek," known in Arab countries as "Ades", to warm up the refugees' stomachs, and to reduce their challenges in the cold weather, very often below zero degrees Celsius in the evening and late nights at the transit refugee camp in Tabanovce. Hot meals are essential for the refugees in Winter. The smiles come back to their faces after they receive our hot meal service. Thank you friends from UNITED SIKHS for making this happen for them."
In less than a week, your support brought 3,000 hot meals to these refugees. Help us spread the warmth to 600 more refugees tonight, and every night in the coming Winter months.
Read a previous press release on our hot meals appeal for refugees arriving in Tabanovce, Macedonia here.

Keep up to date on other UNITED SIKHS initiatives by following our social media accounts: Facebook | Twitter