UNITED SIKHS wishes its supporters a blessed Gurpurab as we celebrate Guru Nanak Dev Ji's Prakash Diwas today, November 25th, 2015. On this day in 1469, the first Sikh Guru (teacher) was born. During the 70 years of his life, he spread messages of the unity of religions, equality of all people, and the importance of charity.
Among his writings in the Guru Granth Sahib Ji–the eternal Sikh guru–Guru Nanak Dev Ji's words on charity are immortalized:
"One who works for what he eats, and gives some of what he has in charity, O Nanak, he knows the path to fulfillment."
-Guru Granth Sahib Ji, page 1225.
Guru Nanak Dev Ji further emphasized giving when formalizing the three pillars of the Sikh faith: Naam Japo (reciting the name of God), Kirat Karo (living honestly), and Vand Chakko–giving in whatever way one is capable of giving. With your support, we at UNITED SIKHS make it our goal to carry out Guru Nanak Dev Ji's message of selfless giving, and to help others in need. Through our work as an advocacy, community empowerment, and humanitarian aid organization, we have seen the tremendous difference even just a handful of people can make when striving to work towards the common good of all.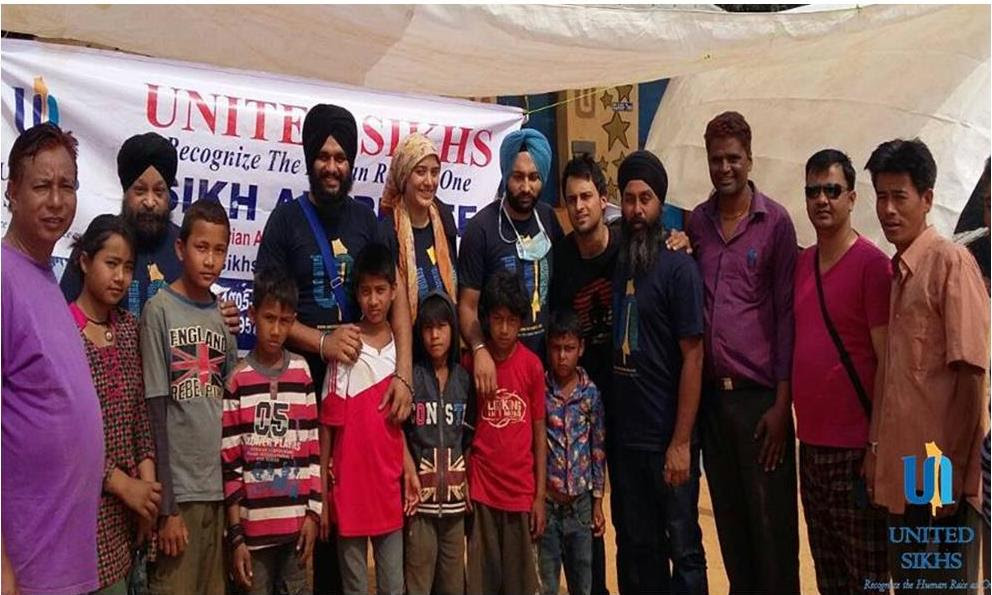 UNITED SIKHS providing aid in Nepal on the heels of a historic earthquake that devastated the country in 2015.
UNITED SIKHS is inspired by the the spirit of giving demonstrated in its clients, community, and volunteers, and pledges to strive to fulfill our duty to those who are in need of humanitarian relief or have received unjust treatment because of their religious, ethnic, or racial identity in 2016 and onward.
We are humbled by your support, without which none of this would be possible. During Dasvandh Week earlier this month, we raised over $4,600 for our natural disaster relief efforts, and around $1,300 for the Gurkirpa Health Network. We call on you to keep the momentum going–donate to UNITED SIKHS on #GivingTuesday (December 1st) from 12:00 am to 11:59 pm Central Time, and your donation could be doubled. Visit http://unitedsikhs.org/giving-tuesday/ to learn more.
Today and everyday, we are thankful to be able to carry out Sikhism's message of seva (selfless service) to help those who need it most. In the spirit of Thanksgiving, we urge you spread the appreciation for your blessings in life, and share the attitude for gratitude with others.

Keep up to date on UNITED SIKHS initiatives by following our social media accounts:Facebook | Twitter | Blog