This Thanksgiving, give others a reason to be thankful too.


Last month, we announced the initiation of the first UNITED SIKHS food bank on the east coast of the United States. We are excited to begin collecting donations and working with volunteers this week to provide warm meals to as many people as possible in time for Thanksgiving, a North American holiday that emphasizes gratitude and sharing one's bounty.
Just in New York alone, 1.7 million individuals live in poverty. For these people, providing basic necessities for themselves and their families is a daily battle. While many of us take the availability of food for granted, for 1,700,000 of our neighbors, it's not guaranteed. For this reason, UNITED SIKHS has begun addressing the vast need of emergency food, with your help.
Get Involved in the Giving This Week!
Sunday:
 Join UNITED SIKHS on Sunday, November 22, at Glen Cove Gurudwara Sahib as we prepare hot meals for the homeless, which will be delivered to Fort Washington Men's Shelter.
Tuesday:
 On Tuesday, November 24th, UNITED SIKHS will kick off weekly donation and food-preparation days at Gurudwara Guru Nanak Darbar in Hicksville. Supporters can bring by vegetarian canned foods, monetary donations, or helping hands to assist in preparing warm meals, which will be transported to Bethany House shelter in Long Island, New York.
Food drop-off locations are listed below: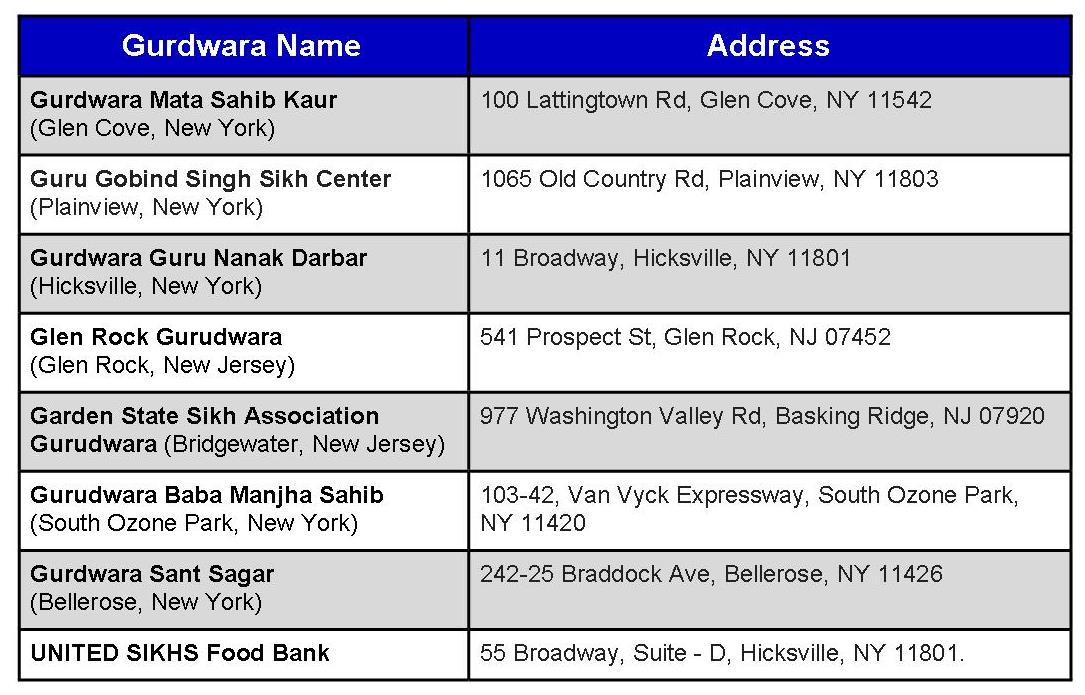 If you are unable to drop off food donations at any of these locations, please email us at foodbank@unitedsikhs.org or call us at 516.884.7976, and we can establish a convenient drop-off location.You may also email or call us if your gururdwara is interested in participating in our Food Bank initiative. Please click here to make monetary donations from our website.
Finally, you can sign up to become a UNITED SIKHS volunteer online by filling out this form.

Keep up to date on the food bank and other UNITED SIKHS initiatives by following our social media accounts: Facebook | Twitter