Dhulka(Amritsar): They sing and play games with tiny tots, talk to them in English and correct mistakes and while interacting with adult students, they try and improve their grammar and speaking skills with the help of English articles. They are Emily Corran, Laura Watts, Sophie Preuss and Maria Protoczka - volunteers of Oxford University who are here on a monthlong tour to teach students of primary and college level English under the United Sikhs Oxford University Travel Aid English Language Teaching Programme.
''We have observed here that teachers emphasise on students memorising whatever they teach them but we want to make them learn with independent thought and not just by memorising,'' said Maria, who is a Biochemistry student at Oxford University.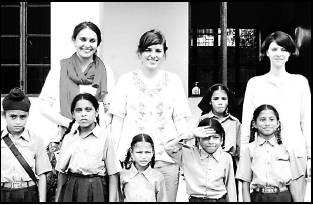 Volunteers from Oxford university along with the students
The volunteers were all praise for students' obedience and their zeal to learn new things but at the same time, they were surprised at not finding the required infrastructure. ''It is hard to imagine a school not having an atlas,'' one of them said.
The volunteers would be teaching at a primary school at Dhulka and students of Khalsa College for two to three days a week.
Kiran Kaur, volunteer coordinator, United Sikhs, informed that this was an empowerment project aimed at uplifting minority communities through an English language and mentoring programme. ''We want children to learn English so that they could study in Europe or in UK,'' said Kiran.
Article by Courtesy of http://www.timesofindia.com