Please Be Involved, Click here and Join UNITED SIKHS
To receive forthcoming bulletins join our UNITED SIKHS Yahoo group
To donate go to www.unitedsikhs.org/donate
This Press Release may be read online at: http://www.unitedsikhs.org/PressReleases/PRSRLS-31-01-2009-00.htm
Press Release: 31st Jan 2009, Saturday 19th Maagh (Samvat 541 Nanakshahi )
Press Release
Councilmember Avella and UNITED SIKHS Call for Police to Apprehend Third Attacker in Crime Against Sikh
Jackson Heights, New York, USA: New York City Councilmember Tony Avella and UNITED SIKHS called on police to vigorously pursue the third attacker who remains at large after Jasmir Singh, a 21-year-old Sikh college student, was savagely attacked and stabbed in his left eye on 18th January 2009. They also called on Police to continue to investigate the bias motivations of the attack. Police and the Queens District Attorney's office are continuing their investigation and interviewed the victim, Jasmir Singh, for a second time on Friday, taking him to the scene of the incident to recreate the attack.
In his speech, Councilman Avella asked New Yorkers to stand together against hate crimes and asked any witnesses to the attack to step forward to assist in catching the third assailant. He called on police to return to more active community- based policing.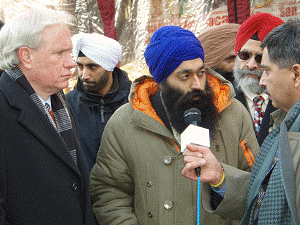 New York City Councilman Tony Avella & Jaspreet Singh, Staff Attorney, UNITED SIKHS
"Its up to each and every New Yorker to stand up when a hate crime takes place and say 'we will not tolerate this in our city'. What Jasmir has experienced, no one should experience. Whenever one person is a victim of a hate crime, we all are victims of that crime," Mr. Avella said during a joint press conference today at the scene of the crime in Jackson Heights, NY.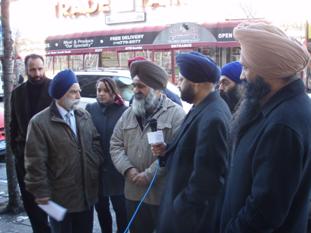 Jiwan Singh, (in a brown turban) Father of Victim, Jasmir


Jaspreet Singh, Staff Attorney for UNITED SIKHS told the press conference, "New Yorkers must be vigilant and vocal against all crimes. Communities cannot accept such violent attacks against innocent people, and we ask that the District Attorney prosecute the perpetrators of this heinous act to the fullest extent of the law."




Jiwan Singh, the father of the victim, commented, "My son's attackers showed no mercy towards my son. They repeatedly stabbed and hit him and seriously endangered his life. There should be no leniency for such violent criminals." Also speaking at the conference, Sikh community leader Swaranjit Singh commented, "These crimes are a result of ignorance. Queens is the most diverse county in the nation, and we must learn to appreciate each other's differences." Gurdip Singh, a Sikh community leader, stated "Sikh Americans are peace-loving and want the same things as every other American: life, liberty, and the pursuit of happiness."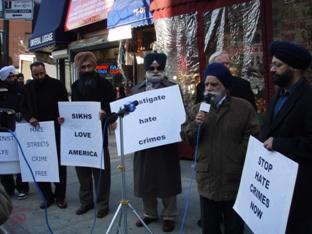 Gurdip Singh, Sikh Community Leader, addressing the media, at the scene of the crime
Jasmir Singh is still recovering from the attack and is unable to see from his left eye. Commenting on the vicious attack, Kuldip Singh, Director, UNITED SIKHS, stated, "The Sikh community seeks the support of all New Yorkers to make our neighborhoods and streets safe for everyone. Unfortunate incidents like this one should bring people together to have one voice against crime."






You may read a previous press release on Jasmir Singh's case at: http://www.unitedsikhs.org/PressReleases/PRSRLS-24-01-2009-00.htm
Issued By:
Jaspreet Singh
Staff Attorney
UNITED SIKHS
law@unitedsikhs.org
1-(646) 315-3909
---
Our Mission
To transform underprivileged and minority communities and individuals into informed and vibrant members of society through civic, educational and personal development programs, by fostering active participation in social and economic activity.
UNITED SIKHS is also an avenue for networking between like-minded organisations to establish and nurture meaningful projects and dialogues - whether social, cultural or political- to promote harmony, understanding and reciprocity in our villages, towns and cities.
UNITED SIKHS is a coalition of organisations and individuals, who share a common vision based on the belief that there is no greater endeavour than to serve, empower and uplift fellow beings. The core of our philosophy is an unwavering commitment to civic service and social progress on behalf of the common good.
Accordingly, UNITED SIKHS has sought to fulfil its mission not only by informing, educating and uplifting fellow beings but also by participating in cross-cultural and political exchanges to ensure that the promises and benefits of democracy are realized by all.
We at UNITED SIKHS believe that the development of enlightened and progressive societies can be made possible by socially conscious groups of people who make a commitment to develop and direct human potential. Our work, efforts and achievements stand as a testament to our faith in this vision.