UNITED SIKHS Delivers Turbans and Prayer Books to Sikh Detainees
at Port Isabel Detention Center in Southern Texas
Highlights:

UNITED SIKHS responded to news from government officials that there was a need for religious articles for Sikh detainees at the Texas border.

Sevadar team traveled (18 hours round trip) to visit detainees and deliver religious items (80 turbans and 40 prayer books) along with various Sikh literature donated by UNITED SIKHS.

As part of our ongoing work to protect the religious rights of Sikh prisoners, we thank this team for helping preserve the religious rights of those in detention centers.

Please Be Involved, Click here to get started!; To receive forthcoming bulletins join our UNITED SIKHS Yahoo group; To donate go to www.unitedsikhs.org/donate.
Los Fresnos, Texas, USA

– Gurvinder Singh, a UNITED SIKHS board member, along with his volunteer team comprised of Kulwinder Singh, Mandeep Singh, Narinderpal Singh, and Rupinderjit Singh, visited The Port Isabel Service Processing Center on March 12, 2011 to deliver religious items to Sikh detainees who had recently been arriving there in large numbers. The detention center holds detainees of the U.S. Immigration and Customs Enforcement (ICE). These detainees have undetermined immigration or citizenship statuses, or are awaiting repatriation. Many of the Sikh detainees were in need of turbans and prayer books, having lost them over the course of their difficult journey from India over the Mexican border to the United States. During UNITED SIKHS' visit, over seventy Sikh inmates at the center received eighty turbans, over forty prayer books and Sikh literature. According to the faith, Sikhs are required to wear the dastaar (Sikh turban) at all times to cover their kesh (unshorn hair) as an article of faith, and are mandated to pray daily.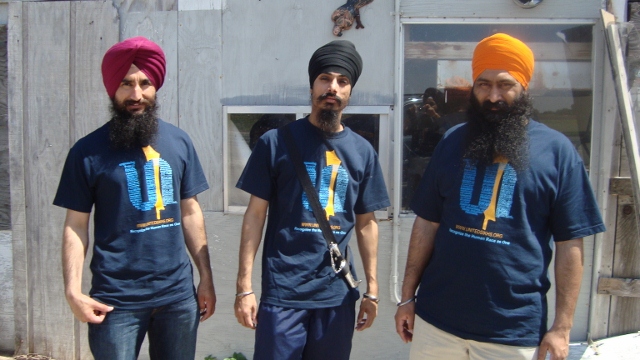 The Sewadar Team

Prior to the year 2000, the field of prisoner rights was controlled by the Department of Corrections, and prisoners' religious rights were extensively violated. The Religious Land Use and Institutionalized Person Act (RLUIPA), passed in 2000, provides added protections against state and local governments from imposing burdens on the free exercise of religion in prisons. RLUIPA has created some change, but only five states permit unshorn hair outright and less than a quarter of the fifty states allow for a faith/religious exception for RLUIPA (at least in the context of Sikh rights). Texas is not one of these states. However, the Port Isabel Detention Center was grateful for UNITED SIKHS' visit and the donation of the turbans, prayer books and Sikh literature. (For more information on RLUIPA, click here).

"We are thankful for the coming of UNITED SIKHS to Port Isabel Detention Center and for your donation of religious items you brought for the detainees. The detainees will be spiritually fulfilled with your contribution and consideration," said Rev. Eliane Menezes, the Religious Service Program Coordinator at the Port Isabel Detention Center.

Port Isabel Detention Center provides a chapel service for its detainees, but it didn't have the resources to provide religious services or articles of faith for the Sikh detainees. According to ICE, there has been an increase in the number of undocumented South Asians finding their way into ICE custody along the Texas border. UNITED SIKHS was contacted by Church World Service, a chaplaincy provider for detention centers, regarding the fact that many Sikhs in Port Isabel were without turbans, and asked UNITED SIKHS to help on behalf of the Sikh detainees. The UNITED SIKHS legal team coordinated the trip, and enlisted the Texas chapter's assistance. Gurvinder Singh and his team of UNITED SIKHS volunteers knew it was necessary that these Sikh detainees have the same right to practice their religion as the other detainees, so they offered to drive over nine hours each way to deliver the turbans, prayer books and literature to the center.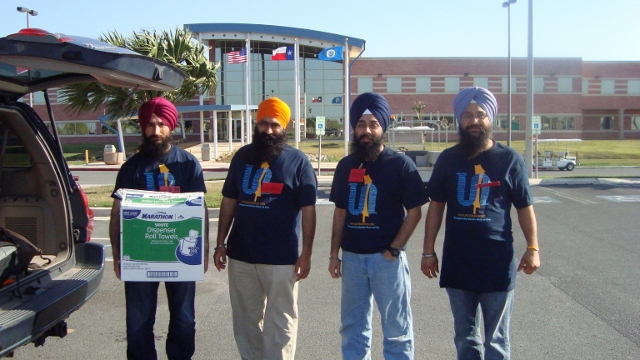 The Sevadar Team loading up supplies

"Knowing that we had a plea from our brothers to assist them so that they may maintain the dignity of their faith while in detention struck us quite deeply, " said Gurvinder Singh, UNITED SIKHS board member and coordinator of this delivery. When asked about the length of the drive (9 hours each way), he responded, "UNITED SIKHS will continue to strive to ensure that the religious rights of all are respected even if we have to drive half way across the country." UNITED SIKHS will continue to be in touch with the chaplaincy staff of Port Isabel to ensure that Sikh detainees are able to practice their faith freely and have access to the Sikh articles of faith and literature.

Reverend Joan Maruskin, Program Administrator for the Religious Service Program at Church World Service wrote in her thank you letter to UNITED SIKHS that:



"The UNITED SIKHS visit to the Port Isabel Detention Center was a blessing to both the detainees and staff members of the detention center. Your visit let the detainees know that they are valued and respected and not alone, thank you so very much. Additional thanks for providing religious items to help them practice their religion. Wearing and using the items not only provides them with a connection to the divine, but also reminds them of their connection to the greater Sikh community. Knowing that others care brings added dignity and value to their lives in detention and beyond. Again, thank you for visiting the Sikh detainees in Port Isabel. They continue to use the materials you provided and will long remember and talk about the visit."



UNITED SIKHS is committed to this cause, and will continue to raise awareness about the religious rights of prisoners -especially those of minority faiths like Sikhs -through education, awareness, and advocacy projects. This trip was part of UNITED SIKHS' ongoing prisoners rights project within which we have been able to advocate for the religious freedom rights of Sikh prisoners nationwide, and are working to effect policy changes to state grooming standards that prohibit unshorn hair.

To access past Press Releases on the Prisoner Rights issues, click the links below:



What can YOU do?



Would you like to volunteer and work on our prisoner's rights project? Contact law-usa@unitedsikhs.org
Have you or someone you know been deprived of the right to practice their faith freely while in detention or in prison? If so, e-mail the UNITED SIKHS legal team at law-usa@unitedsikhs.org
Participate in education and awareness efforts about Sikhs and Sikhism. For ideas, tools, and more information on how to get involved, contact us at the e-mail address above and fill out our volunteer form by clicking here.
Write your representatives and tell them that you support religious freedom protections for prisoners and detainees at both the state and local level. Tell them that RLUIPA is important! To find out who your representative is and how to get a message to them, click here.

Support advocacy work to protect the religious rights of those in prisons and detention centers across the country. Sikhs and other minority communities too often face religious discrimination while behind bars, and are prevented from practicing their faith freely.

Volunteer with UNITED SIKHS, and Donate to our civil rights advocacy projects.



Issued by:


Ilana Ofgang
Legal Fellow
law-usa@unitedsikhs.org

Protect Our Identity (POI)

is an ongoing international campaign launched by UNITED SIKHS in August 2010 . It focuses on the need to protect the Sikh community's right to express its religious identity. Initiatives under the POI campaign include:
Right to Turban

Airport Security in European Union and United States

Anti-Bullying Initiatives

Rehabilitation of Internally Displaced Persons (IDPs) in Pakistan

Equality in Employment

Right to Kakaars

Recognition of Sikhs as a Religion and Ethnicity in UK and US Census, and Raising Awareness of Sikhs and Sikhism to reduce acts of violence and xenophobia against Sikhs.
UNITED SIKHS is currently looking for enthusiastic volunteers who are willing to spread the message of the campaign within their own communities. To join or contribute to the campaign, volunteer or donate to UNITED SIKHS.
Contact Us
You can help those affected by countless crises around the world each year by making a financial gift to the UNITED SIKHS, which will provide immediate relief and support to those in need. You may donate online at www.unitedsikhs.org/donate or send your donations to a UNITED SIKHS office nearest to you, whose details can be found at http://unitedsikhs.org/contact.php .
Ordinarily only 10 percent of your donation is spent on admin costs.