Please Be Involved, Click here and Join UNITED SIKHS
To receive forthcoming bulletins join our UNITED SIKHS Yahoo group
To donate go to www.unitedsikhs.org/donate
This Press Release may be read online at: http://www.unitedsikhs.org/PressReleases/PRSRLS-30-04-2009-00.htm
Press Release: 30th Apr 2009, Thursday 17th Visakh (Samvat 541 Nanakshahi )
Press Release
New York Senator Addresses Thousands at Annual Sikh Day Parade and Expresses Support for "One of America's Hardest Working Communities"
New York, New York, USA: Senator Charles E. Schumer (NY) spoke before thousands of Sikhs at the 22nd Annual Sikh Day Parade in New York City this past Saturday, marking the first time a United States Senator has attended the parade. Responding to UNITED SIKHS invitation to the Parade, the Senator expressed overwhelming support for the current struggle of the Sikh community to practice the Sikh faith freely while serving in the U.S. Military and in police forces. Starting his speech with the Sikh greeting "Sat Sri Akal," Senator Schumer congratulated the Sikh community on this 310th Vaisaikhi, and commended the Sikhs for being "one of America's hardest working communities". UNITED SIKHS continues to work with Senator Schumer and other members of Congress in advocating for civil rights issues including employment discrimination, international religious freedom (Right to Turban campaign), the right to serve in armed forces, hate/bias crimes, and immigration reform.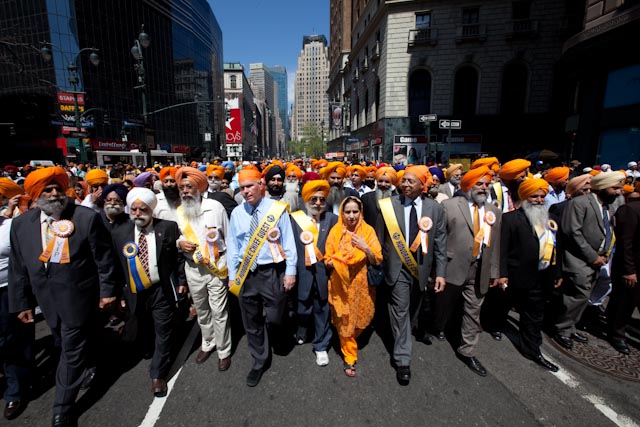 Marching in the 22nd Annual Sikh Day Parade
UNITED SIKHS is delighted that Senator Schumer congratulated the Sikh community for their commitment to the American dream while preserving the Sikh religious identity. Commenting on Senator Schumer's attendance, Jaspreet Singh, Staff Attorney for UNITED SIKHS stated, "We appreciate the Senator's outreach to the Sikh community and his recognition of the Sikh community as a contributing part of America. The Senator's support on Sikh civil rights issues is invaluable in our struggle for equality and justice."

Senator Chuck Schumer with New York Gurdwara and UNITED SIKHS Representatives
Tehal Singh, President of the Sikh Cultural Society of New York, stated, "Senator Schumer is one of the most progressive representatives in the country, and we are thankful of his support for the Sikh community."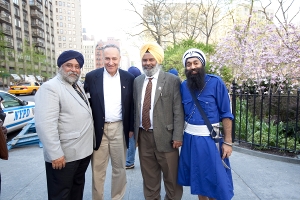 Left to Right: Mohinder S. Taneja; Senator Chuck Schumer (NY); Harpreet S. Toor (Chairman, Sikh Cultural Society), Jaspreet Singh (Staff Attorney, UNITED SIKHS)
Commenting on the Sikh Day Parade, Dr. Ranjit Singh, General Secretary of Sikh Youth of America stated, "The whole Parade had a Khalsa fervor; it was the first time a US Senator attended the Parade, and we are very pleased that Senator Schumer expressed support for Sikhs in armed services."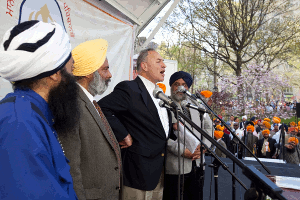 Senator Schumer Addressing the Crowds at the Parade
Himmat Singh, President of Gurdwara Baba Makhan Shah Sahib, commented, "on a day where thousands of Sikhs came to celebrate Vaisakhi and the Sikh religious identity, it was pleasure to see Senator Schumer speak so highly of the Sikh community and our identity."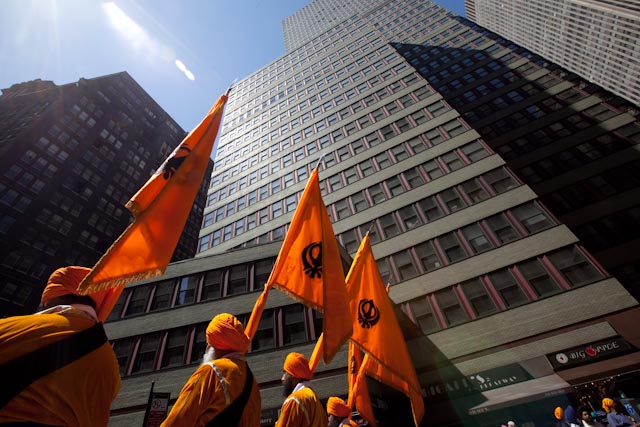 Marchers Holding Nishan Sahib (Sikh Flags)
Again, UNITED SIKHS would to like to remind the Sikh Community that it is through overcoming our differences and working together that we will be able to overcome challenges to religious identity and our honorable way of life as prescribed by Guru Sahib.
We thank all organizations participating in the Sikh Day Parade, where Sikhs gather to celebrate the Sikh holiday, Vaisakhi. We also would like to thank dedicated UNITED SIKHS volunteers Jaswinder Singh, Joga Singh, and Rajbir Kaur for setting up an informational booth and distributing materials about our projects, and asking community members to report their problems.
UNITED SIKHS dedication to grassroots and global justice has been powered by volunteers, supporters, and the Sikh community, who are reaching out, speaking up, and standing in solidarity wherever there is a need. We humbly request you to volunteer time or donate funds to help UNITED SIKHS continue its work in disaster relief, empowerment, and international civil and human rights advocacy. You can make a tax deductible donation by visiting: http://www.unitedsikhs.org/donate/.
You may read a previous press release on UNITED SIKHS' advocacy efforts at: http://www.unitedsikhs.org/PressReleases/PRSRLS-13-04-2009-00.htm.
Issued By:
Amneet Singh
Advocacy, Media and Operations Coordinator
UNITED SIKHS
07709830442
law-usa@unitedsikhs.org
1-(646) 315-3909
---
Our Mission
To transform underprivileged and minority communities and individuals into informed and vibrant members of society through civic, educational and personal development programs, by fostering active participation in social and economic activity.
UNITED SIKHS is also an avenue for networking between like-minded organisations to establish and nurture meaningful projects and dialogues - whether social, cultural or political- to promote harmony, understanding and reciprocity in our villages, towns and cities.
UNITED SIKHS is a coalition of organisations and individuals, who share a common vision based on the belief that there is no greater endeavour than to serve, empower and uplift fellow beings. The core of our philosophy is an unwavering commitment to civic service and social progress on behalf of the common good.
Accordingly, UNITED SIKHS has sought to fulfil its mission not only by informing, educating and uplifting fellow beings but also by participating in cross-cultural and political exchanges to ensure that the promises and benefits of democracy are realized by all.
We at UNITED SIKHS believe that the development of enlightened and progressive societies can be made possible by socially conscious groups of people who make a commitment to develop and direct human potential. Our work, efforts and achievements stand as a testament to our faith in this vision.