Sikh Community Calls for Nuclear Disarmament at UN Conference
Mexico City, MEXICO: UNITED SIKHS voiced serious concerns over the position of the Sikh community in the case of a possible India-Pakistan nuclear conflict, while presenting at the United Nations 62nd Annual DPI/NGO Conference in Mexico City. Marking the second global effort by Sikhs to draw attention to the situation in the Indian sub-continent, the presentation, "Nuclear Disarmament: Reconciling Security Between India and Pakistan with Basic Ethics and Through Non-Violence" highlighted instances in recent history where the threat of actual nuclear conflict has arisen between the two nations on five different occasions, the serious local and global consequences of a nuclear conflict, and argued for the urgent and immediate need for nuclear disarmament. A limited, regional nuclear conflict between the two countries would be a complete disaster for the Sikh community who predominantly lives in Panjab, a region divided between the countries. Some experts suggest that such a conflict would result in a global famine resulting in a billion starvation deaths from the environmental impact, in addition to loss of life due to direct impact.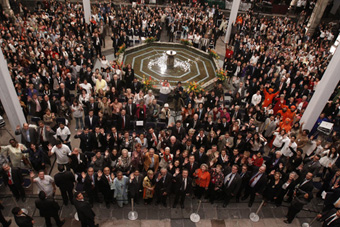 Representatives from NGOs from Over 50 countries Joined Together to Take Action on Disarmament
In his presentation, Jaspreet Singh, Staff Attorney, UNITED SIKHS, stated "When the bombs were dropped on Japan, the citizens of Hiroshima and Nagasaki were not allowed to have a single voice in the matter; men, women, children, just perished. The fear of the Sikh community in relation to India and Pakistan is the same." Interspersed with examples of ethics of justice and defense in Sikhism, the presentation made it clear that the use of nuclear weapons is not morally justifiable in any situation given the far-reaching damage they cause without concern or consideration of those who are not directly involved, nor do they allow for dialogue between conflicting parties. He also argued against the notion that general deterrence results from having nuclear arms, and further argued that general deterrence, even if true, is not worth the possible nuclear conflict.

Jaspreet Singh, Staff Attorney, UNITED SIKHS, Presenting on Nuclear Disarmament Between India and Pakistan
The conference, held in Mexico City from September 9 to September 11, 2009 attracted almost 1300 representatives from non-government organizations from over 50 countries. The international community gathered at the conference called on governments and international organizations worldwide to strengthen their commitments to achieving a world free of nuclear weapons and to promptly start negotiating a convention prohibiting and eliminating those weapons everywhere within an agreed time-bound framework.
The hostile political situation between India and Pakistan has prompted Sikh leadership in India and across the world to come together to voice their concern as a community and as members of civil society. Sikh organizations have appealed to the international community to intervene and de-escalate the situation to diffuse the threat of a nuclear war between the two countries.
In addition to representation by UNITED SIKHS, panelists for the session included Dr. Sohan Lal Gandhi and Kirit Daftari from the Jain community, who highlighted the importance of non-violence in conflict resolution.
For a report on the civil rights of the global Sikh community, please visit:
FirstGlobalSikhCivilRightsReport.pdf
Issued by:
Rucha Kavathe
Media and Communications Intern
UNITED SIKHS
(646) 315-3909
law-usa@unitedsikhs.org
UNITED SIKHS encourages the Sikh community to wear their kakaars, fearlessly exercise their freedom of religion, and to contact us with any problems, concerns, or incidents of discrimination.

UNITED SIKHS representation to the UN is not possible without support from generous people like you. Please donate to UNITED SIKHS by visiting www.unitedsikhs.org/donate

Help us tailor our advocacy initiatives for the greatest global impact by participating in the Global Sikh Civil Rights Survey.
To transform underprivileged and minority communities and individuals into informed and vibrant members of society through civic, educational and personal development programs, by fostering active participation in social and economic activity.
UNITED SIKHS is also an avenue for networking between like-minded organisations to establish and nurture meaningful projects and dialogues - whether social, cultural or political- to promote harmony, understanding and reciprocity in our villages, towns and cities.
UNITED SIKHS is a coalition of organisations and individuals, who share a common vision based on the belief that there is no greater endeavour than to serve, empower and uplift fellow beings. The core of our philosophy is an unwavering commitment to civic service and social progress on behalf of the common good.
Accordingly, UNITED SIKHS has sought to fulfil its mission not only by informing, educating and uplifting fellow beings but also by participating in cross-cultural and political exchanges to ensure that the promises and benefits of democracy are realized by all.
We at UNITED SIKHS believe that the development of enlightened and progressive societies can be made possible by socially conscious groups of people who make a commitment to develop and direct human potential. Our work, efforts and achievements stand as a testament to our faith in this vision.