Please Get Involved, Click here and Join UNITED SIKHS
To receive forthcoming bulletins join our UNITED SIKHS Yahoo group
To donate go to www.unitedsikhs.org/donate
This Press Release may be read online at: http://www.unitedsikhs.org/PressReleases/PRSRLS-29-09-2009-00.htm
Press Release: 29th Sep 2009, 14th Asu (Samvat 541 Nanakshahi )
Press Release
Sikh Delegation Meets Pakistan Minister to Discuss Minority Rights and Humanitarian Aid
Washington, D.C.: - A Sikh Delegation led by UNITED SIKHS met with Mr. Shahbaz Bhatti, Pakistan Minister of Minority Affairs on September 17, 2009 to discuss minority rights and issues pertaining to humanitarian aid relief for minorities in Pakistan. The delegation also discussed how Sikhs in the United States and elsewhere can advise and promote dialogue between the Sikh community and the Government of Pakistan to recognize, restore, and preserve historic sites and Gurdwaras (Sikh places of worship). The Minister welcomed the comments the Sikhs made at the meeting and urged the Sikhs to continue working together with the Government of Pakistan to resolve these important concerns, and stressed the importance of the international Sikh communities' involvement in advising and supporting the Government's efforts.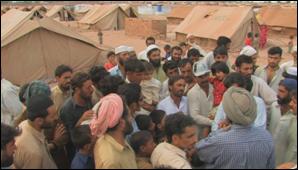 UNITED SIKHS Volunteers Distributing Aid to IDPs.
The Sikh community was represented by UNITED SIKHS, Voices for Freedom, Guru Gobind Singh ji Foundation, Sikh Youth of America, American Gurdwara Prabandhak Committee, and Sikh Gurdwara of Greater Washington. Commenting on the effort, Harpreet Singh, UNITED SIKHS Legal Director said, "UNITED SIKHS has been working for the last three months to help and provide aid for the IDPs in Pakistan. We will continue to work with United Nations and the government of Pakistan to help and improve the lives of these innocent families who are victims of hatred and extremism."
UNITED SIKHS has been working extensively with Internally Displaced Persons (IDPs) in Pakistan who have been affected by the ongoing violence and instability on the western border of the country. Harpreet Singh, UNITED SIKHS Legal Director, discussed the situation of the Sikh families of the Orakzai and Khyber Agencies who are now living in Peshawar. These Sikh families have lost their homes due to continuous harassment and blackmail by the Taliban, and are yet to receive IDP status. Harpreet Singh also highlighted the problems faced by Christian families in Gojra who have been victims of the misuse of Sections 295 (b) and (c), and 298 (a), (b), (c) of the Pakistan Penal Code. Minister Bhatti assured UNITED SIKHS that he is aware of the problems faced by these minorities and will look into the matter personally.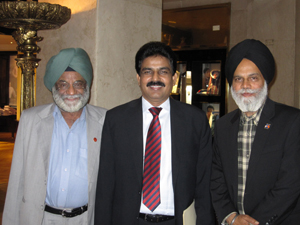 Chattar Singh, Minister Shabaz Bhatti, and Bakhshish Singh.
Minister Bhatti highlighted a number of efforts that his Ministry is currently involved in to provide support to the minorities in Pakistan. These efforts include empowering the Pakistani Gurdwara Prabandhak Committees to maintain and preserve the Gurdwaras, prevent the taking of Gurdwara land from being sold for commercial purposes or profit, reservation of 5% jobs in the government for minorities, establishment of Baba Nanak University to promote research on Guru Nanak Dev Ji and Sikh history in Pakistan, preservation of Sikh texts, and creation of an Interfaith Complex in Islamabad to highlight different faiths and to show diversity. Bhai Bakhshish Singh, Representative, American Gurdwara Prabandhak Committee (AGPC) commented, "As many important Sikh historical sites are located in Pakistan, the Sikhs globally have an interest in proper preservation and treatment of these sites."
Another prominent issue discussed in the meeting was the introduction of the Minority Protection Act in the Pakistani Parliament that will safeguard the rights of all religious and other minorities in Pakistan. Mr. Bhatti elaborated that this act will reserve jobs in all levels of the Pakistani Government. Commenting on the meeting, Balwinder Singh, President, Sikh Gurdwara of Greater Washington stated, "We appreciate Pakistan's understanding for our religion and hope that they will provide the Sikhs full co-operation and support to maintain our history and preserve our roots."
Bhai Narinder Singh, Representative, Sikh Youth of America added, "With the increase of globalization, it is great that Pakistan is making the efforts to recognize their rich cultural diversity and including input from community members abroad."
Commenting on the commitment of the Sikh community to helping Sikhs and other minorities in Pakistan, Chattar Singh, Representative, Guru Gobind Singh Ji Foundation commented, "We will provide our support in all ways to the Pakistani Government in any efforts to improve the life of minorities in Pakistan."
UNITED SIKHS was instrumental in arranging the meeting between the leaders of the Sikh Community and the Government of Pakistan. While commenting on the importance of the meeting, Dr. Ranjit Singh, Director,Voices For Freedom stated, "Pakistan has a sizable minority population; we are encouraged to see that efforts are being made by the Pakistani Government, as well as the international community to make sure Sikhs and other religious minorities are represented."
To read more about the work of UNITED SIKHS in Pakistan, please visit http://www.unitedsikhs.org/pak/.
To read our earlier press releases about the situation of IDPs in Pakistan, please read
http://www.unitedsikhs.org/PressReleases/PRSRLS-17-09-2009-00.htm,
http://www.unitedsikhs.org/PressReleases/PRSRLS-03-08-2009-00.htm,
and watch http://vimeo.com/5564855.
Issued by:
Jaspreet Singh
Staff Attorney
UNITED SIKHS
Phone: 646-315-3909
contact@unitedsikhs.org
---
Our Mission
To transform underprivileged and minority communities and individuals into informed and vibrant members of society through civic, educational and personal development programs, by fostering active participation in social and economic activity.
UNITED SIKHS is also an avenue for networking between like-minded organisations to establish and nurture meaningful projects and dialogues - whether social, cultural or political- to promote harmony, understanding and reciprocity in our villages, towns and cities.
UNITED SIKHS is a coalition of organisations and individuals, who share a common vision based on the belief that there is no greater endeavour than to serve, empower and uplift fellow beings. The core of our philosophy is an unwavering commitment to civic service and social progress on behalf of the common good.
Accordingly, UNITED SIKHS has sought to fulfil its mission not only by informing, educating and uplifting fellow beings but also by participating in cross-cultural and political exchanges to ensure that the promises and benefits of democracy are realized by all.
We at UNITED SIKHS believe that the development of enlightened and progressive societies can be made possible by socially conscious groups of people who make a commitment to develop and direct human potential. Our work, efforts and achievements stand as a testament to our faith in this vision.