UNITED SIKHS Expands Tsunami Relief Efforts in
Sri Lanka
Colombo, Sri Lanka: In its efforts to expand tsunami related relief efforts in Sri Lanka, UNITED SIKHS has set up a base camp in the district of Batticaloa to provide health care, food, shelter and counseling assistance.
Batticaloa, Trincomolee and Ampara are the three worst hit areas in Sri Lanka by the December 25th tsunami. To provide relief assistance in the three disaster hit districts, UNITED SIKHS will be operating out of the Batticaloa district base camp.
"UNITED SIKHS relief efforts are providing much needed assistance in areas devastated by the tsunami in Sri Lanka", Jeewan Thiagrajah from CHA (Consortium of Humanitarium Agencies) expressed in a statement from the disaster hit areas. UNITED SIKHS is working with CHA in its relief efforts in Northeast areas of Sri Lanka.
According to Kulvinder Singh, the project leader for the UNITED SIKHS Sri Lanka team of four relief workers, "We are providing assistance to procure health care supplies, food service supplies and tents for shelter needs. Another urgent need of the hour is trauma counseling."
UNITED SIKHS is sending a team of trained counselors from the United States to provide trauma related counseling. The experienced counselors have provided trauma related counseling in areas affected by natural disasters and ethnic genocide with direct experience in war torn regions including Bosnia, Kosovo and Armenia.
In its ongoing relief efforts UNITED SIKHS has been reaching out to organizations and individuals willing to help out in the relief efforts. According to Gurwinder Kaur, a member of the UNITED SIKHS relief team in Sri Lanka, "Given the enormity of the tragedy it will take a long persistent efforts and resources to bring normalcy back into survivors' lives. UNITED SIKHS urges organizations and individuals to step forward and make donations to assist in the relief efforts".
Donations can be made to the UNITED SIKHS GHANAIA Tsunami Relief Project online, see details below.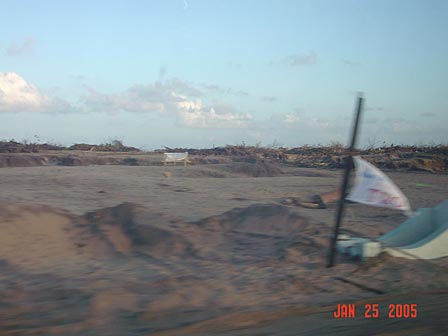 Photograph 1.
A shattened town in tsunami hit area.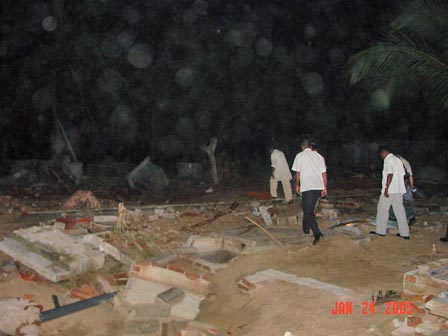 Photograph 2.
Houses damaged by the tsunami.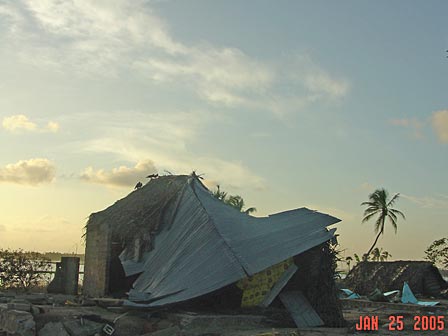 Photograph 3.
Shattered house in Ampara district.
---
UNITED SIKHS will update you as we receive reports. For Relief Team updates see:
http://www.unitedsikhs.org/ghanaia/fieldreport.html
---
Please donate, even if you cannot give a lot. Your contribution will help victims directly.
http://www.unitedsikhs.org/reliefproject.html#donate
You may donate online by clicking above, or by cheque payable to UNITED SIKHS, and mail to a UNITED SIKHS regional office.
---
For more information on the GHANAIA tsunami project, e-mail us on:
contact@unitedsikhs.org
---
Our Mission
To transform underprivileged and minority communities and individuals into informed and vibrant members of society through civic, educational and personal development programs, by fostering active participation in social and economic activity.
UNITED SIKHS is also an avenue for networking between like-minded organisations to establish and nurture meaningful projects and dialogues - whether social, cultural or political- to promote harmony, understanding and reciprocity in our villages, towns and cities.
UNITED SIKHS is a coalition of organisations and individuals, who share a common vision based on the belief that there is no greater endeavour than to serve, empower and uplift fellow beings. The core of our philosophy is an unwavering commitment to civic service and social progress on behalf of the common good.
Accordingly, UNITED SIKHS has sought to fulfil its mission not only by informing, educating and uplifting fellow beings but also by participating in cross-cultural and political exchanges to ensure that the promises and benefits of democracy are realized by all.
We at UNITED SIKHS believe that the development of enlightened and progressive societies can be made possible by socially conscious groups of people who make a commitment to develop and direct human potential. Our work, efforts and achievements stand as a testament to our faith in this vision.