Please Be Involved, Click here and Join UNITED SIKHS
To receive forthcoming bulletins join our UNITED SIKHS Yahoo group
To donate go to www.unitedsikhs.org/donate
This Press Release may be read online at: http://www.unitedsikhs.org/PressReleases/PRSRLS-28-12-2007-00.htm
Press Release: 28 th Dec 2007, 15thPoh (Samvat 539 Nanakshahi )
Sikh Man has Head Surgery after NY Attack on Xmas Eve
Flushing, Queens, New York City – Three men were viciously attacked in separate robberies within two hours of each other in Flushing, on Christmas eve, which left Amarjit Singh, a 45 year-old Sikh taxi driver, with head injuries that were operated on yesterday at the New York Hospital Queens.
"The first attack, by at least two men, was on a Caucasian man at 4.10 am followed by an attack on an Asian man at 5.30am and on Amarjit Singh at 5.40am, near the Sikh Gurdwara in Parson Blvd," said Detective Vaughn of NYPD, who is investigating a connection between the attacks. The attacks left the Caucasian man with head injuries and the Asian man with injuries to his ribs. At this stage, we have not been able to obtain more details of the Caucasian and Asian men's identity and injuries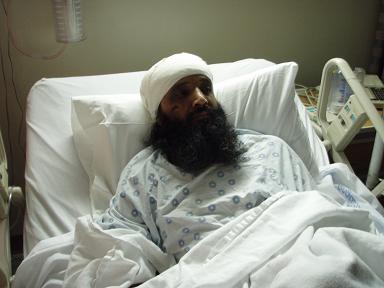 Amarjit Singh, 45 years, after undergoing head surgery at New York Hospital Queens.
"A man is in custody after one of the victims picked him out from a preliminary identification and a line-up identification will take place on 7th January," he added. Investigations are ongoing about a mobile phone which was dropped by one of the robbers during the attack on one of the victims.
Amarjit Singh's wife, Jasbir Kaur, told UNITED SIKHS that her husband sustained a fractured skull and a piece had been pushed down which was detected through a cat-scan. The victim's family is being assisted by UNITED SIKHS Staff Attorney, Jaspreet Singh and UNITED SIKHS volunteers Amarjit Singh, Varanjot Singh and Jagminder Singh. They responded to a call for help from Harpreet Singh of New York that was publicised through the NYC Keertan yahoogroup.
According to Detective Vaughn, police are investigating the three attacks in the area involving blunt weapons. A black car was also present at each of the crime scenes.

"UNITED SIKHS calls upon the community to support the victims' families. Amarjit Singh and his wife have 3 children aged 14, 12, and 8 years. We also call upon all Gurdwaras in the Queens area to install security cameras to meet concerns about these crimes," said Jaspreet Singh, UNITED SIKHS staff attorney.


"We will be seeking a meeting with Dep. Insp. Thomas G. Cea, the Commanding Officer of 109 Precinct, which covers the areas where these vicious Christmas attacks took place. We will call on him to take urgent action to allay the fears of local residents by increasing police patrols. We will also urge him to liaise with the Technical Assistance Response Unit (TARU) to install Closed Circuit TV (CCTV),"added Jaspreet Singh.
This Christmas eve attacks follows a robbery last month on 59 yr old Gurjit Singh, who was attacked at his doorstep on 91st Avenue in Richmond Hill, Queens, which was also near a Gurdwara.
"Following the robbery on Gurjit Singh, UNITED SIKHS wrote to Commanding Officer of 102nd Precinct, Deputy Inspector Paul Piekarski to step up police patrols and install CCTV cameras in the area, so that the elderly and children feel safer on the streets," said Jaspreet Singh.
UNITED SIKHS also wrote to the NY Committee Head on Public Safety, Council Member, Peter F. Vallone Jr., to draw his attention to the concerns of the local residents.
Community Board member, Harjinder Singh Duggal, told UNITED SIKHS, " At a Community Board meeting 4 months ago, I had said that police patrols should not only take place on main streets but also be extended to side streets where crimes are being committed."
UNITED SIKHS is concerned about an increase in street crimes in parts of Queens. You must immediately report the incidents and crimes to the police, as they can only act if they are made aware of such incidents.
If you know of any street incidents or crimes in the area close to the Sikh Gurdwaras in Queens, please also report them to UNITED SIKHS so we may monitor them, by calling us on 1-888-243-1690 or emailing us at contact@unitedsikhs.org.
You may read a previous press release related to street crimes in the Queens area at http://www.unitedsikhs.org/PressReleases/PRSRLS-06-12-2007-00.htm
Issued by:
Mejindarpal Kaur
Director
International Civil and Human Rights Advocacy
UNITED SIKHS
1 646 3153909 / 1 888 243 1690
---
Our Mission
To transform underprivileged and minority communities and individuals into informed and vibrant members of society through civic, educational and personal development programs, by fostering active participation in social and economic activity.
UNITED SIKHS is also an avenue for networking between like-minded organisations to establish and nurture meaningful projects and dialogues - whether social, cultural or political- to promote harmony, understanding and reciprocity in our villages, towns and cities.
UNITED SIKHS is a coalition of organisations and individuals, who share a common vision based on the belief that there is no greater endeavour than to serve, empower and uplift fellow beings. The core of our philosophy is an unwavering commitment to civic service and social progress on behalf of the common good.
Accordingly, UNITED SIKHS has sought to fulfil its mission not only by informing, educating and uplifting fellow beings but also by participating in cross-cultural and political exchanges to ensure that the promises and benefits of democracy are realized by all.
We at UNITED SIKHS believe that the development of enlightened and progressive societies can be made possible by socially conscious groups of people who make a commitment to develop and direct human potential. Our work, efforts and achievements stand as a testament to our faith in this vision.