To Get Involved, Click here and Join UNITED SIKHS
To receive forthcoming bulletins join our UNITED SIKHS Yahoo group
To donate go to www.unitedsikhs.org/donate
This Press Release may be read online at: http://www.unitedsikhs.org/PressReleases/PRSRLS-28-10-2008-00_grmkhi.htm
p@ys-irlIz: 29 AkqUbr 2008 buDvwr qdwnuswr 15 k~qk s~mq 540 nwnkSwhI
purqgwlI puils ny isKW dI ikrpwn dI AhmIAq nUM kbUilAw
puils ny ikrpwn-Dwrk isKW briKlw& ielzwm nhI lwieAw
ilsbn, purqgwl - ies mhIny dy SurU ivc purqgwlI puils ny isKW dI ikrpwn dI AhmIAq (isKW dy pMj Dwrimk-inSwnW Xw kkwrW ivcoN iek) nUM smJidAW hoieAW puils ny ikrpwn-Dwrk isK briKlw& ielzwm nhI lwieAw, BwvyN ikrpwn dw blyf 10 syNtImItr qoN vD sI [
purqgwl ivc ikrpwn Dwrn krn bwbq slwh :


•

pbilk-KyqrW ivKy isKW nUM ikrpwn Dwrn krn dI iejwzq hY, bSrqy blyf (lmInw) 10 syNtImItr qoN Gt hovy [ hyTlw &oto / fwieg@wm vyKo [ jykr blyf 10 syNtImItr Xw ies qoN vD hovy qW ikrpwn nMU iek hiQXwr (Awrmw-b@YNkw) smiJAw jwvygw (23 &rvrI dy kwnUn 5/2006 dy AwrtIkl 2(1)-AweI muqwibk) Aqy ikrpwn-Dwrk aupr ielzwm lgwieAw jwvygw [ purqgwlI-bolI ivc kwnUn vyKx leI ieQy kilk kro :

http://www.gnr.pt/portal/internet/legislacao/pdf/lei5_2006.pdf
• ieh slwh idqI jWdI hY ik ikrpwn nUM bsqrW hyT qW ik KO& qy KlblI dw mwhOl nw bxy [ purqgwl ivc isK Gt-igxqI hn Aqy ies vjh kr ky Awm qOr qy Gt hI jWxy jWdy hn [
• jykr purqgwl Xw iksy dyS ivc quhwnUM ikrpwn sjWaux kr ky roikAw jwvy qW ikrpw kr ky ies dI ieqlwh XunweIitf isKs nUM dyvo :
&on +44 (0) 870 1993328 Xw eI-myl
law@unitedsikhs.org rwhIN [
• dUjy dySW ivc ikrpwn bwbq hwlwq smbMDI jwxkwrI leI ieQy eI-myl kro :law@unitedsikhs.org


&rvrI ivc gurmyl isMG ny mdd leI XunweIitf isKs nwl sMprk kIqw jdoN auhnW dI ikrpwn nUM ilsbn siQq ib@itS AymbysI ivKy zbq kIqw igAw sI [ auh ivizt-vIzw lYNx gey sn [ purqgwlI kwnUn (23 &rvrI dy kwnUn 5/2006 dy AwrtIkl 2(1)-AweI muqwibk) hiQXwr rKx kr ky auhnW aupr ielzwm lgx dI sMBwvnw bx rhI sI [ 14 AkqUbr nUM auhnW nUM puils-stySn ivKy sMmn kIqw igAw sI qW ik ieh vyiKAw jw sky ik auhnW briKlw& 13 syNtImItr blyf vwlI ikrpwn sjWaux dw ielzwm lwieAw jw skdw sI ik nhIN ikauN ik kwnUn muqwibk 10 syNtImItr qoN Gt blyf dI iejwzq hY [ XunweIitf isKs ny gurmyl isMG dI vkIl ims kwrlw g@YNfylw nUM isMGW Aqy kOrW leI ikrpwn dI Dwrimk AhmIAq bwbq disAw [
45 imntW bwd A&sr ny ieh &Yslw kIqw ik gurmyl isMG (BwrqI-nwgirk Aqy purqgwlI-bwisNdw) briKlw& koeI ielzwm nhI bxdw [ auhnW ny ieh vI AwiKAw ik auh isKW dI SWqmeI-ibrqI Aqy myhnq-kSI bwbq jWxdy hn, Aqy ikrpwn dI Dwrimk AhmIAq nUM vI smJdy hn [ A&sr ny gurmyl isMG nUM disAw ik auh 10 syNtImItr qoN Gt blyf vwlI ikrpwn sjw skdy hn [ A&sr ny gurmyl isMG nUM ieh vI AwiKAw ik ies mOky qy koeI ielzwm nhIN lwieAw jw irhw pr gurmyl isMG iek h&qy ivc 200 Xuro iksy pMjIik@q smwj-syvI sMsQw nUM dwn dyNx Aqy jykr cwr mhIny qk iksy kwnUn dI aulMGxw nhI kIqI qW auhnW dI &weIl bMd kr idqI jwvygI [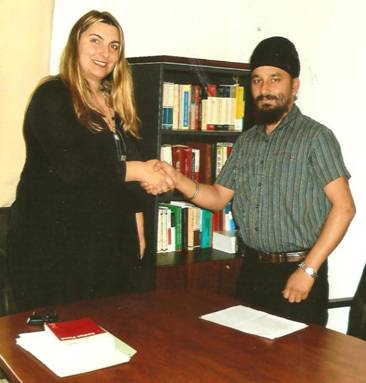 Gurmail Singh and his Portuguese lawyer Carla Grandela
ims g@YNfylw ny AwiKAw : "puils A&sr isKW dI bhuq iezq krdw hY Aqy isKW dI zrUirAwq bwbq vI jWxU hY [ mYN KuS hW ik gurmyl isMG dy kys dI vjh kr ky ikrpwn-DwrkW bwbq purqgwlI-kwnUn smbMDI jwxkwrI vDI hY "[
gurmyl isMG ny AwiKAw : "mYN A&sr dw DMnvwdI hW ik auhnW ny myrI Dwrimk zrUirAwq Aqy hkUk bwbq nwzukqw nUM smJidAW hoieAW mYNnU ikrpwn sjWaux dI iejwzq dy idqI [ mYN vDyry prs~n hW ik ik nqIjy vjoN sBnW isKW dw &wiedw hovygw [ mYN XunweIitf isKs dw vDyry DMnvwdI hW ik auhnW ny myrI mdd kIqI "[
mijMdrpwl kOr (XunweIitf isKs lIgl-fwieryktr) ny AwiKAw : "ijQy AsIN KuS hW ik purqgwlI puils ny gurmyl isMG aupr ielzwm nhI lwieAw, auQy AsIN ib@itS &Oryn kOmnvylQ A~wi&s Aqy AymbysI dy vqIry bwbq nwKuS hW ik auhnW ny Awpxy ielky ivc ikrpwn nUM zbq kIqy jWx dI iejwzq idqI "[
" XU. ky. ivc iksy vI lMbweI dI ikrpwn sjWaux aupr koeI kwnUnI-pwbMdI nhIN [ ikrpwn auqwrn dI mMg hUbhU ievyN hY ik iky eIsweI pwdrI Xw nMn nUM AwiKAw jwvy ik auh k@uisi&ks (k@~ws) auqwr ky sONp dyvy [ nwl hI ieh q&rky dI gl vI hY ikauN ik ieh iksy dy Dwrimk AkIdy ivc nwvwijb dKl hY [ AYsw krnw mnuKI-hkUk dI XoroipAn knvyNSn dy AwrtIkl 9 dI isDI aulMGxw hY [ sykXoirtI-stw& ny vI AjIbo-ZrIb qOr qy kwrvwhI kridAW hiQXwr-bMd puils A&srW nUM sidAw jdoN ik gurmyl isMG mihz Awpxy AkIdy dw prgtwvw hI kr rhy sn "[
gurmyl isMG ivizt-vIzw lYNx Kwiqr ib@itS AymbysI gey sn Aqy qW hI sykXoirtI-stw& ny mMg kIqI ik auh AwpxI ikrpwn auqwr ky auhnW nUM sONp dyNx [ gurmyl isMG ny AYsw hI kIqw Aqy vIzw-ieNtrivXU vl v~D gey [ vwpsI qy gurmyl isMG vyKdy hn ik pMj Xw Cy hiQXwr-bMd puils A&sr auhnW vl bMdUkW qWx ky KVy hn [ gurmyl isMG ny auhnW nUM smJWaux dI koiSS kIqI ik auh Aim@qDwrI isK hn Aqy ikrpwn iek Dwrimk kkwr hY [ iPr vI gurmyl isMG nUM ig@&qwr kr ilAw igAw Aqy puils stySn lY jwieAw igAw ijQy do GMty dy svwlW auprMq auhnW nUM ibnw ikrpwn dy Cf idqw igAw [
sqXw kOr (jo puils ieNtrivXU vyly gurmyl isMG dy nwl sn) ny AwiKAw : "purqgwl ivc isK Gt hn Aqy Aim@qDwrI isK bhuq hI Gt [ ies vjh kr ky purqgwlI smwj ivc isKW dw koeI p@ySr-g@up nhIN hY ijs nwl auh AwpxI Dwrimk-izMdgI Aqy hkUk bwbq ds skx [ pr vkq nwl hwlwq ivc zrUr qbdIlI AwvygI "[
jwrI-krqw :
gurp@Iq isMG
ieNtrnYSnl icivl Aqy kwnUnI hkUk dI vkwlq
XunweIitf isKs
&on : +44 7709830442
eI-myl : law-uk@unitedsikhs.org
---
Our Mission
To transform underprivileged and minority communities and individuals into informed and vibrant members of society through civic, educational and personal development programs, by fostering active participation in social and economic activity.
UNITED SIKHS is also an avenue for networking between like-minded organisations to establish and nurture meaningful projects and dialogues - whether social, cultural or political- to promote harmony, understanding and reciprocity in our villages, towns and cities.
UNITED SIKHS is a coalition of organisations and individuals, who share a common vision based on the belief that there is no greater endeavour than to serve, empower and uplift fellow beings. The core of our philosophy is an unwavering commitment to civic service and social progress on behalf of the common good.
Accordingly, UNITED SIKHS has sought to fulfil its mission not only by informing, educating and uplifting fellow beings but also by participating in cross-cultural and political exchanges to ensure that the promises and benefits of democracy are realized by all.
We at UNITED SIKHS believe that the development of enlightened and progressive societies can be made possible by socially conscious groups of people who make a commitment to develop and direct human potential. Our work, efforts and achievements stand as a testament to our faith in this vision.