Please Get Involved, Click here and Join UNITED SIKHS
To receive forthcoming bulletins join our UNITED SIKHS Yahoo group
To donate go to www.unitedsikhs.org/donate
This Press Release may be read online at: http://www.unitedsikhs.org/PressReleases/PRSRLS-28-07-2009-00.htm
Press Release: 28th July 2009, 13th Saavan (Samvat 541 Nanakshahi )
Press Release
UNITED SIKHS Provides Emergency Aid to 16 Families Made Homeless by Fire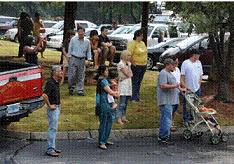 Photo Courtesy : greenvilleonline.com
GREENVILLE, S.C., USA – A fire raged in Huntington Downs apartment complex on Monday afternoon in Greenville, South Carolina as firefighters battled the blaze. After successfully putting out the fire, which was caused by lightening, sixteen apartments were damaged and around 30 people were left homeless. The apartment complex staff, the Red Cross, and UNITED SIKHS are working in collaboration to provide basic necessities and aid to the families affected by the fire.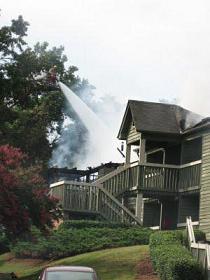 Photo Courtesy: greenvilleonline.com
The apartment complex staff is providing immediate accommodation for the victims, the Red Cross is working on the insurance concerns, and UNITED SIKHS is providing a week of immediate basic supplies. Local UNITED SIKHS Volunteer Jagmeet Singh, upon taking note of the necessities of the families, immediately purchased supplies from a nearby Wal-Mart and delivered them to the victims, and will be meeting and further assessing the families' needs later today. Commenting on the disaster, Jagmeet Singh stated, "It is important to recognize the immediate needs of victims of disasters like this one, and give them a helping hand so that they can quickly recover. Its unfortunate that this incident occurred, but it is in these times that people must come together and help each other."
To donate to support UNITED SIKHS SikhAid efforts, please visit: www.unitedsikhs.org/donate/
For a previous press release on UNITED SIKHS SikhAid efforts, please visit: http://www.unitedsikhs.org/PressReleases/PRSRLS-22-07-2009-00.htm
Issued by:
Gurbachan Singh
Sikh Aid
UNITED SIKHS
sikhaid@unitedsikhs.org
Ph: 1-888-243-1690
---
Our Mission
To transform underprivileged and minority communities and individuals into informed and vibrant members of society through civic, educational and personal development programs, by fostering active participation in social and economic activity.
UNITED SIKHS is also an avenue for networking between like-minded organisations to establish and nurture meaningful projects and dialogues - whether social, cultural or political- to promote harmony, understanding and reciprocity in our villages, towns and cities.
UNITED SIKHS is a coalition of organisations and individuals, who share a common vision based on the belief that there is no greater endeavour than to serve, empower and uplift fellow beings. The core of our philosophy is an unwavering commitment to civic service and social progress on behalf of the common good.
Accordingly, UNITED SIKHS has sought to fulfil its mission not only by informing, educating and uplifting fellow beings but also by participating in cross-cultural and political exchanges to ensure that the promises and benefits of democracy are realized by all.
We at UNITED SIKHS believe that the development of enlightened and progressive societies can be made possible by socially conscious groups of people who make a commitment to develop and direct human potential. Our work, efforts and achievements stand as a testament to our faith in this vision.