| | |
| --- | --- |
| 28th February 2005 | 17th Phalgun, Nanakshahi 536 |
Campbell Bay Sangat Heals—Slowly but Surely
Campbell Bay (Great Nicobar, Indian Ocean) - Gurudwara Sahib in Campbell Bay will soon be made capacious to hold the Guru Granth Sahib and to provide shelter for the Sikh Sangat who lost their homes during the Tsunami. UNITED SIKHS plans to build toilets and washrooms, raise the retaining wall, install a roof, and build more rooms to facilitate the relocation of the Sangat from the congested government relief camps to the Gurudwara Sahib. Since the government is slow in allotting land for settlers and inhabitants of the island, families are eagerly waiting to move into the Gurudwara. In an effort to finish reconstruction before the onset of the rainy season (in April) our team is working late nights to complete the work. Construction volunteer Judge Singh is leading the effort of restoration of the Gurdwara Sahib under the leadership of Bhai Esher Singh, the Project Leader of the relief operations in South India.
Meanwhile the families who remain in the army and government run camps are receiving mental support and psychological healing along with Langar and other assistance. Daily Diwaan has resumed in the Gurdwara Sahib providing spiritual sustenance and hope to victims during this time of hardship.
In the true spirit of 'Sarbat Da Bhala', the Gurdwara Sahib has become the center of physical, mental and spiritual relief for some 70 Sikh families who have lost everything in Tsunami. The immediate needs are attended to and an office has also been set up to help the Sangat complete the paper work to file for damages.
Funds are still needed for the complete restoration of the Gurdwara Sahib in a timely manner.
More mid and long term development plans will be announced as they are confirmed.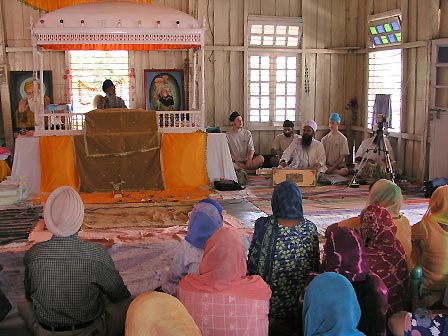 Photograph.
Bhai Esher Singh doing Kirtan at Gurudwara Campbell Bay.
Education Support Program
UNITED SIKHS is developing a plan in conjunction with seeking education sponsorship for 25 children in Campbell Bay who lost everything in Tsunami. All schools of Campbell Bay have been destroyed and hence the students need to be admitted in Boarding Schools on the mainland.
Sangat Shows Support for the Volunteers
On the one hand the volunteers were a godsend to the grieving survivors while on the other hand the police considered them persona non grata. The Deputy Superintendent and the Assistant Commissioner made it difficult for foreign nationals to carry out the relief operation in restricted land of Great Nicobar without Home minister's written permission. Authorities warned the volunteers and asked them to leave the island by 12th of Feb 2005. Bhai Esher Singh and other volunteers contacted Governor of Tamil Nadu, the Lieutenant Governor, and Relief Commissioner of Andaman & Nicobar for immediate assistance. Campbell Bay Sikh Sangat protested against the authorities' decision. There was a huge rally in front of Assistant Commissioners' office in support of the team. Authorities had no choice but to recant their decision and let the volunteers stay for the stint approved by the Port Blair authorities.
Sports Day
To raise the spirits of young boys and girls in Campbell Bay the team under the direction of Joravar Singh organized a sports day in local school playground. Youth enthusiastically participated in sports activities forgetting the tragedy for a while. They engaged in soccer, sack race and track events all day long. Parents participated in the entire event encouraging their kids. Prizes were distributed at end. The Sangat decided to make it an annual event to commemorate the positivism brought by their brothers and sisters from far away lands.
Paralyzed Survivor
Donger Singh, who is paralyzed from waist down, was washed away by Tsunami waves but was miraculously saved. He developed deep bedsores while undergoing treatment in the hospital. UNITED SIKHS is finding possibilities of his surgery and treatment in Apollo hospital, Chennai. He needs a wheel chair, A/C room and funds to pay the bills. His mother and sister have dedicated their lives to his care.
Volunteer Suffers Heart Attack
Major Santokh Singh, a UNITED Sikhs volunteer, from All India Pingalwara association in Amritsar, had a heart attack on 16th Feb while helping the survivors. He was immediately taken to hospital for treatment and transferred to the Main Land. Later, he was declared out of danger.
There is a lot more on the tsunami plate - There is no time to build homes from scratch; we need prefabricated homes that can withstand the returning earthquake shocks. We need a sturdy Gurdwara and Community center that can provide a safe hiding place on a hill at a distance from the ocean. It will serve as a source of both physical and spiritual refuge for the community. The community that is scared and divided needs to be brought together. Some of them want to resettle in the Punjab as they are wary of the earthquake tremors they are still experiencing. Others are anxious to rebuild their lives in their homeland. We need to reestablish their source of incomes. The children have lost schools and colleges. We need to restore their lives completely. We cannot do this all alone and need your support. We ask you for your help. Please spread the message, help as volunteers, help with donations.help however you can.
"Verily, the UNITED SIKHS' team has done so much in a very short time. However, they are small in number and are running out of reserves. They are in great need of more resources to primarily help those victims who don't have access to other kinds of support - governmental and private. Contributors can be assured that all their donations will end up in the hands of the victims since UNITED SIKHS runs strictly by volunteerism and sewa" says Dr. Mary Jane Nations a social worker following the work of UNITED SIKHS.
---
UNITED SIKHS will update you as we receive reports. For Relief Team updates see:
http://www.unitedsikhs.org/ghanaia/fieldreport.html
---
Please donate, even if you cannot give a lot. Your contribution will help victims directly.
http://www.unitedsikhs.org/reliefproject.html#donate
You may donate online by clicking above, or by cheque payable to UNITED SIKHS, and mail to a UNITED SIKHS regional office.
---
For more information on the GHANAIA tsunami project, e-mail us on:
contact@unitedsikhs.org
---
Our Mission
To transform underprivileged and minority communities and individuals into informed and vibrant members of society through civic, educational and personal development programs, by fostering active participation in social and economic activity.
UNITED SIKHS is also an avenue for networking between like-minded organisations to establish and nurture meaningful projects and dialogues - whether social, cultural or political- to promote harmony, understanding and reciprocity in our villages, towns and cities.
UNITED SIKHS is a coalition of organisations and individuals, who share a common vision based on the belief that there is no greater endeavour than to serve, empower and uplift fellow beings. The core of our philosophy is an unwavering commitment to civic service and social progress on behalf of the common good.
Accordingly, UNITED SIKHS has sought to fulfil its mission not only by informing, educating and uplifting fellow beings but also by participating in cross-cultural and political exchanges to ensure that the promises and benefits of democracy are realized by all.
We at UNITED SIKHS believe that the development of enlightened and progressive societies can be made possible by socially conscious groups of people who make a commitment to develop and direct human potential. Our work, efforts and achievements stand as a testament to our faith in this vision.