Please Be Involved, Click here and Join UNITED SIKHS
To receive forthcoming bulletins join our UNITED SIKHS Yahoo group
To donate go to www.unitedsikhs.org/donate
This Press Release may be read online at: http://www.unitedsikhs.org/PressReleases/PRSRLS-25-07-2009-00.htm
Press Release: 25th July 2009, 10th Saavan (Samvat 541 Nanakshahi )
Press Release
Multi-faith Community Continues to Advocate Against Hate Crimes
Richmond Hill, Queens, NY, USA:
Last Sunday, UNITED SIKHS partnered with the Jewish Community Relations Council, Council of Peoples Organization, the New York City Police Department (NYPD), and the Queens County District Attorney in a proactive initiative to educate, empower, and provide resources to the Sikh community about hate crimes. Held at Gurdwara Baba Makhan Shah, one of the largest Sikh
| | |
| --- | --- |
| | |
| Michael Osgood, Commanding Officer of the Hate Crimes Task Force NYPD | Mariela Palomino Herring, Queens County Assistant District Attorney and Bureau Chief of Gang Violence and Hate Crimes |
Gurdwaras in the country, speakers educated the local Sikh community as to what defines a hate crime, how to report a hate crime, how a hate crime is investigated, and how hate crime offenders are prosecuted differently than regular offenders. During the meeting, hate crime palm cards were distributed in Panjabi and were also available in English. The palm cards, which provide basic information about hate crimes and reporting, easily fit in a wallet or purse for quick and easy access.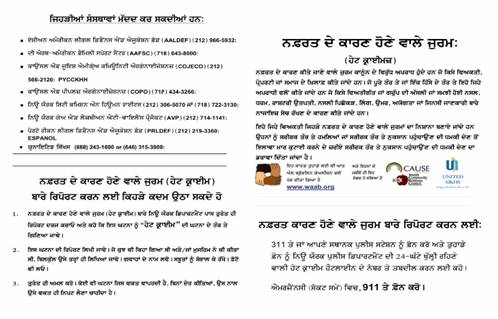 Actual Palm Cards that were distributed at the Gurdwara
In his speech, Rabbi Bob Kaplan of the Jewish Community Relations Council stated, "It is so important that everyone, all faiths, work together to say: Hate is simply unacceptable, and as people of faith we will not tolerate Hate Crimes against any one or group." Mohammad Razvi, Executive Director of the Council of Peoples Organization (COPO) followed up by stating, "No one is born to hate nor does their faith teach to hate. If a crime is committed against anyone we must stand together side by side sending a clear message to denounce it and demand justice.
| | |
| --- | --- |
| | |
| Mariela Palomino Herring and Michael Osgood being honored with plaques | Rabbi Bob Kaplan and Mohamed Razvi being presented with Saropas |
UNITED SIKHS urges all people to stand up for their constitutionally guaranteed rights, and urges the Sikh community to practice their faith freely and wear their turbans and articles of faith.


Do not hesitate to report your discriminatory experience. Contact UNITED SIKHS immediately to report your incident by telephone at 1-888-243-1690 or by email at
law-usa@unitedsikhs.org
If you would like to sponsor Hate Crime Palm Cards for your community, contact us at
contact@unitedsikhs.org
A hate crime against one is a crime against us all." Michael Osgood, Commanding Officer of the Hate Crimes Task Force of the New York City Police Department (NYPD) spoke on the investigative aspect of hate crimes and commented, "I have the right to walk down the street as exactly the way I am, and so do you," when discussing how a person has the right to their own identity. Queens' County Assistant District Attorney Mariela Palomino Herring, Gang Violence and Hate Crimes Bureau Chief, educated the attendees about the legal definition of hate crimes and the effect of the addition of hate crime charges. Himmat Singh, President of the Gurdwara Baba Makhan Shah, wrapped up the presentation by noting the importance of knowing about hate crimes when stating during the presentation "It's very important for the Sikh Community to understand hate crimes and we thank the speakers for this wonderful presentation."
The speakers were well received by members of the Sikh community and welcomed the hate crime palm cards. Commenting on the event, Jaspreet Singh, Staff Attorney of UNITED SIKHS stated, "It's very important for the Sikh community remain vigilant against hate crimes, and to continue to educate the public as to who Sikhs are. Also, the community must continue to come forward and report incidents of bias and hate."
UNITED SIKHS advises Sikhs and all other minorities who suffer racial profiling and hate crimes not to treat such incidents lightly. Victims of hate crimes and racial profiling are advised to contact UNITED SIKHS to advocate on their behalf. You may report a hate/bias crime/incident to UNITED SIKHS at http://unitedsikhs.org/hatecrime/
You may read a previous press release on UNITED SIKHS advocacy efforts against hate crimes at: http://www.unitedsikhs.org/PressReleases/PRSRLS-24-01-2009-00.htm

Issued By:
Rudy Medini
Law & Media Intern
UNITED SIKHS
Tel: 646-315-3909
---
WE ARE DOING EVERYTHING WE CAN, BUT WE NEED YOUR CONTINUED SUPPORT!
PLEASE DONATE GENEROUSLY; HOWEVER, NO AMOUNT IS TOO LITTLE.
You can help those affected by countless crises around the world each year by making a financial gift to the UNITED SIKHS, which will provide immediate relief and support to those in need. Call 1-888-243-1690 for more information. Contribute to UNITED SIKHS through local chapter in your country http://unitedsikhs.org/contact.php . Internet users can make a secure online contribution by visiting http://unitedsikhs.org/donate.php . If you wish to designate your donation to a specific disaster please do so at the time of your donation.
---
Our Mission
To transform underprivileged and minority communities and individuals into informed and vibrant members of society through civic, educational and personal development programs, by fostering active participation in social and economic activity.
UNITED SIKHS is also an avenue for networking between like-minded organisations to establish and nurture meaningful projects and dialogues - whether social, cultural or political- to promote harmony, understanding and reciprocity in our villages, towns and cities.
UNITED SIKHS is a coalition of organisations and individuals, who share a common vision based on the belief that there is no greater endeavour than to serve, empower and uplift fellow beings. The core of our philosophy is an unwavering commitment to civic service and social progress on behalf of the common good.
Accordingly, UNITED SIKHS has sought to fulfil its mission not only by informing, educating and uplifting fellow beings but also by participating in cross-cultural and political exchanges to ensure that the promises and benefits of democracy are realized by all.
We at UNITED SIKHS believe that the development of enlightened and progressive societies can be made possible by socially conscious groups of people who make a commitment to develop and direct human potential. Our work, efforts and achievements stand as a testament to our faith in this vision.