To Get Involved, Click here and Join UNITED SIKHS
To receive forthcoming bulletins join our UNITED SIKHS Yahoo group
To donate go to www.unitedsikhs.org/donate
This Press Release may be read online at: http://www.unitedsikhs.org/PressReleases/PRSRLS-24-10-2008-00.htm
Press Release: 24th Oct 2008, Friday 09th Katik (Samvat 540 Nanakshahi )
Press Release
UNITED SIKHS HELPS STUDENTS ACHIEVE EXCELLENCE IN THEIR CHOSEN FIELD

New Delhi: UNITED SIKHS conducted a workshop titled 'ACHIEVE EXCELLENCE IN YOUR CHOSEN FIELD" with the students of Guru Tegh Bahadur Institute of Technology, Rajouri Garden on Oct. 24, 2008. Around 120 students participated in the session addressed by Major General Iqbal Singh. He touched on a number of pertinent subjects including Goal-setting, Motivation, Time Management, Human Development, Dharm and Hukam, alongside exemplifying a list of legends in Sikh history - Banda Singh Bahadur, Hari Singh Nalwa, Akali Phoola Singh Nihang, Nawab Kapur Singh, Maharaj Ranjit Singh, Jassa Singh Ramgarhia and Jassa Singh Ahluwalia. While keeping the session crisp and interactive, he chose an efficient way of questioning and then answering the same, making the subject very interesting and comprehensible.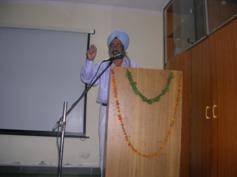 Major General Iqbal Singh addressing the students
Noticing the overwhelming response to the talk-cum-workshop, which was part of the ongoing Learning Values Series, Dr. Kuldip Singh, Director of Guru Tegh Bahadur Institute of Technology, requested UNITED SIKHS to organise more such workshops on a regular basis. He said his Institute will also consider a proposal to hold a yoga workshop.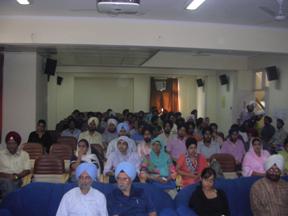 Daljit Singh and Dr. Kuldip Singh with the participants
Daljit Singh of UNITED SIKHS gave the vote of thanks. He praised the tremendous efforts made by Major Gen. Iqbal Singh in delivering a spiritual message in a very vivid, lucid and simple manner. He also thanked the Director of the Institute for supporting and hosting the workshop.
You may read a previous press release on the Learning Values Series at http://www.unitedsikhs.org/PressReleases/COMVCE-14-07-2008-00.htm

Issued By:

Komalmeet Kaur
Project Coordinator
Learning Values Series
UNITED SIKHS
Tel: +91-9818096705
---
Our Mission
To transform underprivileged and minority communities and individuals into informed and vibrant members of society through civic, educational and personal development programs, by fostering active participation in social and economic activity.
UNITED SIKHS is also an avenue for networking between like-minded organisations to establish and nurture meaningful projects and dialogues - whether social, cultural or political- to promote harmony, understanding and reciprocity in our villages, towns and cities.
UNITED SIKHS is a coalition of organisations and individuals, who share a common vision based on the belief that there is no greater endeavour than to serve, empower and uplift fellow beings. The core of our philosophy is an unwavering commitment to civic service and social progress on behalf of the common good.
Accordingly, UNITED SIKHS has sought to fulfil its mission not only by informing, educating and uplifting fellow beings but also by participating in cross-cultural and political exchanges to ensure that the promises and benefits of democracy are realized by all.
We at UNITED SIKHS believe that the development of enlightened and progressive societies can be made possible by socially conscious groups of people who make a commitment to develop and direct human potential. Our work, efforts and achievements stand as a testament to our faith in this vision.