Community Mourns the Brutal Beheading of Peshawar Sikh by Taliban
UNITED SIKHS Appeals for Concrete Action to Protect Minority Communities in the Region
Peshawar, PAKISTAN: Jaspal Singh, a resident of Peshawar, was brutally beheaded by Pakistan Taliban. He was one of three Sikhs abducted by the Taliban approximately 41 days ago and held for ransom. The other two abductees, Gurvinder Singh, and his uncle Surjeet Singh, are reported to be still in the custody of Taliban, their release pending their families' payment of the demanded ransom. UNITED SIKHS is appealing to several international and national level human rights organizations for concrete measures that will protect Sikhs and other minorities in Pakistan against such gross injustices.
Jaspal Singh (file photo)
Local sources suggest that Jaspal Singh, Surjeet Singh and Gurvinder Singh, all residents of Dabagaree Garden, Peshawar were en route to Khyber Agency to meet with relatives when Taliban militants kidnapped them in the Chora Tanga Akaakhel area on January 11, 2010 in the afternoon. Initially, the Sikh community in Peshawar was reluctant to report this incident to media or to the Government due to fear of repercussions from Taliban, and the families, along with the local community and local Sikh leaders attempted to negotiate the release of three Sikhs.
Sources report that the Pakistan Taliban viciously beheaded Jaspal Singh the night of February 20, 2010 in the Upper Tirah valley Region on the border of Khyber and Orakzai agency and threw his body on the rocks. In a letter that was found on the body of Jaspal Singh, the Taliban demanded 20 million Pak Rupees ($235,000 USD) for the release of the other two Sikhs, warning relatives and the Sikh community against approaching the media. The letter further stated that the Sikh minority community would risk the lives of the two Sikhs in captivity and could also face threats of suicide attacks if the details of beheading and kidnapping were revealed to the media or security forces.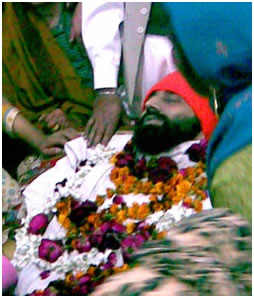 Jaspal Singh's Dead Body before Cremation
Information received from local sources suggests that Taliban forcefully attempted to convert the Sikhs to Islam. However, when the Sikhs refused to convert, Jaspal Singh was mercilessly slaughtered.
Jaspal's family and relatives in grief around the dead body
The Shiromani Gurdwara Parbandhak Committee (SGPC) and other Sikh governing bodies have strongly denounced the attacks, and Sikh communities across the world are in mourning.

UNITED SIKHS has been working with Sikh families who took refuge in the Peshawar Gurdwara last year and has been helping these families to establish small businesses and start a new life in safer regions. As part of the relief efforts for Internally Displaced Persons (IDPs), UNITED SIKHS advocacy group met with the Pakistan Minister on Minority Affairs last year and brought to his notice the plight of the Peshawar Sikhs. These Sikh families are yet to receive IDP status and UNITED SIKHS Team has been advocating for their rights to ensure that the Government takes responsibility of these families.

To read more about UNITED SIKHS relief efforts in Pakistan, please visit

http://www.unitedsikhs.org/PressReleases/PRSRLS-29-09-2009-00.htm,
http://unitedsikhs.org/PressReleases/PRSRLS-02-02-2010-00.html,
http://www.unitedsikhs.org/PressReleases/PRSRLS-03-08-2009-00.htm

Issued by:
Rucha Kavathe
UNITED SIKHS
Media and Communications Coordinator
law-usa@unitedsikhs.org

646 688 3525
Jaspreet Singh, Staff Attorney, UNITED SIKHS USA stated, "Sikhs and other minorities face difficult circumstances in the current socio-political situation in Pakistan, and UNITED SIKHS has been consistently working to bring greater attention to what is clearly a grave problem. Even after bringing the problems of the Peshawar Sikhs to the attention of the Pakistani Government, these families are yet to receive IDP status. We are truly heartbroken to witness the cost these innocent lives have paid due to the time taken in political reviews. I hope that this unfortunate incident will bring to light the atrocities faced by minorities in the region, and the Government of Pakistan will take serious action to protect the minority communities in the country."
"Sikhs along with the other minority communities in Canada are shocked. We appeal to the Canadian government to help Sikhs find justice in the land of Taliban", said Ranbir Singh, Director UNITED SIKHS Canada.
"Our prayers and sympathies are with the victim's family. We appeal to the United Nations and the Government of Pakistan to take concrete steps toward protecting minority communities in NWFP" said Ravinder Singh, Director UNITED SIKHS Australia.
Ranjit Singh, Legal Officer, UNITED SIKHS France commented, "It is unbelievable that such acts of tyranny happen even today when we pride ourselves of the numerous achievements made by mankind."
"We are deeply saddened by the news. This incident reinforces the message of standing up against such tyranny, and working together to overcome injustice. UNITED SIKHS is working to take up this matter with the US Department of State, United States Commission of International Religious Freedom (USCIRF), United Nations, and High Commission of Pakistan in the US, to ensure the protection of Sikhs and other minority communities in Pakistan," said Kuldip Singh, President UNITED SIKHS, USA.
Amardeep Singh, Volunteer, UNITED SIKHS UK stated, "We have been working tirelessly across borders to help rehabilitate Sikh families in Peshawar. Having known these Sikh families now, the news brings more pain to us as many of our volunteers have visited and worked with the IDPs first hand."
Contact Us
UNITED SIKHS encourages the Sikh community to wear their kakaars, fearlessly exercise their freedom of religion, and to contact us with any problems, concerns, or incidents of discrimination.

UNITED SIKHS needs your support to undertake relief efforts in Pakistan and help those whose lives and livelihoods are severely threatened. 15 families need to be rehabilitated, and only 9 have received help so far.

To donate to the Pakistan IDP Relief effort, please Click here or contact your local UNITED SIKHS office.