Please Be Involved, Click here and Join UNITED SIKHS
To receive forthcoming bulletins join our UNITED SIKHS Yahoo group
To donate go to www.unitedsikhs.org/donate
This Press Release may be read online at: http://www.unitedsikhs.org/PressReleases/PRSRLS-23-01-2009-00.htm
Press Release: 23rd Jan 2009, Wednesday 10th Maagh (Samvat 541 Nanakshahi )
Press Release
EEOC and UNITED SIKHS Settle Lawsuit Against Security Firm in Employment Discrimination Case
"I am pleased that UNITED SIKHS fights for the rights of minorities, such as the Sikh community. They assisted me with my case from the initial filing to the end." - Sukhdev Singh
Dallas, Texas, USA – The Equal Employment Opportunity Commission (EEOC), assisted by UNITED SIKHS, settled an employment discrimination case earlier this week against Champion National Security, a security firm that discriminated against Sukhdev Singh Brar. The EEOC sought compensatory and punitive damages when filing the employment discrimination action against the security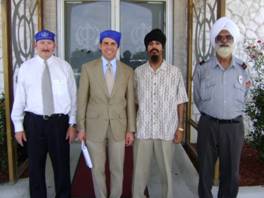 (Bill Backhaus EEOC, Jack Fink CBS News, Gurvinder Singh Director UNITED SIKHS, Sukhdev Singh Brar)
company, after numerous consultations with UNITED SIKHS to understand the importance of kesh (unshorn hair) covered by a dastaar (Sikh turban) as one of the five articles of faith Sikhs are required to wear as an inherent practice of the Sikh faith. Champion National Security settled the case, acknowledging the discriminatory policy and agreeing to a written change in company policy with continued Sikh awareness training, to be provided by UNITED SIKHS. Champion National Security will also post anti-discrimination notices on all employee bulletin boards and compensate Sukhdev Singh $24,000.
- UNITED SIKHS is working on over a dozen cases with the EEOC to combat employment discrimination at the workplace.

Workplace discrimination is increasing against Sikhs. Do not hesitate to report your discriminatory experience.

If you are experiencing discrimination at your workplace, Contact UNITED SIKHS immediately to report your incident by telephone at 1-888-243-1690.
"Sometimes discrimination that does not stem from direct hostility is nevertheless unlawful because a business has sought to satisfy prejudiced preferences projected on its clients," said Robert Canino, regional attorney for the EEOC's Dallas Office. "This was a situation in which accommodating the religious observance or practice presented no hardship to the business objective of providing private security."

UNITED SIKHS Director Gurvinder Singh commented, "We believe that it is pertinent to link like-minded organizations and provide a voice for minority communities. This victory sends a strong message that discrimination in any form will not be tolerated, as it tears into the very fabric of the American being. We thank the EEOC for its diligence and looks forward to this ever-important partnership to assist many others around the country to fight employment discrimination." Gurvinder held a training session for the staff of the Dallas District Office of the EEOC in April of 2008, where EEOC Dallas Director Michael Fetzer acknowledged that strong action should be taken in cases like Sukhdev Singhs.

EEOC offices across the country, including Atlanta, Cleveland, Dallas, and D.C. have been receiving training from UNITED SIKHS in regard to the Sikh religion and the specific issues Sikhs face in the workplace. Communications between the EEOC and the Sikh community have been vital in getting the EEOC to take this case to the level it has reached. Awareness events taking place in various gurdwaras (Sikh places of worship) around the nation have been particularly successful because people have actually reported incidents during the events, and the national EEOC office has recognized that Sikhs are at a great risk of being discriminated against in the workplace. UNITED SIKHS urges the Sikh community to continue to report incidents of discrimination of any kind, so that appropriate actions can be taken.

We urge the Sikh community or any minority to continue to report incidents of discrimination of any kind, so that appropriate actions can be taken, by calling 1-888-243-1690 or emailing law@unitedsikhs.org

You may read a previous press release on UNITED SIKHS collaboration with the EEOC at:
http://www.unitedsikhs.org/PressReleases/PRSRLS-15-04-2008-00.htm and http://www.unitedsikhs.org/PressReleases/PRSRLS-07-05-2008-00.htm

Issued by:

Gurvinder Singh
International Civil and Human Rights Advocacy (ICHRA)
UNITED SIKHS
Email: law@unitedsikhs.org
1-(646) 315-3909

---
Our Mission
To transform underprivileged and minority communities and individuals into informed and vibrant members of society through civic, educational and personal development programs, by fostering active participation in social and economic activity.
UNITED SIKHS is also an avenue for networking between like-minded organisations to establish and nurture meaningful projects and dialogues - whether social, cultural or political- to promote harmony, understanding and reciprocity in our villages, towns and cities.
UNITED SIKHS is a coalition of organisations and individuals, who share a common vision based on the belief that there is no greater endeavour than to serve, empower and uplift fellow beings. The core of our philosophy is an unwavering commitment to civic service and social progress on behalf of the common good.
Accordingly, UNITED SIKHS has sought to fulfil its mission not only by informing, educating and uplifting fellow beings but also by participating in cross-cultural and political exchanges to ensure that the promises and benefits of democracy are realized by all.
We at UNITED SIKHS believe that the development of enlightened and progressive societies can be made possible by socially conscious groups of people who make a commitment to develop and direct human potential. Our work, efforts and achievements stand as a testament to our faith in this vision.