Please Be Involved, Click here and Join UNITED SIKHS
To receive forthcoming bulletins join our UNITED SIKHS Yahoo group
To donate go to www.unitedsikhs.org/donate
This Press Release may be read online at: http://www.unitedsikhs.org/PressReleases/PRSRLS-22-07-2009-00.htm
Press Release: 22nd July 2009, 7th Saavan (Samvat 541 Nanakshahi )
Press Release
Pakistan IDPs Speak Out. Sustained Efforts Continue .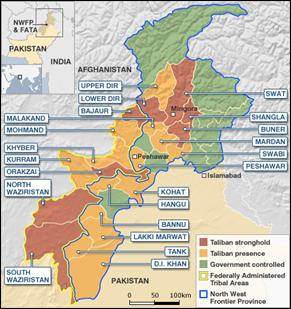 Pakistan IDP map Courtesy of BBC.com
Click here for the video.
For full list of requirements, click here.
Islamabad, Pakistan: The humanitarian crisis surrounding the millions of Pakistan's Internally Displaced Persons (IDPs) calls for immediate attention from the rest of the world. UNITED SIKHS volunteers visited Hassan Abdal-Panja Saheb, Peshawar, Mardan, and Charsadda of the North West Frontier Province (NWFP) camps to provide humanitarian relief and basic supplies. Sikh Aid Volunteers reported a "lack of funds to buy medicines along with a severe shortage of physician volunteers in medical clinics. The physician scarcity is further compounded by cultural constraints and gender sensitivity, which prevents male doctors from treating female IDPs. The mission of Bhai Ghanaia Ji can be achieved if Sikhs around the world come forward to help the IDPs."
UNITED SIKHS volunteers in Peshawar reported the following serious issues with people displaced from Orakzai:


• 13 Sikh families displaced from the Orakzai Region and 12 from Kurram still do not hold internationally recognized IDP status. Currently, it is only after the initiation of military operations that such persons are considered IDPs; conversely, those oppressed by the Taliban and forced to flee from their homes are not. Our legal team is currently conducting conferences with the United Nations High Commissioner for Refugees (UNHCR) and the local authorities to see how to adequately expedite the operations and allow the families in dire need of the assistance granted to IDPs to obtain such status.


• The 12 Sikh families who fled from the Taliban and one family from Buner have found shelter with the Sikhs in Peshawar. All 13 families have no idea as to when they will be heading back to Orakzai; those who are students are particularly worried about their future. Many of them are looking for ways to settle down in the Peshawar region or at Punja Saheb in Hassan Abdal.


UNITED SIKHS has provided relief supplies for 2 weeks at Panja Sahib. We seek donations to meet the needs for another 20 days at 19 IDP camps and for IDPs at the Panja Sahib Gurdwara.


Total funds needed immediately: $215,000 USD.

Donate at unitedsikhs.org/donate or by posting a check to a UNITED SIKHS office nearest to you.

| | |
| --- | --- |
| | |
| Gurudwara Bhai Joga Singh, Peshawar | UNITED SIKHS volunteers at JaloZai |
Medicines provided at IDP camp Panja Saheb in Hassan Abdal. The minority IDPs at Panja Saheb have requested to move when the water supply and electricity are restored in Bunair district. Unfortunately, the projected dates for their return continuously change.
UNITED SIKHS volunteers delivered a one month supply of medicines, and enough food supplies to last for at least 2 weeks. Suaran Singh said, "I thank the diaspora, who are assisting us through UNITED SIKHS, for the medicines that have been provided. I fear for what will happen after a month if we are still in the camps and need more medicines for suffering patients. Even though the WAKF board has provided a dispensary with an onsite local male doctor, Mr. Mohammed Ali, and a female doctor who visit the local dispensary for certain hours each day, we're still in need of supplied and are thankful for the medicines provided for the chronic patients." The relief efforts shall continue and will only be possible with your kind donations.
| | |
| --- | --- |
| | |
There is an urgent need to set up a filtering plant at Panja Saheb to provide clean and potable drinking water. The only water available currently becomes contaminated when traveling from the spring through the pipes. The source is mixed with the neighboring "Janana Ghar" (Bath house) water. The cost to setup a water filtration plant is between 12-16 lakhs PKR (15-20K USD). The Sangat in the camps has requested UNITED SIKHS provide the most needed help.
Two water compressors were repaired by UNITED SIKHS to keep the immediate supply of water filtered to avoid medical complications. But there is a need for a permanent water filtration plant that can meet the needs of the IDPs and also the sangat that visits Panja Saheb. Since there is no guarantee that the displacement caused by the Taliban will cease in the near future, it is essential for Panja Saheb to have adequate facilities to host the future influx of minority IDPs.
UNITED SIKHS was able to temporarily repair the two small filter compressors, but they are not sufficient to assist the daily needs of the people at the camp. Doctor Mohammed Ali said, "The major gastrointestinal problems at the camp are due to the water supply, and further examinations and repairs are essential to the health and well-being of those living here".
"UNITED SIKHS will continue to work with the Pakistani Government to assist the displaced families in their resettlement phase. There is immense burden on the Pakistani government due to the war, but they are cooperating and assisting to the best of their ability to rehabilitate the displaced people," said Kuldip Singh, President of UNITED SIKHS-USA.
Suran Singh, IDP Camp Coordinator at Panja Saheb said, "The date for moving to our homes keeps on shifting; this has been going on for the past 2 months. We can't move to the homes until the electricity and water supplies are restored at our homes in Bunair district. We are eagerly waiting to return and to see what damages exist and to begin to restart our lives."
UNITED SIKHS appeals to you for immediate help to rehabilitate people living in make-shift camps, where they face extreme heat and poor hygiene.

For a previous press release on UNITED SIKHS Pakistan IDP efforts, please visit: http://www.unitedsikhs.org/PressReleases/PRSRLS-26-06-2009-00.htm.
Issued by:
Gurvinder Singh
Sikh Aid Director
UNITED SIKHS
email: sikhaid@unitedsikhs.org
Ph: 1-888-243-1690
---
WE ARE DOING EVERYTHING WE CAN, BUT WE NEED YOUR CONTINUED SUPPORT!
PLEASE DONATE GENEROUSLY; HOWEVER, NO AMOUNT IS TOO LITTLE.
You can help those affected by countless crises around the world each year by making a financial gift to the UNITED SIKHS, which will provide immediate relief and support to those in need. Call 1-888-243-1690 for more information. Contribute to UNITED SIKHS through local chapter in your country http://unitedsikhs.org/contact.php . Internet users can make a secure online contribution by visiting http://unitedsikhs.org/donate.php . If you wish to designate your donation to a specific disaster please do so at the time of your donation.
---
Our Mission
To transform underprivileged and minority communities and individuals into informed and vibrant members of society through civic, educational and personal development programs, by fostering active participation in social and economic activity.
UNITED SIKHS is also an avenue for networking between like-minded organisations to establish and nurture meaningful projects and dialogues - whether social, cultural or political- to promote harmony, understanding and reciprocity in our villages, towns and cities.
UNITED SIKHS is a coalition of organisations and individuals, who share a common vision based on the belief that there is no greater endeavour than to serve, empower and uplift fellow beings. The core of our philosophy is an unwavering commitment to civic service and social progress on behalf of the common good.
Accordingly, UNITED SIKHS has sought to fulfil its mission not only by informing, educating and uplifting fellow beings but also by participating in cross-cultural and political exchanges to ensure that the promises and benefits of democracy are realized by all.
We at UNITED SIKHS believe that the development of enlightened and progressive societies can be made possible by socially conscious groups of people who make a commitment to develop and direct human potential. Our work, efforts and achievements stand as a testament to our faith in this vision.