Kuala Lumpur, Malaysia - A UNITED SIKHS director from Malaysia today attended a briefing by the Prime Minister of the Union of Myanmar, General Thein Sein, to U.N. Secretary General, Ban Ki-moon. This was followed by a series of meetings and discussions with other global aid workers on what can be done to expedite the relief process to ensure that the victims of Cyclone Nargis get access to critically needed food and medical supplies.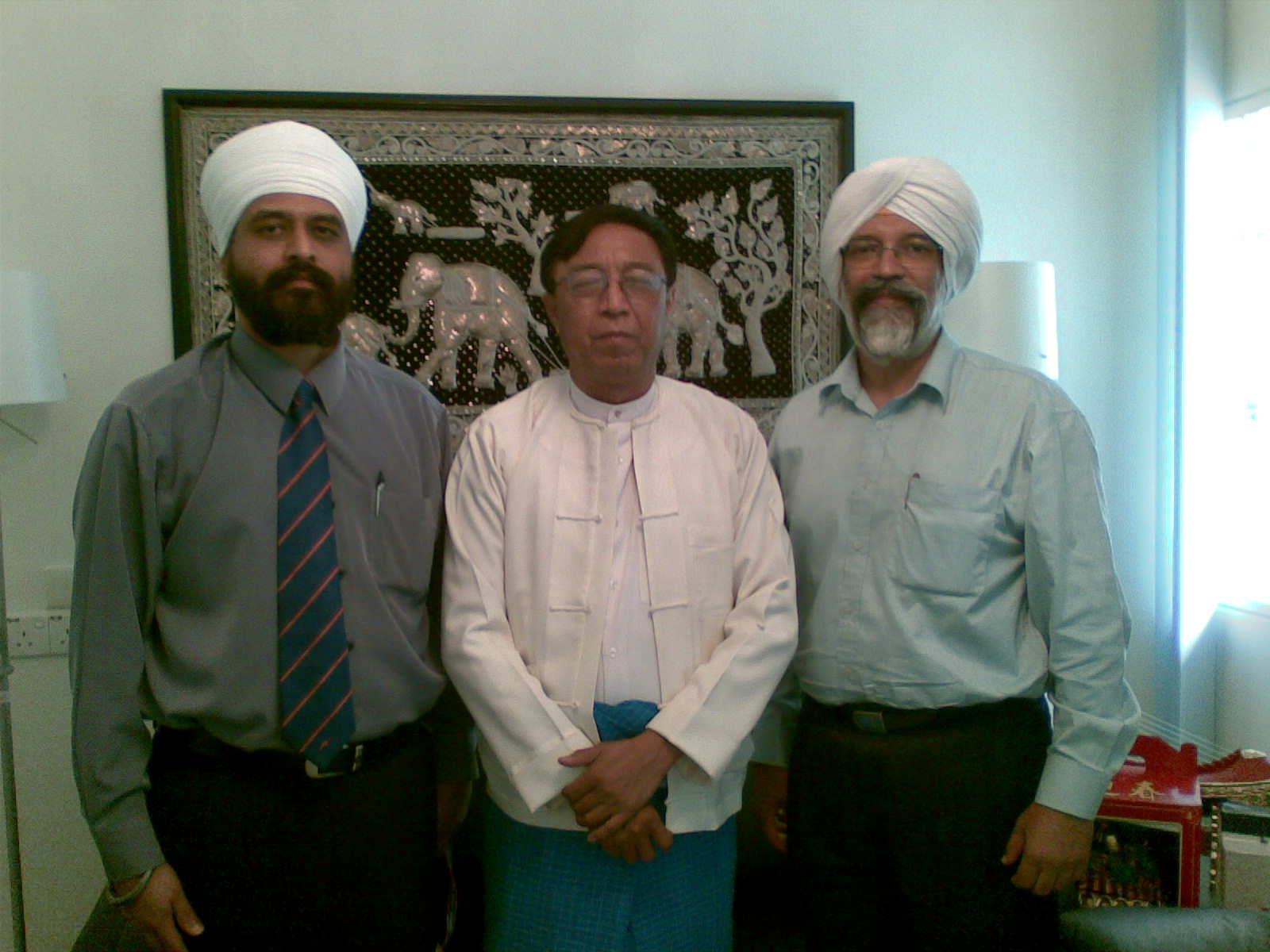 File Picture: Myanmar Ambassador U Tin Latt with UNITED SIKHS Directors Sunil Shukvir Singh ( left) and Harbinder Singh ( right)
Sunil Shukvir Singh, the Malaysian Operations Coordinator of UNITED SIKHS Myanmar Disaster Relief, who was granted permission by the Myanmar authorities to fly to the cyclone-devastated country, flew to Yangon courtesy of Air Asia, with a cargo of essential supplies, collected by UNITED SIKHS and its coalition partners, consisting of Malaysian Gurdwaras, (Sikh places of worship), Global Sikhs, Buddhist Maha Vihara, Sathya Sai Central Council of Malaysia and Malaysian Hindu Sangam. Air Asia, Malaysias budget airline, generously provided free air travel and cargo, enabling him to carry with him half a tonne of infant formula and infant cereals as well as medical supplies.
Sunil Shukvir Singh, who works in the financial sector, was one of the many international relief workers attending the, "Briefing on Relief and Rehabilitation Efforts in the Aftermath of Cyclone Nargis," organized by the Myanmar authorities for Ban Ki-moon, the UN Secretary General, along with other global NGOs who were given access to the country. All present were given the lowdown on the situation, as well as being briefed on what is most critically needed.
Today, the relief workers were slated to be taken on a tour of the hard-hit areas of Yangon and tomorrow to get an aerial view, by helicopter, of the devastation which hit Myanmar two weeks ago.
When contacted over the phone in Yangon, Sunil Shukvir Singh said that one of the requests he had made during the meeting, on behalf of all present, was that the red-tape and bureaucracy facing international relief workers be removed, to allow much needed aid to be sent to the worst-hit areas immediately.
"During the course of the meeting, we were informed that while food and medical supplies are essential to feed and aid victims of the cyclone, what is also required urgently are plastic roofing sheets to provide shelter to the people left homeless in the aftermath of the devastation," he said.
In addition to the supplies air freighted by Air Asia yesterday, there will be another batch of supplies going out today when Project Director of the UNITED SIKHS Relief Mission, Harbinder Singh, flies out to Myanmar this evening, at the invitation of the Myanmar Government and, again, courtesy of Air Asia.
Aid will continue to be transported to Myanmar for as long as the donations keep coming in. Members of the public are urged to either drop off food supplies, such as rice, lentils and canned food or give a donation to any Sikh Gurdwara or the Buddhist Vihara in Brickfields, where volunteers have been mobilized to send the collected items to the UNITED SIKHS collection base at the Kampung Pandan Gurdwara, (Sikh place of worship).
Members of the public who wish to make any other contributions to the victims of Cyclone Nargis may also call 012 215 5966 or 012 268 9755 for further information.
UNITED SIKHS has also been working closely with the Sikh Gurdwara in Yangon to prepare hot food communally which has been distributed to the survivors of Cyclone Nargis in the area. More than 2,000 hot meals, on average, are prepared daily and this will increase once the supplies of rice, lentils and canned food collected by UNITED SIKHS arrive in Yangon.
To read previous press releases on UNITED SIKHS Myanmar Disaster Relief, please visit http://www.unitedsikhs.org/PressReleases/PRSRLS-19-05-2008-00.htm
Issued By
Lashvinder Kaur
Media and Communications Coordinator
UNITED SIKHS Myanmar Disaster Relief
Tel. : 03 79544505, Fax : 79545435
Lashvinder.kaur@unitedsikhs.org
WE ARE DOING EVERYTHING WE CAN, BUT WE NEED YOUR SUPPORT TOO!
PLEASE DONATE GENEROUSLY; HOWEVER NO AMOUNT IS TOO LITTLE.
You can help those affected by countless crises around the world each year by making a financial gift to the UNITED SIKHS, which will provide immediate relief and support to those in need. Call 1-888-243-1690 for more information. Contribute to UNITED SIKHS through the local chapter in your country http://unitedsikhs.org/contact.php. Internet users can make a secure online contribution by visiting http://unitedsikhs.org/donate.php.

Our Mission
To transform underprivileged and minority communities and individuals into informed and vibrant members of society through civic, educational and personal development programs, by fostering active participation in social and economic activity.
UNITED SIKHS is also an avenue for networking between like-minded organisations to establish and nurture meaningful projects and dialogues - whether social, cultural or political- to promote harmony, understanding and reciprocity in our villages, towns and cities.
UNITED SIKHS is a coalition of organisations and individuals, who share a common vision based on the belief that there is no greater endeavour than to serve, empower and uplift fellow beings. The core of our philosophy is an unwavering commitment to civic service and social progress on behalf of the common good.
Accordingly, UNITED SIKHS has sought to fulfil its mission not only by informing, educating and uplifting fellow beings but also by participating in cross-cultural and political exchanges to ensure that the promises and benefits of democracy are realized by all.
We at UNITED SIKHS believe that the development of enlightened and progressive societies can be made possible by socially conscious groups of people who make a commitment to develop and direct human potential. Our work, efforts and achievements stand as a testament to our faith in this vision.