Please Be Involved, Click here and Join UNITED SIKHS
To receive forthcoming bulletins join our UNITED SIKHS Yahoo group
To donate go to www.unitedsikhs.org/donate
This Press Release may be read online at: http://www.unitedsikhs.org/PressReleases/PRSRLS-21-09-2006-03.htm
Press Release: 21nd September 2006, 7th Assu (Samvat 538 Nanakshahi)
UNITED SIKHS Co-Sponsors Interfaith Prayer to Mark the Opening of 61st UN General Assembly
New York – Religious leaders representing up to 30 faith traditions from all over the world attended an interfaith prayer service on Sept 12 th to mark the opening of the 61 st United Nations General Assembly.

The introductions were led by Hiro Sakurai, Committee of Religious NGOs and Rev. William Tully, St. Bartholomew's Church. This was followed by prayers from the Native American, Buddhist, Muslim, Bahai, Shinto, Taoist, Sikh, Hindu, Jewish, African Traditional Religions, Yoruba and the Zoroastrian prayers.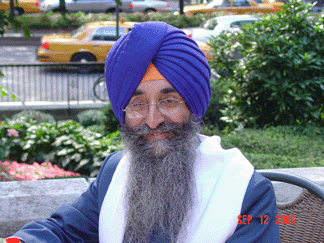 The 61st Opening ceremony of the UN was opened by Singh Saheb Jagtar Singh Jachak
The event, which was organized by the Interfaith Center for New York and co-sponsored by UNITED SIKHS, was held at the St. Bartholomew's church, NYC. Singh Saheb, Giani Jagtar Singh Jachak, representing UNITED SIKHS, addressed the gathering by reading a verse from the Sikh scriptures, the Sri Guru Granth Saheb.
salok mehlaa 5.
Shalok, Fifth Mehl:
sabhay jee-a samaal apnee mihar kar.
In Your Mercy, You care for all beings and creatures.
ann paanee much upaa-ay dukh daalad bhann tar.
You produce corn and water in abundance; You eliminate pain and poverty, and carry all beings across.
ardaas sunee daataar ho-ee sisat thar.
The Great Giver listened to my prayer, and the world has been cooled and comforted.
layvhu kanth lagaa-ay apdaa sabh har.
Take me into Your Embrace, and take away all my pain.
naanak naam Dhi-aa-ay parabh kaa safal ghar. ||1||
Nanak meditates on the Naam, the Name of the Lord; the House of God is fruitful and prosperous. ||1||
—(Guru Arjan Sahib, Raag Saarang, 125)
Amongst the dignitaries who attended were: the new president of the United Nations General Assembly Haya Rashed Al-Khalifa, the non-resident ambassadors to Belgium , Switzerland , and Spain , and a permanent delegate to UNESCO.
Secretary General Kofi Annan, who couldn't attend the session, said in a message, "(The) gathering of the world's pre-eminent religious and spiritual leaders in a united call for peace will hopefully strengthen the prospect for peace (…)."
Former President Bill Clinton's message, said, "We must respect others, because we're not smart enough to do otherwise, or wise enough to do other-wise. This is the ultimate thing that will always separate the fanatics from the searchers, the dividers from the communitarians."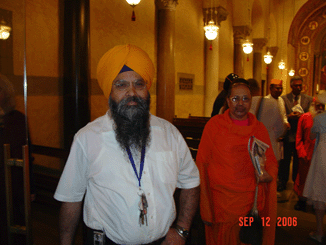 Sikh participants at the UN General Assembly Event
Matt Weiner, Executive Director, of Interfaith Center of New York said, "T he purpose of this service is to have all of the world's religious traditions, through their leaders to pray for the peacemaking work of the United Nations. New York City is the home of virtually every religious community in the world, and so here, we have a good opportunity to do this. Our hope as well is that the United Nations begins to see the important role that religion plays in the peacemaking efforts and humanitarian aid efforts it seeks to succeed in."
UNITED SIKHS Director, Kuldip Singh, said, "Religion can play an important role in transforming society in positive ways. Violence often spreads where fundamental freedoms are not safeguarded. Sometimes governments themselves may deny these rights and/or there may be tensions within and between religious groups themselves. For all of these reasons, it is imperative for everyone to understand the human rights guarantees that are enshrined in international law."
The closing ceremony was followed by breakfast when various dignitaries and religious leaders met with each other and discussed possibilities of joint projects to promote peace and harmony.
To see pictures please click here:
http://www.unitedsikhs.org/multifaith/icny
Issued by:
Arvind Kaur
Multifaith Program Coordinator
UNITED SIKHS
arvind.kaur@unitedsikhs.org
1-888-243-1690
---
Our Mission
To transform underprivileged and minority communities and individuals into informed and vibrant members of society through civic, educational and personal development programs, by fostering active participation in social and economic activity.
UNITED SIKHS is also an avenue for networking between like-minded organisations to establish and nurture meaningful projects and dialogues - whether social, cultural or political- to promote harmony, understanding and reciprocity in our villages, towns and cities.
UNITED SIKHS is a coalition of organisations and individuals, who share a common vision based on the belief that there is no greater endeavour than to serve, empower and uplift fellow beings. The core of our philosophy is an unwavering commitment to civic service and social progress on behalf of the common good.
Accordingly, UNITED SIKHS has sought to fulfil its mission not only by informing, educating and uplifting fellow beings but also by participating in cross-cultural and political exchanges to ensure that the promises and benefits of democracy are realized by all.
We at UNITED SIKHS believe that the development of enlightened and progressive societies can be made possible by socially conscious groups of people who make a commitment to develop and direct human potential. Our work, efforts and achievements stand as a testament to our faith in this vision.