Please Be Involved, Click here and Join UNITED SIKHS
To receive forthcoming bulletins join our UNITED SIKHS Yahoo group
To donate go to www.unitedsikhs.org/donate
This Press Release may be read online at: http://www.unitedsikhs.org/PressReleases/PRSRLS-21-09-2006-01.htm
Press Release: 21nd September 2006, 7th Assu (Samvat 538 Nanakshahi)
UNITED SIKHS Joins National Faith Leaders to Mark 9/11 with NY UNITY Walk.
On September 11, national leaders of a number of faiths and communities stood shoulder to shoulder in a Unity Walk in New York City, to mark the 5th anniversary of the 9/11 terror attacks.
In the spirit of unity Muslim, Jewish, Christian, Buddhist, Shinto, Sikh, and Hindu leaders guided the participants on a 3-mile "Unity Walk" from Union Square Park to the World Trade Center site at the St. Peter's Roman Catholic Church.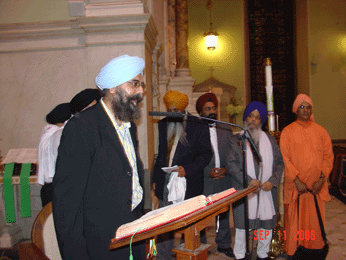 UNITED SIKHS Director Mankanwal Singh, opening the Sikh prayer
This 3-mile walk covered religious places of various faiths with prayers said in the spirit of remembrance and honoring the lives lost during the tragic events of 9/11. Prayers from the Jewish faith, Muslims Sufi order, the Hindu Temple, the Sikhs and from the Christian faiths were read at the respective religious places on the way. During this walk members of all faiths
UNITED SIKHS Community Affairs Directors, Mankanwal Singh inaugurated the session for Sikh prayers. Satkirin Kaur Khalsa did the Jaap followed by an Ardaas remembering the victims of 9/11 and those brave firemen and police officers who have their lives in the line of duty. Hot food was provided for the participants by the Sikh Cultural Society, Richmond Hill.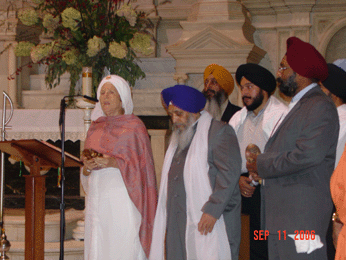 Satkiran Kaur Khalsa, offering prayers, followed by Ardaas, Avtar Singh Pannun, President of Richmond Hill Gurudwara, Gurnam Singh and Devinder Singh Boparai
World-famous Muslim singer Salman Ahmad (Junoon fame) performed at the closing ceremony at St. Peter's Roman Catholic Church. People of all faiths walked together through the heart of lower Manhattan, striving to know thy neighbor and love thy neighbor!
Mankanwal Singh in his speech, reminded, everyone of the continuing ignorance in the minds of the people and the increase in number of hate crimes against Sikh Americans. He said, "The pre-mediated and racially motivated killing of Balbir Singh Sodhi, a gas station owner, in Mesa Arizona reminds us of the insidious power of ignorance in any culture. Such attacks on Sikhs, Arab Americans or for the matter on any person of color or race should be dealt with strictly. We are here to guard and protect their civil liberties."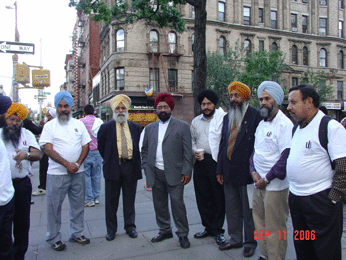 UNITED SIKHS volunteers and Sikhs from NYC at the 9/11 Unity Walk
Prominent faith and community leaders who spoke were -
Ms. Preeta Bansal (US Commission on International Religious Freedom), Imam Mahdi Bray (Muslim American Society Freedom Foundation), Sheika Fariha (Nur Ashki Jerrahi Sufi Order), Rabbi Yitz Greenberg (Jewish Life Network), Rev. Bud Heckman (Religions for Peace-USA), Suzue Nitobe (International Shinto Foundation, Inc.), Swami Parameshananda (Bharat Sevashram Sangha), Imam Izak-el Pasha (Masjid Malcolm Shabazz), and Sheik Fadhel al-Sahlani (Imam Al-Khoei Benevolent Foundation) ; Harpreet Singh Toor, World Sikh Council, with many additional leaders' and a special performance from popular South Asian rock star Salman Ahmad, UN Goodwill Ambassador.
The Islamic Society of North America's (ISNA), acting Secretary General, Ahmed ElHattab, presented a check of $20,000 to the New York City Fire Department and said, "We want to overcome ignorance with understanding,and hostility with peace, through dialogue and checkbook."
Bud Heckman, Executive Director Religions For Peace, closed the prayer session by thanking everyone for coming together and offering their prayers collectively.
All the members of various faiths present remembered and honored the lives lost during the tragic events of 9/11.
Similar walks are anticipated in Amman, Islamabad, Istanbul, London, New Delhi and South Africa.
UNITED SIKHS, co-sponsors of this walk, thanks Avtar Singh Pannun-President Sikh Cultural Society, Raghbir Singh-Chairman Sikh Cultural Society, Satkirin Kaur- 3HO, S. Gurnam Singh, Devender Singh Boparai, Harpreet Singh Toor, Dalveer Kaur, Simran Kaur, Mahinder Singh Hayre,. Dr Tinna Singh and wife, Katherine Clark, Bud Heckman (Religions For Peace) and many others who participated in this call for the walk.
To see pictures, please click on: http://www.unitedsikhs.org/multifaith/UnityWalk911
Issued by:
Rajdeep Kaur
Program Coordinator
Phone: 1-888-243-1690
Email: contact@unitedsikhs.org
---
Our Mission
To transform underprivileged and minority communities and individuals into informed and vibrant members of society through civic, educational and personal development programs, by fostering active participation in social and economic activity.
UNITED SIKHS is also an avenue for networking between like-minded organisations to establish and nurture meaningful projects and dialogues - whether social, cultural or political- to promote harmony, understanding and reciprocity in our villages, towns and cities.
UNITED SIKHS is a coalition of organisations and individuals, who share a common vision based on the belief that there is no greater endeavour than to serve, empower and uplift fellow beings. The core of our philosophy is an unwavering commitment to civic service and social progress on behalf of the common good.
Accordingly, UNITED SIKHS has sought to fulfil its mission not only by informing, educating and uplifting fellow beings but also by participating in cross-cultural and political exchanges to ensure that the promises and benefits of democracy are realized by all.
We at UNITED SIKHS believe that the development of enlightened and progressive societies can be made possible by socially conscious groups of people who make a commitment to develop and direct human potential. Our work, efforts and achievements stand as a testament to our faith in this vision.