UNITED SIKHS Presents Plenary Panel on Airport Security & its Impact on Civil Liberties


Plenary Panel Presented at the
Annual Computers, Freedom, & Privacy (CFP) Conference
in Washington DC from June 14-1621st
"The Future is Now"
Georgetown Law Center
June 14-16, 2011
Highlights:

UNITED SIKHS presented a plenary panel on June 15th at Computers, Freedom, and Privacy (CFP) Conference

A major focus of the discussion was the racial/ religious profiling against the Sikh community at airports due to current airport security policies as they relate to religious head wear.

Congresswoman Chu, a champion for Sikh Civil Rights, amplifies the concerns over racial/ religious profiling of the Sikh community at airports and makes connections to the broader implications in society (i.e. hate crimes)

Plenary Panel covered a diverse range of issues: racial/ religious profiling, data gathering/ storage, privacy, modesty, national security, 4th Amendment, Religious Freedom Restoration Act (RFRA), and the future of aviation security



Washington, DC

: From June 14-16th, Georgetown Law Center hosted the 21st annual Computers, Freedom and Privacy Conference (CFP2011). The Conference is a multi-stakeholder structure that brings together government officials, the private sector, technologists, policymakers, activists and civil society for discussions about the information society and the future of technology, innovation, and freedom.



The Program covered:



The role of social media- Middle East and N. Africa and its impact on democracy;
Technology and social media to support human rights;
The impact of mobile personal computing technology on freedom and privacy;
Smart grid, e-health records, consumer location-based advertising. Cybersecurity, cloud computing, net neutrality, federated ID, ubiquitous surveillance;
Aviation security and its impact on minorities, privacy, and freedom of movement

The Plenary Panel presented by UNITED SIKHS was titled

The Effect of Domestic Airport Security Policies on Minority Communities, Freedom of Movement, and Privacy

.



Panel organized by

: Hansdeep Singh: Staff Attorney, UNITED SIKHS.



Moderator

: Daniel Mach: Director of Freedom of Religion and Belief, ACLU



Panelists:



Congresswoman Judy Chu: 32nd District of California
Kimberly Walton: Special Counselor to the Administrator, TSA
Chris Calabrese: Legal Counsel on Technology and Liberty, ACLU
Ginger McCall: Open Government Counsel, EPIC
Nadhira Al-Khalili, Esq.: Legal Counsel, Council on American-Islamic Relations, CAIR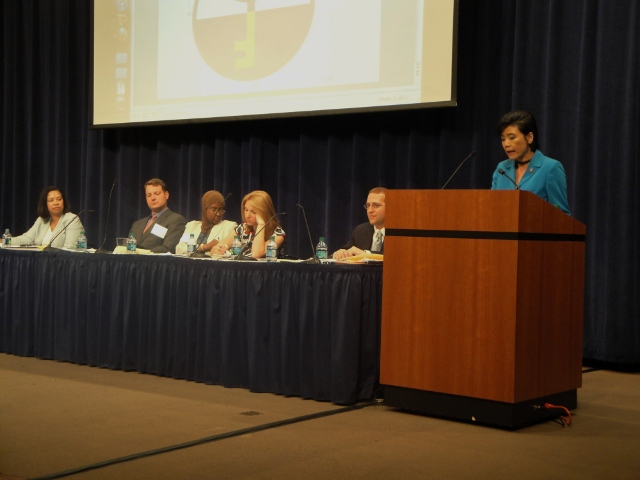 Congresswoman Chu addressing the audience at CFP


Senior Staff Attorney, Hansdeep Singh, who participated and organized one of the panels in the CFP Conference states: "What is important in engaging in this process is not just about getting Sikh civil rights issues in front of a larger more diverse audience, but the ability to learn from the larger debate on computers, freedom, and privacy while preserving the voice of Sikhs in these debates."

Look forward to Part II regarding this panel, which will include videos and a discussion of each panelists contributions!

If you have interest in being part of future panels organized by UNITED SIKHS or want to take the lead in developing panels that bring Sikh civil and human rights to the forefront, please contact law-usa@unitedsikhs.org and we will add you to our team of staff and volunteers who work on these projects.

Engage and Volunteer with UNITED SIKHS, and Donate to our advocacy projects.



Issued By:



Jaspreet Singh
UNITED SIKHS
Legal Director
law-usa@unitedsikhs.org

Protect Our Identity Campaign



Protect Our Identity (POI)

is an ongoing international campaign launched by UNITED SIKHS in August 2010 . It focuses on the need to protect the Sikh community's right to express its religious identity. Initiatives under the POI campaign include:


Right to Turban

Airport Security in European Union and United States

Anti-Bullying Initiatives

Rehabilitation of Internally Displaced Persons (IDPs) in Pakistan

Equality in Employment

Right to Kakaars

Recognition of Sikhs as a Religion and Ethnicity in UK and US Census, and Raising Awareness of Sikhs and Sikhism to reduce acts of violence and xenophobia against Sikhs.

UNITED SIKHS is currently looking for enthusiastic volunteers who are willing to spread the message of the campaign within their own communities. To join or contribute to the campaign, volunteer or donate to UNITED SIKHS.

Briefly, a time-line will give a snapshot of UNITED SIKHS' engagement in preparing this Plenary Panel and being a part of the Program Committee for the CFP Conference.

Time Line:

Feb. 14, 2011:

UNITED SIKHS Senior Staff Attorney, Hansdeep Singh, joins CFPs Program Committee and participates in first Program Committee Meeting [1st of 11 Conference Calls]

Mar. 15, 2011:

UNITED SIKHS makes submission to present Plenary Panel on Impact of Aviation Security on Minorities (including Sikhs), Freedom of Movement, and Privacy Accepted

Mar. - May 2011:

Program Committee reviews panel proposals for CFP. Hansdeep Singh assigned to be on Freedom Committee and vetted all proposals for Freedom day of the CFP Conference

Apr. 20, 2011:

UNITED SIKHS' submission accepted as a Plenary Panel

April - June 2011:

Panelists invited to participate on Plenary Panel

June 15, 2011:

UNITED SIKHS' Plenary Panel at CFP Conference presented
Contact Us
You can help those affected by countless crises around the world each year by making a financial gift to the UNITED SIKHS, which will provide immediate relief and support to those in need. You may donate online at www.unitedsikhs.org/donate or send your donations to a UNITED SIKHS office nearest to you, whose details can be found at http://unitedsikhs.org/contact.php .
Ordinarily only 10 percent of your donation is spent on admin costs.