Please Be Involved, Click here and Join UNITED SIKHS
To receive forthcoming bulletins join our UNITED SIKHS Yahoo group
To donate go to www.unitedsikhs.org/donate
This Press Release may be read online at: http://www.unitedsikhs.org/PressReleases/PRSRLS-20-01-2008-00.html
Press Release: 20th Jan 2008, 8th Magh (Samvat 540 Nanakshahi)
Thousands of Sikhs March in Delhi for the Right to Wear the Turban in France
UNITED SIKHS is currently filling Sikhs cases in the International court of Justice and European Court of Human Right after exhausting all domestic remedies in France.
New Delhi: Over five thousand Sikhs including 2000 students marched in New Delhi last night as show of support for French Sikhs since France banned the Turban in public schools and on ID documents. The march that started at 6pm from the historical Gurdwara Bangla Sahib ended at Jantar-Mantar with a candle light vigil. The march which was a joint effort by UNITED SIKHS and the Delhi Sikh Gurdwara Management Committee (DSGMC) was well supported by a number of Sikh organizations.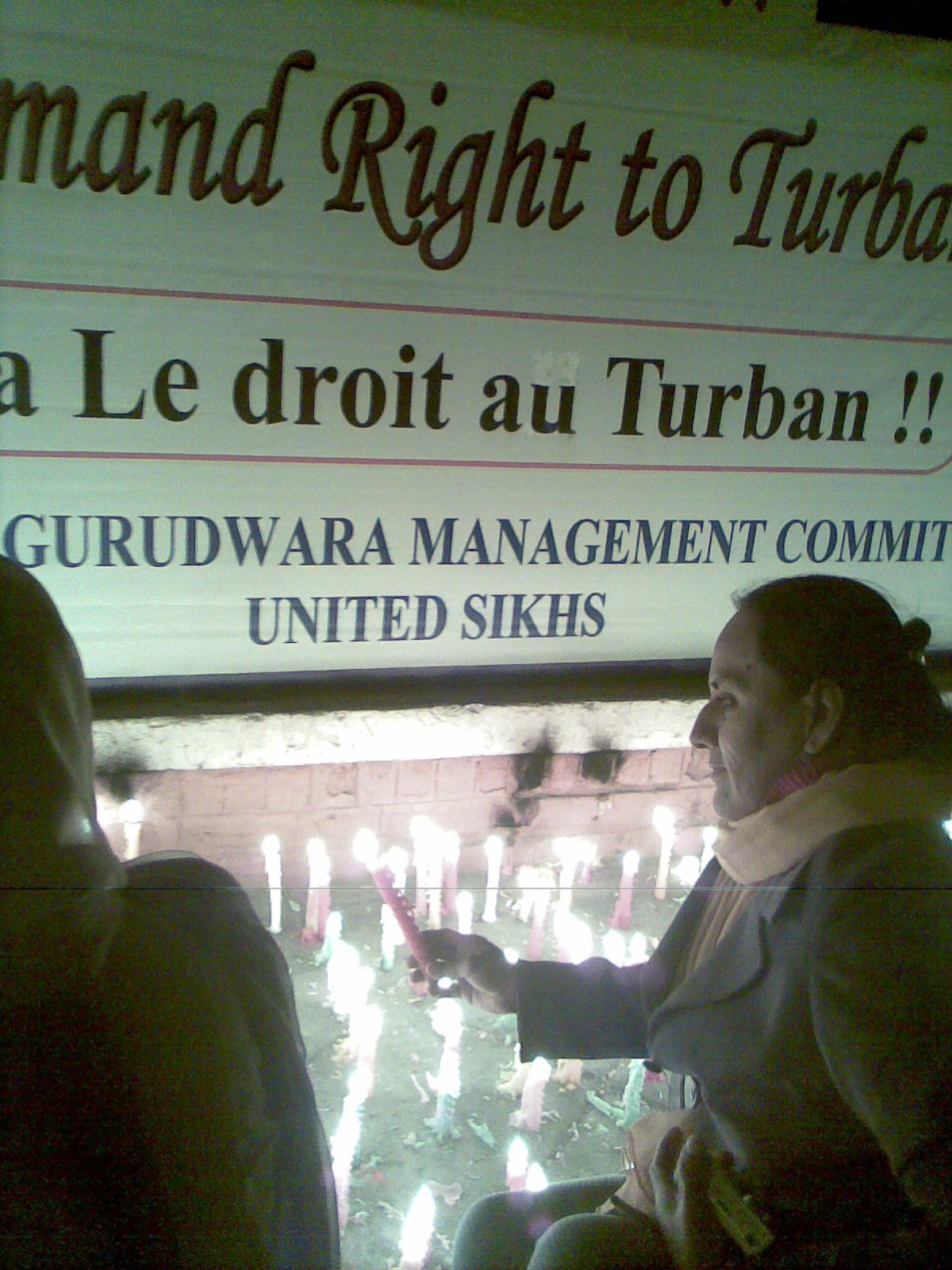 Right To Turban Candle Light Vigil after the march that ended at Jantar Mantar, New Delhi
Waving banners and chanting slogans, the students and participants called on the French president to allow the wearing of the Turban in schools and on photo identity documents.
UNITED SIKHS along with other Sikh organizations have asked the prime minister of India to highlight the plight of French Sikhs with the French President Sarkozy, during the latter's visit as a Chief Guest at India's 58th Republic Day celebration on 26th January.
Addressing the gathering at Jantar-Mantar in Delhi, Mejindarpal Kaur, UNITED SIKHS director of International Civil and Human Rights Advocacy said, "It is befitting for India, as the world's largest democracy, celebrating its 58th Republic Day, to call on France, a long standing torchbearer for human rights, to uphold the fundamental freedom to practise one's faith."
"India not only has a duty to its nationals in France, but also a duty to upkeep its status as the largest democracy in the world by being a staunch upholder of civil and human rights," she added.
Paramjit Singh Sarna, president of DSGMC said, "We held this peace march to show solidarity with French President Sarkozy and we call upon the prime minister of India to take up the Turban issue with President Sarkozy".
"If 2 years ago, the government of India was prepared to review its economic relations with France and Luxembourg on behalf of a UK business man of Indian origin, LN Mittal, why not on behalf of the Sikh community in France, many of whom are Indian nationals, and who belong to the Sikh community which has made sacrifices for India's security and freedom," Mr Paramjit Singh added.
Manjit Singh GK, president of Shromani Akali Dal (Panthic) said, "The Turban is our fundamental right and no Sikh can tolerate a ban on the turban. The ban is cruel because it is on an impressionable age group when a Sikh child is beginning to learn about his faith and his identity. We continue to remind France of our shared history which goes back to the 19th century when General Allard was a turban wearing and bearded general of Maharaja Ranjit Singh's army. Later, during the First World War, thousands of turban wearing Sikhs lost their lives defending French freedom."
"We are hopeful that Mr Sarkozy will keep up with his commitment to diversity that he enunciated during his UN address last September," said Anup Singh, Convenor, Delhi Chapter International Sikh Confederation
The march was supported by Dharmik Ekta Mission, Shromani Akali Dal (Panthic), Shromani Akali Dal Delhi, and the International Sikh Confederation.
To read a previous press release on the Right To Turban campaign click here http://www.unitedsikhs.org/PressReleases/PRSRLS-13-12-2007-01.htm
Issued By:
Komalmeet Kaur
UNITED SIKHS
Phone: 1-9999481785
Email: contact@unitedsikhs.org
---
Our Mission
To transform underprivileged and minority communities and individuals into informed and vibrant members of society through civic, educational and personal development programs, by fostering active participation in social and economic activity.
UNITED SIKHS is also an avenue for networking between like-minded organisations to establish and nurture meaningful projects and dialogues - whether social, cultural or political- to promote harmony, understanding and reciprocity in our villages, towns and cities.
UNITED SIKHS is a coalition of organisations and individuals, who share a common vision based on the belief that there is no greater endeavour than to serve, empower and uplift fellow beings. The core of our philosophy is an unwavering commitment to civic service and social progress on behalf of the common good.
Accordingly, UNITED SIKHS has sought to fulfil its mission not only by informing, educating and uplifting fellow beings but also by participating in cross-cultural and political exchanges to ensure that the promises and benefits of democracy are realized by all.
We at UNITED SIKHS believe that the development of enlightened and progressive societies can be made possible by socially conscious groups of people who make a commitment to develop and direct human potential. Our work, efforts and achievements stand as a testament to our faith in this vision.