Monday, 19 December 2005, 6th Poh (Samvat 537 Nanakshahi)
London Students Join Schoolbag Appeal for Bagh Schoolchildren
400 schoolbags filled with goodies for Bagh schoolchildren
UNITED SIKHS Base Camp: Garhi Habib Ullah, Pakistan
Camp Coordinator: Gurvinder Singh
To donate go to www.unitedsikhs.org/donate
To volunteer download and complete volunteer application.

To receive forthcoming bulletins join our Yahoo! group: PR_UNITEDSIKHS-subscribe@yahoogroups.com

PAKISTAN: 92-301-545-9311, INDIA: 91-9906771207,
USA: 1-888-243-1690, UK: 44-870 1993328
London, UK- When 12-year old Amir Khan opens his new schoolbag in his tented make-shift school in Quake-hit Bagh next week, he will be smiling at the cuddly toy that 12 year-old Aman Singh packed into the schoolbag, which was flown thousands of miles from London.

Last week UNITED SIKHS made an appeal to Aman and many other schoolchildren of Villiers High school in Southall, West London, to fill a schoolbag for the schoolchildren in Bagh, who have been affected by the Asian quake. The schoolchildren dug deep into their stationery cupboards and wardrobes to fill 400 schoolbags. "They have filled the schoolbags with jumpers, socks, gloves, pencil cases, colour pencils, sharpeners, bags of crisps, chocolates and cuddly toys," said Navleen Kaur, the school's Citizenship Consultant. For the children who have had to live through the disaster of the Asian Quake, a schoolbag will give them a fresh start.
UNITED SIKHS, a humanitarian relief organization, launched the schoolbag appeal after project coordinator Gurvinder Singh found that the Mangbajri government school in Bagh had been destroyed leaving its 400 pupils with no school supplies. Since then UNITED SIKHS has identified another group of schools that need help - the Maqsood Evergreen Model schools in Bagh.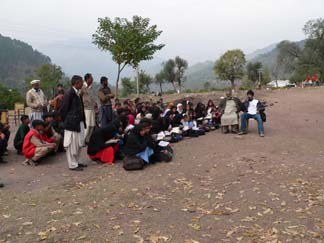 Gurvinder Singh discussing plans with the Mangbajri school principal
In association with LINKS (London Integrated Network of Kaurs & Singhs), the Schoolbag appeal is being coordinated in Pakistan by Harsharen Kaur, who flew out to Pakistan last week. Speaking about her reasons for getting involved with the appeal, Harsharen Kaur explained: "I heard about the amazing hands on seva UNITED SIKHS was doing in devastated regions affected by the South Asia Earthquake, and their involvement with the Tsunami and Hurricane Katrina disasters, at one of the university events organised by LINKS and London Sikh Societies. I decided that I should get involved and spoke to Mejindarpal Kaur, Director of the UK chapter of UNITED SIKHS, about their efforts." Harsharen had heard about the UNITED SIKHS appeal for volunteers during a charity fundraiser organised by the King's College Sikh Society in collaboration with comedian Sody Singh Kahlon, whereby proceeds from the show, 'Soul Sikher', were donated to UNITED SIKHS' Asian Quake appeal.
UNITED SIKHS volunteer Raymond Fong of London has joined Harsharen in Bagh, on his Christmas break away from his busy schedule as an engineer on the Wembley Stadium project. His sister, Jacqueline Fong, a banker from Malaysia, has also joined Harsharen to ensure that help reaches directly to the schoolchildren in Bagh. The filled schoolbags will leave for Bagh this week.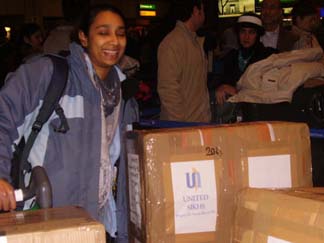 Harsharen Kaur tired but brave volunteer leaving for Pakistan last week
The schoolbag appeal was launched at the Royal Holloway University on 1st December 2005, in conjunction with a talk organised by the University's Sikh Society entitled "Ego, My Best Friend ?" delivered by Davinder Singh. Click here to read how Gursharonjit Kaur was inspired by the talk and the schoolbag appeal. The appeal successfully raised £500 within 10 minutes as Amanjot Kaur, President of the Sikh Society, passed the bucket around for donations.
Days later, at the King's College Sikh Society lecture on 'The Evolution of Sikh Music' by Prof Surinder Singh of the Raj Academy, the appeal raised more money. The final public appeal was at last weekend's youth Keertan programme organised by LINKS at the Central Gurdwara in Shepherd's Bush.
The drive is reminiscent of the "Shoe box" appeals that have become successful charity endeavours in recent years. UNITED SIKHS volunteer, Jasjot Singh explained the significance of the bags: "The bags are important as they are not only functional but they also signify the solidity of the campaign. Shoe boxes may be discarded, but the bags can be used again and again by the children, and they are also keepsakes; reminders of the appeal. Reminders that they were not forgotten."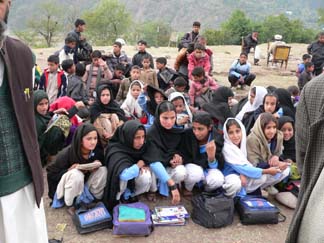 Mangbajri schoolchildren in makeshift classrooms in Bagh
Mejindarpal Kaur highlighted the importance of involving school children from London: "The bags are filled by a child of the same age as the child receiving the bag. This allows the appeal to have a resonance with children in London, who will be able to feel they are contributing to the efforts in Pakistan and also to give them a sense of solidarity and community."
Jasjot Singh who works for Ernst and Young had no difficulty convincing his employer to donate stationery and £1000 towards freight. Pakistan Airlines imposed no formalities when London School of Economics student Harkiren Kaur requested them to provide freight services at a reduced rate. Manpreet Kaur had the same response from her employers, Pearson PLC, an international publishing group, which donated cash. Varinder Kaur hit the jackpot when her employers, Debenhams, a large UK departmental store, supplied 400 schoolbags at a concession price of 55 pence a bag, which her family is paying for.

Quake hit Mangbajri school at Bagh
When Davinder Singh of Langley heard about the schoolbag appeal on Panjab Radio he contacted his niece Varinder to say 'here's my £400 towards the appeal'. Tina Chopra's mother who works for Nestle used her staff discounts to purchase a variety of chocolates which will find their way into the schoolbags.
Harsharen Kaur also took 100 kg of clothings and chocolates with her when she left for Pakistan last week. British Airways had responded to her plea and donated 100 kg free freight to facilitate the transport of donations in the form of warm clothes; shoes, coats, socks, shirts and other winter wear, generously donated by people from across London. UNITED SIKHS Volunteers worked through the night to pack and label the boxes the night before Harsharen's departure.
On arrival in Pakistan, Harhsharen Kaur said: "UNITED SIKHS had arranged all the transport details and for someone to collect me from airport – the logistics were well organised." She was met in Bagh by a representative, Lorraine, from the Medical Transcription Billing Corporation (MTBC) based in America, which has been helping with the relief efforts in Pakistan.
The trip to Bagh from Islamabad was via a UN arranged helicopter. Harsharen Kaur had this to share via email as she prepared to leave: "I am off in a chopper now; the only problem is that, there are four stops before we get to Bagh. I have to make sure I don't eat breakfast, otherwise I'll be wearing it!"
We look forward to all her incriminating photos!
To read a previous Press Release on the Asian Quake Relief project please see http://unitedsikhs.org/PressReleases/COMVCE-09-12-2005-01.htm
Issued by:
Manpreet Kaur
UNITED SIKHS
Tel: +44 (0) 870 1993328
---
Our Mission
To transform underprivileged and minority communities and individuals into informed and vibrant members of society through civic, educational and personal development programs, by fostering active participation in social and economic activity.
UNITED SIKHS is also an avenue for networking between like-minded organisations to establish and nurture meaningful projects and dialogues - whether social, cultural or political- to promote harmony, understanding and reciprocity in our villages, towns and cities.
UNITED SIKHS is a coalition of organisations and individuals, who share a common vision based on the belief that there is no greater endeavour than to serve, empower and uplift fellow beings. The core of our philosophy is an unwavering commitment to civic service and social progress on behalf of the common good.
Accordingly, UNITED SIKHS has sought to fulfil its mission not only by informing, educating and uplifting fellow beings but also by participating in cross-cultural and political exchanges to ensure that the promises and benefits of democracy are realized by all.
We at UNITED SIKHS believe that the development of enlightened and progressive societies can be made possible by socially conscious groups of people who make a commitment to develop and direct human potential. Our work, efforts and achievements stand as a testament to our faith in this vision.