US Attorney Melinda Haag Updates UNITED SIKHS on Hate Crime Tracking Issue
Ms. Haag held a meeting with her staff yesterday and has already placed a call to the FBI Special Agent in Charge and a member of the Attorney General's Advisory Committee about the Hate Crime Tracking Issue raised by the community at a meeting organized by UNITED SIKHS in El Sobrante last week
Highlights:
Honorable Melinda Haag, United States Attorney for the Northern District of California talks to Sikhs about hate crimes and bullying prevention and the resources available to them at State and Federal levels
Hate Crime Issues brought to Ms. Haag's attention were the murder of Sikh brothers in Richmond, CA, murders of 2 elderly Sikh men in Elk Grove, CA and stabbing of a Sikh preacher at Fresno airport, CA. Also identity theft and workplace discrimination issues were discussed.
Community members are encouraged to come forward and help in combating hate crimes, discrimination and bullying in the Bay Area
Contact UNITED SIKHS to report Hate/bias crime/incident by clicking here.

Know Your Rights Toolkit is available to you here.

If you believe in the cause, please support UNITED SIKHS. Please click here.

El Sobrante, CA, USA: US Attorney, Melinda Hagg, contacted UNITED SIKHS Director, Jatinder SIngh, informing that a call has been placed already to the FBI Special Agent In Charge and a member of the Attorney General's Advisory Committee about the hate crime tracking issue raised by the community.

UNITED SIKHS had invited the Honorable Melinda Haag, United States Attorney for the Northern District of California, at El Sobrante Gurdwara Sahib to explain her role as US Attorney, and discuss the issues, concerns and challenges of Sikh Americans in the region. US Attorney Haag is the highest ranking Obama official as well as the Department of Justice official in the Northern District of California. She also works very closely with the FBI and law enforcement officials to prosecute federal crimes.

In her address at El Sobrante, US Attorney Haag informed that her office prosecutes cases associated to investment fraud, public corruption, environmental issues, civil rights, drugs trafficking, gang violence, human trafficking and hate crimes. Her office also gets involved in the cases related to exploitation of vulnerable people, which may include women, children and minority groups.

US Attorney Melinda Haag explained, "The United States Attorneys have a broader role in our communities. We have a role in outreach with all of our communities to make sure that the people in our districts know when they have a problem, we can address them."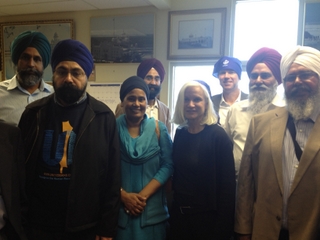 US Attorney Melinda Haag with community members and the El Sobrante Gurdwara Management
After her address, she listened to the concerns of Sikh Americans who were victims of hate crimes, workplace discrimination and bullying in schools. UNITED SIKHS' recently inaugurated office in Fremont, CA and has been involved in cases regarding awareness and prevention of employment discrimination, bullying and hate crimes.
The Honorable Melinda Haag assured that the office of United States Attorney for the Northern District of California is aware of the challenges and obstacles faced by the Sikh community in workplace and schools, and is committed to provide maximum support to resolve such issues.
UNITED SIKHS' Director, Jatinder Singh, said, "In the decade aftermath of the 9/11 tragedy, Sikhs and other minority communities have faced a rapid increase in hate crimes. Such incidents continually highlight the issue of Sikhs being targeted for their distinct external appearance and dress code. Just recently, we had incidents of
Sikh preacher Anup Singh, 56, stabbed by a 26 year old at an airport in Fresno, CA
and
two elderly Sikh men gunned down in suburban Sacramento, Surinder Singh, 65, and Gurtej Atwal, 78
. All 3 men were wearing dastaars (Sikh turbans) and sported beards in accordance with their Sikh faith. Unfortunately, many hate crimes also go unreported. We will not remain silent and will use all means of advocacy to get justice."
Recently,
UNITED SIKHS' achieved a land mark victory in France
, where the UN Human Rights Committee asked France to submit a report on measures it is taking to remedy the violation of the religious freedom of a turbaned Sikh man who was asked to remove his turban for his ID photograph.
Do Not Take Racial Profiling and Hate Crimes Lightly- Please contact a UNITED SIKHS'
office closest to you
or report a hate/ bias based incident online
here
.
We believe we are doing our best to help make a difference globally, do you? If yes, then please make your
tax deductible donation
today and pass this message to all your contacts.
Issued by:
Kashmir Singh
Director
UNITED SIKHS
Tel: 510-999-7726 | 888-243-1690
unitedsikhs-cali@unitedsikhs.org | contact@unitedsikhs.org