To Get Involved, Click here and Join UNITED SIKHS
To receive forthcoming bulletins join our UNITED SIKHS Yahoo group
To donate go to www.unitedsikhs.org/donate
This Press Release may be read online at: http://www.unitedsikhs.org/PressReleases/PRSRLS-17-08-2008-00.htm

Press Release: 17st Aug 2008, 2nd Bhadon (Samvat 540 Nanakshahi )
Diabetes in the South Asian Community is on the Rise. Project Advancing Care Together (ACT) under Sikh Aid Gears up by engaging through Health workshops
Flushing, New York- UNITED SIKHS conducted a Health workshop at the Flushing Sikh Center Gurdwara Saheb. The primary focus was on educating the community about Diabetes, specifically, the link between diabetes and heart disease, and the leading cause of death in the South Asian Community.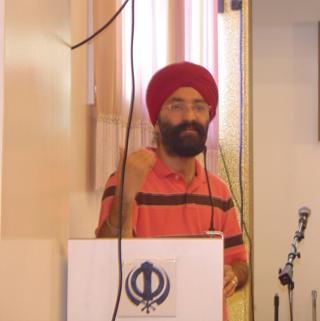 Dr. Harmeet S. Narula addressing the sangat
Blood Pressure screenings were performed, from 12 Noon to 2 PM, to detect undiagnosed hypertension, another common silent killer, along with diabetes, in the South Asian community. Almost a hundred members of the sangat(congregation) had their blood pressures checked, and were counseled on diabetes, hypertension, and other Cardiovascular risk factors. Dr Harmeet Singh Narula, Endocrinologist at Stony Brook University, addressed more than 250 members of the sangat using a powerpoint presentation, to help them understand the link between diabetes and heart disease, and the need for routine annual preventive health visits for blood pressure, sugar and cholesterol screenings.

ACT's series of workshops has been planned by Dr Jogesh Kaur, Pediatrics, Jamaica Hospital, Dr. Harmeet Singh, and Dr Jasjeet Kaur, Psychiatrist at Albert Einstein College of Medicine, facilitated by Raminder Kaur and Arvind Kaur from UNITED SIKHS. Volunteers S Tejdeep Singh, NYU Dental School, and Dr Maneet Kaur Narula, Stony Brook, participated in this endeavor.

The mission of the these Health Workshops is two-fold :
educate immigrant communities on various health conditions to empower them to make good healthcare decisions for themselves, and hence help eliminate healthcare disparities.
improve the access to care, by identifying local resources available to the community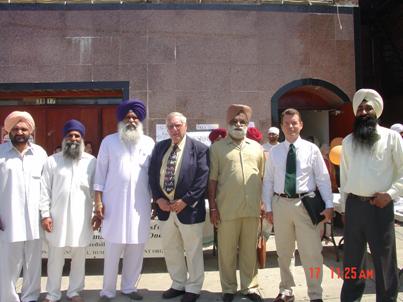 Secretary Of Gurdwara Saheb, Sangat member Charanjit Singh, Jagir Singh Bains- community activist, Human Rights Specialist-Robert Tilley (Commission on Human Rights), Chairman Flushing Gurdwara Saheb, Himmat Singh

The World Health Organization estimates that more than 180 million people worldwide have diabetes. This number is likely to more than double by 2030. In 2005, an estimated 1.1 million dies from diabetes. Almost 80% of diabetes deaths occur in low and middle-income countries. Almost half of diabetes deaths occur in people under the age of 70 years; 55% of diabetes deaths are in women. World Health Organization (WHO) projects that diabetes deaths will increase by more than 50% in the next 10 years without urgent action. Most notably, diabetes deaths
are projected to increase and by over 80% in upper-middle income countries between 2006 and 2015.

Dr. Harmeet Singh, said, "Diabetes and High Blood Pressure are silent killers: they are responsible for the high risk of heart disease and stroke in our community. It is extremely important that our community understands the link between diabetes and heart disease, so they treat their diabetes, blood pressure and cholesterol aggressively. Today's program is an important first step towards improving the healthcare of our community"
| | |
| --- | --- |
| | |
| Dr. Jasjeet Kaur and Dr. Jogesh Kaur conducted blood-pressure checkups | Chairman Himmat Singh requesting sangat members to participate |
Himmat Singh, Chairman of the Gurdwara Saheb said, "Such workshops are very much needed and helpful to the community members. More such workshops are required".

Arvind Kaur, UNITED SIKHS healthcare co-coordinator, said, "We thank all volunteers, Harpreet Singh of New York City Keertan Group and all those who assisted to make this workshop a success".
For more information or to get Project Advancing Health Care Together to come in your area, please reach us at 888-243-1690 or write to healthclinics@unitedsikhs.org

Issued By :
Raminder Kaur
Operations Manager
raminder.kaur@unitedsikhs.org
Tel: 888-243-1690 | 516-524-8585
---
Our Mission
To transform underprivileged and minority communities and individuals into informed and vibrant members of society through civic, educational and personal development programs, by fostering active participation in social and economic activity.
UNITED SIKHS is also an avenue for networking between like-minded organisations to establish and nurture meaningful projects and dialogues - whether social, cultural or political- to promote harmony, understanding and reciprocity in our villages, towns and cities.
UNITED SIKHS is a coalition of organisations and individuals, who share a common vision based on the belief that there is no greater endeavour than to serve, empower and uplift fellow beings. The core of our philosophy is an unwavering commitment to civic service and social progress on behalf of the common good.
Accordingly, UNITED SIKHS has sought to fulfil its mission not only by informing, educating and uplifting fellow beings but also by participating in cross-cultural and political exchanges to ensure that the promises and benefits of democracy are realized by all.
We at UNITED SIKHS believe that the development of enlightened and progressive societies can be made possible by socially conscious groups of people who make a commitment to develop and direct human potential. Our work, efforts and achievements stand as a testament to our faith in this vision.