Please Be Involved, Click here and Join UNITED SIKHS
To receive forthcoming bulletins join our UNITED SIKHS Yahoo group
To donate go to www.unitedsikhs.org/donate
Press Release:17th February 2009 7th Phagun (Samvat 541 Nanakshahi)
Press Release
First Global Sikh Civil Rights Report 2008
Civil Rights Report on the State of the Sikh Nation
"Injustice anywhere is a threat to justice everywhere" - Dr. Martin Luther King Jr."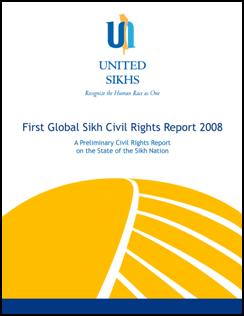 New York, NY, USA:- Encompassing issues ranging from racism and xenophobia, to discrimination against the dastaar (Sikh turban) and kakaar (articles of faith), to basic human rights such as freedom of movement, the First Global Sikh Civil Rights Report is the first of its kind. Spanning 24 countries, the report highlights problems that the Sikh community faces across the globe. Referencing human and civil rights lawyers and Sikhs within a given country that have directly faced human or civil rights abuses or have advocated for the right of a fellow Sikh, the report expresses the fact that Sikhs around the world today are often subject to discrimination, and can face serious human and civil rights abuses. You may read the complete report here
Preface of the First Global Sikh Civil Rights Report 2008:
All men and women desire and deserve to live with dignity and liberty. The increasing demand for democratic governance reflects recognition that the best guarantor of human rights is a thriving democracy with representative, accountable institutions of government, equal rights under the rule of law, a robust civil society, political pluralism, and independent media.
Every country and individual has a duty to defend human rights and help spread democracy's blessings. The United Nations helps countries develop democratic institutions that will ensure human rights are respected over the long term. UNITED SIKHS calls upon countries to honor their international obligations to protect human rights.

UNITED SIKHS stands in solidarity with the courageous men and women across the globe who live in fear yet dream of freedom to enjoy their fundamental human and civil rights as established in the Universal Declaration of Human Rights.
In the aftermath of 9/11, Sikhs have been targets of mistaken identity. We have witnessed an increase in the number of laws that are being passed interfering with religious identity and increased restrictions of the right to freely practice one's faith. In many cases these incidents have stemmed from a lack of knowledge of the existence of the Sikh community and the necessary requirements for Sikhs to practice their faith.
By defending and advancing human rights, civil rights and democratic principles, we keep faith with the world's most cherished values and lay the foundation for lasting peace. While working to uphold the principles of the Universal Declaration of Human Rights and working to build vibrant communities worldwide, we understand that it may take generations to achieve peace, but it is work of the utmost urgency and cannot be delayed.
To read the complete report click http://unitedsikhs.org/rtt/sikhconf/FirstGlobalSikhCivilRightsReport.pdf
For a printed copy of the report, please contact law-usa@unitedsikhs.org.

Issued by:
Jaspreet Singh
Staff Attorney
International Civil and Human Rights Advocacy (ICHRA)
UNITED SIKHS
646-688-3525
law-usa@unitedsikhs.org
---
Our Mission
To transform underprivileged and minority communities and individuals into informed and vibrant members of society through civic, educational and personal development programs, by fostering active participation in social and economic activity.
UNITED SIKHS is also an avenue for networking between like-minded organisations to establish and nurture meaningful projects and dialogues - whether social, cultural or political- to promote harmony, understanding and reciprocity in our villages, towns and cities.
UNITED SIKHS is a coalition of organisations and individuals, who share a common vision based on the belief that there is no greater endeavour than to serve, empower and uplift fellow beings. The core of our philosophy is an unwavering commitment to civic service and social progress on behalf of the common good.
Accordingly, UNITED SIKHS has sought to fulfil its mission not only by informing, educating and uplifting fellow beings but also by participating in cross-cultural and political exchanges to ensure that the promises and benefits of democracy are realized by all.
We at UNITED SIKHS believe that the development of enlightened and progressive societies can be made possible by socially conscious groups of people who make a commitment to develop and direct human potential. Our work, efforts and achievements stand as a testament to our faith in this vision.