| | |
| --- | --- |
| 16 March 2005 | 3 Chayt (Samvat 537 Nanakshahi) |
UNITED SIKHS Helps New York Sikh Student Regain Right to Wear his Kirpan to School
Westchester County, New York—Despite 15 year old Amandeep Singh's exemplary academic and disciplinary records, he was suspended from his New York state Greenburgh Central School last month when the Kirpan he has been wearing to school for 7 years was deemed to be an offensive weapon by his school authorities.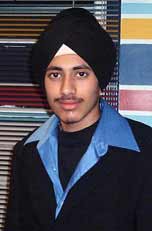 Photograph.
Amandeep Singh—"I thank God for the strength to stand up for my convictions and I thank UNITED SIKHS for being there for me"
The school Principal determined at an initial hearing that Amandeep's kirpan, an element of Sikh religious expression, was a "weapon" and had suspended him after a hearing.
The UNITED SIKHS advocacy team led by New York lawyer Gurpatwant Singh, intervened with the assistance of lawyers from the Becket Fund. Yesterday, Amandeep received a letter from School Superintendent Josephine Moffett expunging his record of the suspension and allowing him to wear his kirpan at school. Gurpatwant Singh said, "We recognize that the school has upheld the First Amendment and we admire the stance taken by the school."
Amandeep Singh's family had sought help from the Sikh community last month and UNITED SIKHS responded on Feb 7th by submitting a written representation to the Principal's Office on the Sikh Articles of Faith. The Principal's attention was drawn to Amandeep's right to practise his religion under the First Amendment and a copy of the Sikh Rehat Maryada, code of conduct was submitted in support. The UNITED SIKHS letter addressed to the Principal can be seen at:
http://www.unitedsikhs.org/rtt/Letter_to_school.pdf
Gurpatwant Singh worked with the Becket Fund to represent Amandeep Singh at a second hearing on Feb16. The Becket Fund, an international, interfaith, public-interest law firm that protects the free expression of all religious traditions, was represented by its director of litigation, Derek Gaubatz.
Amandeep Singh says, "UNITED SIKHS helped me to get out of this situation. We Couldn't have done it without them. "They were the first to respond to my plea," says Amandeep whose message to fellow Sikh students is, "Stand up for your rights and Sikhi because there are always people out there to help you".
Amandeep became initiated as an Amritdhari Sikh at the age of eight, which necessitated him to wear the Kirpan, one of the five articles of faith. For over seven years, Amandeep attended local public schools and continuously observed all the five articles of his faith, including the wearing of the Kirpan, without any incident. Many of his teachers and fellow-students were aware of his Kirpan and according to Amandeep, "Every time anyone asked me about the Kirpan I would explain what it meant to me and they went away in admiration of my dedication to my faith." No one ever told Amandeep that his kirpan was a danger to anyone until one day last month due to information received by a school security guard, Amandeep was asked to explain to a school disclipinary hearing why he wore the Kirpan to school.
"We commend Amandeep Singh for being brave enough to stand up for his First Ammendment rights which would not only benefit him but also other Kirpan wearing Sikhs in school. We are very proud of his parents, Nirmal Singh and Manjit Kaur who supported him for his right to wear the Kirpan," said Manwinder Singh, UNITED SIKHS director.
"From the beginning we knew that a school had a balancing act to play when deciding between Amandeep's rights and the school's concern for safety. We commend the school for the consideration it showed to the facts presented to them by our Team," said Gurpatwant Singh, UNITED SIKHS' lawyer.
"The school's initial approach of suspending Amandeep until he stopped wearing the kirpan would effectively ban all baptized Sikhs from attending New York public schools," observed Becket Fund Director of Litigation Derek L. Gaubatz. "Such a ban would have been especially unfortunate because schools do allow students to handle numerous items much more dangerous than a kirpan such as scissors, mathematical compasses, screwdrivers, and baseball bats. Moreover, a recent Canadian study revealed that there has never been a single reported incident of kirpan related violence in any North American school."
During the hearing on Feb 16th Amandeep agreed to wear a smaller kirpan of two inches in length that would be securely fastened under his clothes in a cloth pouch. He also agreed to allow pre-arranged inspections by school officials to confirm his adherence to the conditions. The school agreed to expunge Amandeep's record of the suspension and, to ensure that no disciplinary action remains on his record. Yesterday, Superintendent Josephine Moffett gave her final approval to the agreement. The school letter agreeing to allow Amandeep Singh to wear his Kirpan can be seen at:
http://www.unitedsikhs.org/rtt/Letter_from_school.pdf
PR Issued by:
Manwinder Singh
Director
UNITED SIKHS
contact@unitedsikhs.org
---
Our Mission
To transform underprivileged and minority communities and individuals into informed and vibrant members of society through civic, educational and personal development programs, by fostering active participation in social and economic activity.
UNITED SIKHS is also an avenue for networking between like-minded organisations to establish and nurture meaningful projects and dialogues - whether social, cultural or political- to promote harmony, understanding and reciprocity in our villages, towns and cities.
UNITED SIKHS is a coalition of organisations and individuals, who share a common vision based on the belief that there is no greater endeavour than to serve, empower and uplift fellow beings. The core of our philosophy is an unwavering commitment to civic service and social progress on behalf of the common good.
Accordingly, UNITED SIKHS has sought to fulfil its mission not only by informing, educating and uplifting fellow beings but also by participating in cross-cultural and political exchanges to ensure that the promises and benefits of democracy are realized by all.
We at UNITED SIKHS believe that the development of enlightened and progressive societies can be made possible by socially conscious groups of people who make a commitment to develop and direct human potential. Our work, efforts and achievements stand as a testament to our faith in this vision.