"Yes,I was bullied."
Onkar Singh
19 years old.
"Now that I am a high school student I feel strong and confident. But before, even I was bullied. Ever since kindergarten, bullying had been one of the biggest and most significant hindrances in my life. I thought it would never end. I felt helpless. I felt like it was my fault. At present, I thank Guruji for lifting me out of it. If I were to go back in time, I would definitely seek the help of UNITED SIKHS".
- Harsimran Singh, 17.
"I was a teenager when my family moved to the United States from India. I was called names on my first day of school. I was scared so I didn't say anything but it never stopped. I cried for weeks. I didn't know what to do or how to react.However, now that I am a mother, I am more sensitive to these issues. I wish I had someone like UNITED SIKHS to turn to."
- Sonia Kaur, 32-years -old, mother of 10 and 7 year olds.
"Someone in school called me names. My teacher asked him to keep quiet (not to actually stop). He didn't. I complained to my parents and they took charge of it. Now, I know how to stop people from calling me names, thanks to UNITED SIKHS."
- Harpreet Kaur, 8.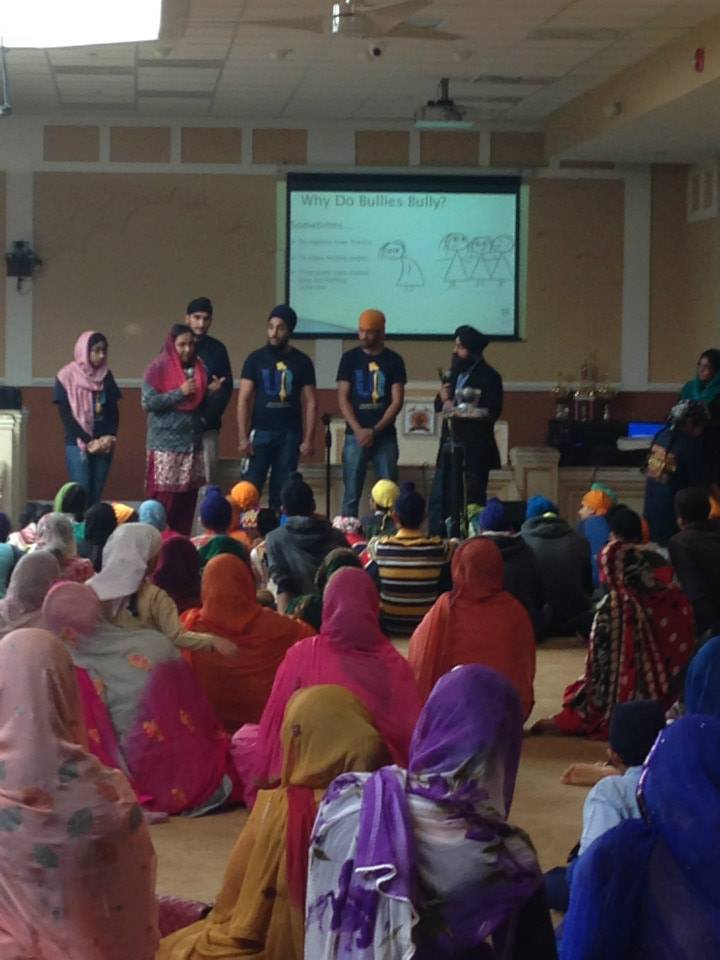 Dear Sadh Sangat Ji,
On Sunday, December 7, 2014, over 200 of my peers and members of our community gathered for the UNITED SIKHS Anti- Bullying Campaign (ABC) workshop at Nanak Naam Jahaj Gurudwara, Jersey City, New Jersey.
I feel honored to be part of such a great initiative by UNITED SIKHS, and to touch the lives of hundreds of Sikh youth. It is no surprise that the Sikh youth is often faced with bullying as a result of our religious beliefs and the way we appear. The UNITED SIKHS workshop taught us many things, such as: how to recognize when we are being bullied, why the Sikh youth is a major target of bullying, and how both parents and kids should address bullying.
Everything about Sikhs confuses people, especially our long hair, beards, turbans, and patkas. It was during the presentation, I became confident enough to share my own story and say:
"Yes, I was bullied."
When I was in elementary school I used to wear a patka/turban, like any other Sikh boy with unshorn hair. I stood out wherever I went. Sometimes they would call me names, others would just stare. I always felt that it was my fault and that it would never end. This continued until the beginning of high school.
This workshop was a great experience. As I grow older, I thought that the problem was over, but it was intriguing to hear similar experiences from the youngsters, each with a different story yet with similarities.
According to recent surveys carried out in New York and California, statistics show that 69% of the Sikh youth is being bullied. A School is a place where a child should feel comfortable and safe, not hostile towards their peers and friends. It definitely should not be a place where kids are being bullied.
The UNITED SIKHS Anti- Bullying workshop taught us that we are not alone and it is not our fault. That their team is available to each one of us if the school failed to take appropriate measures to end the bullying.
During the workshop we discussed the measures both parents and kids should follow when dealing with bullying. They also gave kids some helpful tips as to "how to convey their problems to their parents, teachers, or a trusted adult."
The objective of this workshop was more than just education, it was about empowerment. The spiritual and 'naam jaap' section of the workshop was thought-provoking for everyone present. This section was to break all the negative thoughts in our minds, and encouraged everyone to embrace their identity. The presentation explained significance of kesh (hair), and how Sikhs are supposed to be unique.
To see pictures of the workshop, please click here .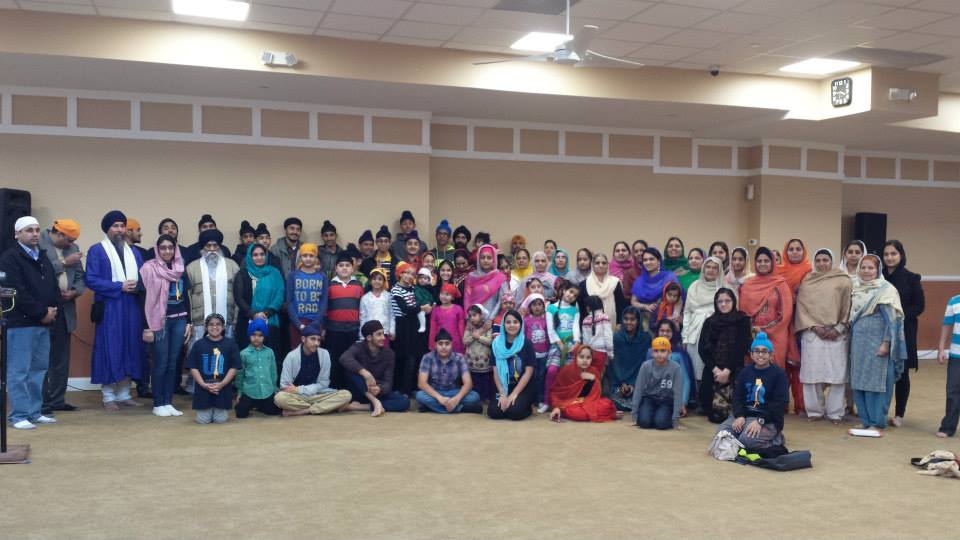 We should embrace our distinctiveness, and not be ashamed of it.
This was an amazing experience. I encourage other Gurdwaras and sangat members across the country to take advantage of these resources by having UNITED SIKHS host an anti-bullying prevention workshop for the Sikh youth in your neighborhood. If you would like an anti-bullying workshop for your children and their schools, or for yourself to be an ambassador of the Anti-Bullying Campaign, please write to law-usa@unitedsiks.org .
UNITED SIKHS needs your financial support to help build strong pillars of the society by investing in our youth; your children and grandchildren. Please make your year-end tax deductible donation today so the work can continue in 2015.

In Chardi Kala,
Onkar Singh
19 - years old.