To Get Involved, Click here and Join UNITED SIKHS
To receive forthcoming bulletins join our UNITED SIKHS Yahoo group
To donate go to www.unitedsikhs.org/donate
This Press Release may be read online at: http://www.unitedsikhs.org/PressReleases/PRSRLS-15-07-2008-00.htm

Press Release: 15th Jul 2008, Tuesday 31st Harh (Samvat 540 Nanakshahi )
UNITED SIKHS Iowa Flood Relief Efforts Underway

CEDAR RAPIDS, Iowa, USA - UNITED SIKHS is collecting donations of non-perishable food items and emergency supplies to relieve flood-affected families in Iowa, as Cedar Rapids and Iowa City recover from disastrous floods last month. Severe flooding put Cedar Rapids and Iowa City under 12 feet of water and forced thousands to flee their homes in mid-June. Many of the families who were affected by this flooding lost all their possessions to the floods, and are lacking essential necessities. It may take years for the cities to fully recover.
Clean-up and restoration efforts are currently in progress in the flood-affected areas. Volunteers are requested to assist with the clean-up efforts.
UNITED SIKHS command center in Richmond Hill, New York has gathered items such as clothing, canned food, tooth brushes, first aid kits, and shoes for donation to the victims of Cedar Rapids and Iowa City. These donations will be shipped to the Iowa Gurdwara (Sikh place of worship) where UNITED SIKHS Volunteers will transport the donations to local churches.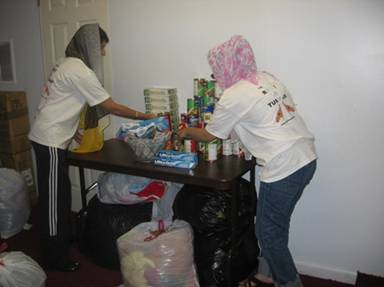 Volunteers Packing Relief Material for Shipment
Victims have been left homeless and without essential necessities. If you wish to donate items to these victims, please send all donations to the UNITED SIKHS COMMAND CENTER in Iowa at: Iowa Sikh Association C/O Dilbagh Singh 1115 Walnut Street, West Des Moines, Iowa 50265.
UNITED SIKHS will join other agencies that are already providing relief and support to flood-victims in Iowa. "Iowa Sikh Association supports the humanitarian relief efforts of UNITED SIKHS in Cedar Rapids and Iowa City. Local Sikhs will contribute to much needed relief in the area," said an Iowa Sikh Association committee member.
If you wish to make a monetary donation to assist with UNITED SIKHS Sikh Aid Iowa Disaster Relief 2008, please send all checks, payable to UNITED SIKHS, to: JAF, POB 7203, New York, NY 10116, or donate online at: www.unitedsikhs.org/donate.php.
Please click here to print a UNITED SIKHS Sikh Aid Iowa Disaster Relief 2008 poster for your office, place of worship, community center, or school.

To read a previous press release on UNITED SIKHS SikhAid Disaster Relief, please visit:
http://www.unitedsikhs.org/PressReleases/PRSRLS-13-06-2008-00.htm
Issued By :
Kuldip Singh
UNITED SIKHS
Director
UNITED SIKHS
Tel: 1-888-243-1690
---
Our Mission
To transform underprivileged and minority communities and individuals into informed and vibrant members of society through civic, educational and personal development programs, by fostering active participation in social and economic activity.
UNITED SIKHS is also an avenue for networking between like-minded organisations to establish and nurture meaningful projects and dialogues - whether social, cultural or political- to promote harmony, understanding and reciprocity in our villages, towns and cities.
UNITED SIKHS is a coalition of organisations and individuals, who share a common vision based on the belief that there is no greater endeavour than to serve, empower and uplift fellow beings. The core of our philosophy is an unwavering commitment to civic service and social progress on behalf of the common good.
Accordingly, UNITED SIKHS has sought to fulfil its mission not only by informing, educating and uplifting fellow beings but also by participating in cross-cultural and political exchanges to ensure that the promises and benefits of democracy are realized by all.
We at UNITED SIKHS believe that the development of enlightened and progressive societies can be made possible by socially conscious groups of people who make a commitment to develop and direct human potential. Our work, efforts and achievements stand as a testament to our faith in this vision.