| | |
| --- | --- |
| 15 March 2005 | 2nd Chayt, Nanakshahi 537 |
Donger Singh admitted to Apollo Hospital, Chennai - Gurudwara Sahib El Sobrante, California sponsors the treatment
Donger Singh, 35 and his mother, Charan Kaur, 65 were brought from Port Blair to Chennai by airplane at 2.40 pm, on March 10th. Bhai Esher Singh, Project Leader of GHANAIA Tsunami Relief Project, received them and moved Donger Singh from the waiting ambulance to the Apollo hospital.
Dr. Sridhar, a Specialist in Plastic Surgery at the Apollo Hospital, said it would take over a month to complete the surgery in different phases. The first operation for skin drafting on the lower back of Donger Singh was completed successfully on March 14th.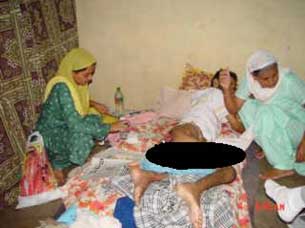 Photograph.
Donger Singh with family.
Donger Singh on the phone with Kuldip Singh, New Jersey, USA said "I am very thankful to UNITED SIKHS and Sikhs in USA for making all the arrangements to help me, my family and other Sikhs in Campbell Bay". He added that he is concerned about his unmarried sister Parminder Kaur, 29, who has been supporting the family since he has been paralyzed. He further said that he and his family would like to settle in Punjab.
Donger Singh, an economics teacher in the Campbell Bay Higher Secondary School, moved to the Island with his family at the age of 4. The family migrated from Goliyan, Garh Sankar, Distt Hosiarpur, Punjab. His initial life at Campbell Bay was very tough with his family which included his mother and two sisters. Despite lots of hurdles, Donger Singh completed his graduation from Bhopal University as an Economics major and started teaching to support his family. An ebullient and effervescent Donger was left disabled and crippled by an improper optic neuritis eye treatment. Donger was only 32 at that time. As if that were not enough, he developed severe wounds when his abdomen was slashed by a barbed wire fence while he and his sister were swept by the Tsunami waves last December. He later developed serious bedsore wounds while being treated when the doctors recommended specialized surgeries.
Later Charan Kaur said in a telephone interview "Bhai Saheb ji jad tak hege ne sade kol, sara kuch hega." She was referring to Bhai Esher Singh of UNITED SIKHS, who is looking after the entire relief work in the Island.
The Apollo hospital assured UNITED SIKHS that they would give special consideration for this case keeping the charges to the minimal.
J P Singh from California is working with the Sangat and Gurudwara Sahib El Sobrante to sponsore the hospital expenses for Donger Singh. He has requested the Sangat to help UNITED SIKHS to help pay the expenses. In addition to the hospital expenses, Donger Singh would need a wheel chair, bed and mattress to support his back, an air conditioner,and a power generator.
UNITED SIKHS is also looking at different avenues of livelihood for Donger's family. Kulwinder Kaur, 29, victim's sister needs a job to support her brother and mother. UNITED SIKHS is seeking sponsors to purchase a Photocopier, Fax machine and a STD booth in Port Blair so that Donger Singh's family can run the booth as a means of livelihood. Please contact Kuldip Singh at Kuldip.singh@unitedsikhs.com if you would like to help.
---
UNITED SIKHS will update you as we receive reports. For Relief Team updates see:
http://www.unitedsikhs.org/ghanaia/fieldreport.html
---
Please donate, even if you cannot give a lot. Your contribution will help victims directly.
http://www.unitedsikhs.org/reliefproject.html#donate
You may donate online by clicking above, or by cheque payable to UNITED SIKHS, and mail to a UNITED SIKHS regional office.
---
For more information on the GHANAIA tsunami project, e-mail us on:
contact@unitedsikhs.org
---
Our Mission
To transform underprivileged and minority communities and individuals into informed and vibrant members of society through civic, educational and personal development programs, by fostering active participation in social and economic activity.
UNITED SIKHS is also an avenue for networking between like-minded organisations to establish and nurture meaningful projects and dialogues - whether social, cultural or political- to promote harmony, understanding and reciprocity in our villages, towns and cities.
UNITED SIKHS is a coalition of organisations and individuals, who share a common vision based on the belief that there is no greater endeavour than to serve, empower and uplift fellow beings. The core of our philosophy is an unwavering commitment to civic service and social progress on behalf of the common good.
Accordingly, UNITED SIKHS has sought to fulfil its mission not only by informing, educating and uplifting fellow beings but also by participating in cross-cultural and political exchanges to ensure that the promises and benefits of democracy are realized by all.
We at UNITED SIKHS believe that the development of enlightened and progressive societies can be made possible by socially conscious groups of people who make a commitment to develop and direct human potential. Our work, efforts and achievements stand as a testament to our faith in this vision.