Please Be Involved, Click here and Join UNITED SIKHS
To receive forthcoming bulletins join our UNITED SIKHS Yahoo group
To donate go to www.unitedsikhs.org/donate
This Press Release may be read online at: http://www.unitedsikhs.org/PressReleases/PRSRLS-14-10-2007-00.htm
Press Release: 13th Oct 2007, 29th Assu (Samvat 539 Nanakshahi )

First Sirdar Kapur Singh Scholar becomes
first Harvard-Wharton joint degree student

Philadelphia, USA - Sonu Kaur, the first Sirdar Kapur Singh scholar under the Sikh Education Foundation chapter set up by UNITED SIKHS at Harvard University, entered Wharton School as the first student under the Harvard- Wharton joint degree program this year.
UNITED SIKHS launched the Harvard chapter of Sikh Education Foundation (SEF) last year and its scholars are called Sirdar Kapur Singh Scholars, named after the Sikh renaissance scholar. The first Sirdar Kapur Singh scholar was Sonu Kaur from Jalandhar, Panjab. She received over $17,000 under the award to study a Master's in Public Policy at the John F. Kennedy School of Government at Harvard University. Read more about the Foundation at http://www.unitedsikhs.org/sef/
"UNITED SIKHS selected Sonu Kaur for the SEF scholarship because of her aspirations to break the glass ceiling that exists for bright women in corporate boardrooms. Additionally, her strong desire to work on empowerment programs for women, especially in Panjab, will make her an asset to the community," said Dr IJ Singh, UNITED SIKHS director, who is a professor at New York University and provides career guidance to many bright students.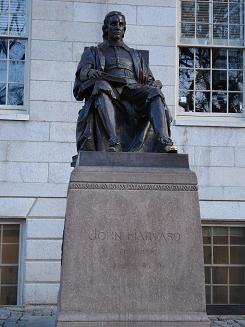 Statue of John Harvard, the eponymous benefactor of Harvard University, at Harvard Yard, Cambridge, Massachussets
In 2006, when UNITED SIKHS approved the funding of her second semester fees, Sonu Kaur and her father Dhir Singh, who retired as an officer from the Indian armed forces, were overjoyed to receive the scholarship. With no financial support from the educational institution, the family had discussed giving up her admission to the prestigious Harvard University.
The Kennedy School of Government is the world's premier school for world political and development leaders such as the first African woman president of Liberia, Ellen J. Sirleaf, the current UN Secretary General Ban-ki Moon, and two former Mexican presidents, among hundreds of ministers and diplomats.
Thanks to UNITED SIKHS, the family's financial burden was relieved, and Sonu Kaur went on to finish her first year at the Kennedy School. Sonu Kaur officially became the first Wharton-Harvard joint degree student, after the two schools approved the unique joint degree in March 2007. "The two schools offer the perfect complement of public service and finance skills that I was looking for when I came to the US to study," said Sonu Kaur.
Sonu Kaur is currently studying a Master's in Business Administration at the Wharton School, University of Pennsylvania, an Ivy League university. Wharton is the world's premier school in finance and is the training ground for hundreds of CEOs, including Donald Trump and Anil Ambani.
Sonu Kaur had a career in journalism in India, and has a deep passion for helping improve the freedoms and rights of women in Punjab. "With the worst ratios of baby boys and girls in the country, it is a moral imperative that we do something about it," she said during an interview. From erasing the stigma of a girl child to empowering victims of domestic violence through business, Sonu Kaur is using her education to best guide her plan of action.
"It's not enough to say that the Sikh Guru's preached equality for women. As an organization founded on Sikh principles, UNITED SIKHS sets out to practice what the Sikh Gurus preached," said Dr IJ Singh.
In the summer of 2007, Sonu Kaur also attended a two-day intensive UNITED SIKHS training workshop for Sirdar Kapur Singh scholars at the UNITED SIKHS EduCare center at Richmond Hill, Queens, New York. It was a formal introduction to Sikhism covering topics such as Sikh history and mysticism, Rehat Maryada, Hukamnamas, Gurmattas, Guru Panth, Sikh writers, impact of Sant Samaj and role of Sikh women in history.
"The content of the workshop was very well designed, and it was a privilege to have one-on-one instruction. I consider myself a more informed Sikh than I was before, and I have a hunger to learn more," said Sonu Kaur.

Sardar Kapur Singh (Courtesy:
sikh-heritage.co.uk)
"We have modeled the SEF scholars training workshop to reflect Sirdar Kapur Singh's passion for knowledge," said Jagmeet Singh, UNITED SIKHS director and SEF Coordinator who, like Sonu Kaur, was an international student from India, and had studied at the prestigious Massachusetts Institute of Technology (MIT).
Sirdar Kapur Singh was a civil servant, parliamentarian and an intellectual par excellence of the 20th century. Sirdar Kapur Singh was a renaissance man whose fields of expertise included Sikh theology, philosophy, history and literature. After obtaining his first class Master's degree at the prestigious Government College Lahore, he went on to study Moral Sciences at Cambridge University in England. Read more about Sirdar Kapur Singh at - http://www.sikh-heritage.co.uk/writers/kapursingh/sirdarksingh.htm
After spending a year and a half at each school, Sonu Kaur will graduate from both degree programs in 2009. "I owe a lot to my community and I feel truly blessed," said Sonu Kaur. She looks forward to a time where she can help other Sikh students become the best and the brightest. Anyone who wishes to be guided or motivated for admission to study public policy and business at a premier university in the USA may email Sonu Kaur at sonu.kaur@unitedsikhs.org
Applicants, from any part of the world, for the Sikh Education Foundation scholarship, grant, or prize to study at the designated universities and colleges will have to submit the following to sikheducationfoundation@unitedsikhs.org :
Applications are welcome throughout the year and awards are made based on need and merit.

Issued by
Jagmeet Singh
Director, Sikh Education Foundation (SEF) Coordinator
UNITED SIKHS
1-888-243-1690
sikheducationfoundation@unitedsikhs.org
---
Our Mission
To transform underprivileged and minority communities and individuals into informed and vibrant members of society through civic, educational and personal development programs, by fostering active participation in social and economic activity.
UNITED SIKHS is also an avenue for networking between like-minded organisations to establish and nurture meaningful projects and dialogues - whether social, cultural or political- to promote harmony, understanding and reciprocity in our villages, towns and cities.
UNITED SIKHS is a coalition of organisations and individuals, who share a common vision based on the belief that there is no greater endeavour than to serve, empower and uplift fellow beings. The core of our philosophy is an unwavering commitment to civic service and social progress on behalf of the common good.
Accordingly, UNITED SIKHS has sought to fulfil its mission not only by informing, educating and uplifting fellow beings but also by participating in cross-cultural and political exchanges to ensure that the promises and benefits of democracy are realized by all.
We at UNITED SIKHS believe that the development of enlightened and progressive societies can be made possible by socially conscious groups of people who make a commitment to develop and direct human potential. Our work, efforts and achievements stand as a testament to our faith in this vision.