Please Get Involved, Click here and Join UNITED SIKHS
To receive forthcoming bulletins join our UNITED SIKHS Yahoo group
To donate go to www.unitedsikhs.org/donate
This Press Release may be read online at: http://www.unitedsikhs.org/PressReleases/PRSRLS-14-07-2009-00.htm
Press Release: 13th July 2009, Friday 29th Harh (Samvat 541 Nanakshahi )
Press Release
Green Action in Sydney, Australia: the Sikh Community
Participates in World Environment Day

Sydney, Australia: UNITED SIKHS volunteers embarked on a journey to celebrate the internationally acclaimed United Nations Environment Program (UNEP) - World Environment Day at their local Gurdwaras throughout Sydney, partnering with Gurdwaras to promote conservation and protection of the environment through methods from solar power promotion to tree planting.
Recognizing the ever increasing burden on our environment and the immediate need to take steps to preserve and restore the environment, our efforts included planting trees, changing existing light bulbs for energy efficient globes, cleaning up the local environment of non biodegradable garbage, and raising awareness of environmental issues within the Sikh Community.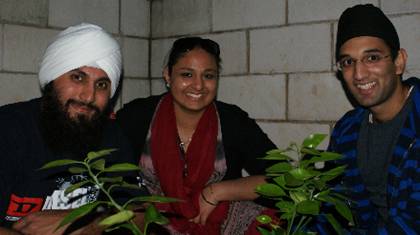 UNITED SIKHS volunteers planting citrus trees at the event

The awareness raising effort assisted to stimulate thought-provoking knowledge and understating which in turn enhanced public action towards the needs regarding the environment. Since Gurdwara Simran House Minto will be undergoing renovations soon, we spoke to the head Granthi, Mr. Jasvinder Singh, who agreed to consider the inclusion of solar paneling into the budget of renovations for the new Gurdwara building. Furthermore, at Austral Gurdwara, the planting of citrus fruit trees and the setting up of a compost bin with the next Children's Kirtan Program later this month will encourage children to participate in joint efforts to protect the environment and facilitate recognition of environmental issues within the local communities. At both Simran House Minto and Austral Gurudwaras, volunteers and community members celebrated World Environment Day by cleaning up their premises of non-biodegradable rubbish.

Volunteers also planted citrus fruit trees and installed energy efficient lights at the Revesby Gurudwara under the direction of the Gurdwara's enthusiastic chairman, Mr. Ranbir Singh, who was very pleased with the volunteers who contributed to the World Environment Day efforts. Within the next few weeks, we will be working on presenting a report regarding the installation of Solar Paneling at Revesby Gurdwara, in order to maximize efforts to protect the environment and to eventually reduce energy costs for the Gurdwara.

Commenting on the day's events, Ravinder Singh, Director, UNITED SIKHS stated, "We would like to thank all the Sydney Gurdwaras who willingly contributed to the events that led to the successful execution of World Environment Day. More importantly, we would like to extend our warmest gratitude to the local Gurudwaras for assisting in raising awareness of environment and climate change issues. UNITED SIKHS looks forward to working in collaboration with all Australian Gurdwaras on future initiatives."

UNITED SIKHS would also like to extend their appreciation to all the volunteers who contributed to the first successfully executed UNITED SIKHS World Environment Day Project.

You may read a previous press release on UNITED SIKHS community advocacy and empowerment at: http://www.unitedsikhs.org/PressReleases/PRSRLS-12-06-2009-00.htm

To become a UNITED SIKHS volunteer visit www.unitedsikhs.org/join, or to provide a financial contribution simply visit http://www.unitedsikhs.org/donate.

Issued by:
Premsri Kaur
UNITED SIKHS –AUSTRALIA
61-414-786-884
unitedsikhs-aus@unitedsikhs.org

---
Our Mission
To transform underprivileged and minority communities and individuals into informed and vibrant members of society through civic, educational and personal development programs, by fostering active participation in social and economic activity.
UNITED SIKHS is also an avenue for networking between like-minded organisations to establish and nurture meaningful projects and dialogues - whether social, cultural or political- to promote harmony, understanding and reciprocity in our villages, towns and cities.
UNITED SIKHS is a coalition of organisations and individuals, who share a common vision based on the belief that there is no greater endeavour than to serve, empower and uplift fellow beings. The core of our philosophy is an unwavering commitment to civic service and social progress on behalf of the common good.
Accordingly, UNITED SIKHS has sought to fulfil its mission not only by informing, educating and uplifting fellow beings but also by participating in cross-cultural and political exchanges to ensure that the promises and benefits of democracy are realized by all.
We at UNITED SIKHS believe that the development of enlightened and progressive societies can be made possible by socially conscious groups of people who make a commitment to develop and direct human potential. Our work, efforts and achievements stand as a testament to our faith in this vision.