Please Be Involved, Click here and Join UNITED SIKHS
To receive forthcoming bulletins join our UNITED SIKHS Yahoo group
To donate go to www.unitedsikhs.org/donate
This Press Release may be read online at: http://www.unitedsikhs.org/PressReleases/PRSRLS-14-06-2008-00.htm
Press Release: 14th Jun 2008, Saturday 31st Jeth (Samvat 540 Nanakshahi )
UK School Reverses Ban on the patka (Sikh head covering)
UNITED SIKHS thanks school for swift and positive action
Coventry, U.K. - A state school this week reversed its policy of banning the patka (Sikh head dress) after UNITED SIKHS wrote to the school principal last week on behalf of the parents and the local Sikh Gurdwara (place of worship).
8-year-old Prabhkirat Singh, who has worn a patka since he was 4 years old, was very disturbed when he joined Broad Heath Primary school in January and was told he had to remove his patka in school.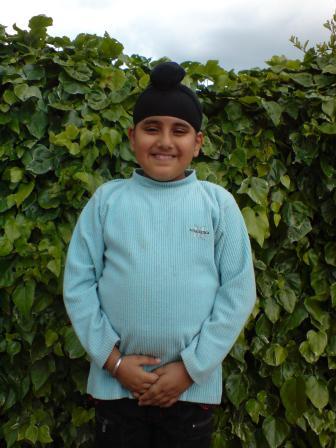 Prabhkirat Singh said he had a 'Sikh feeling' that made him stand up for the right to wear a patka
'We moved from Glasgow to Coventry as I couldn't get a part-time whilst studying there because I wore a turban. Therefore, when the school said my son had to remove his patka we were doubly devastated,' said Prabhkirat Singh's father, Jaswinder Singh, from the Panjab, who is in the UK on a student's visa.
'My son is very happy now as he will going to school on Monday wearing his patka. I am very grateful to UNITED SIKHS for intervening on our behalf,' he said.
When Prabhkirat was asked what was the feeling that made him stand up for the right to wear the patka, he simply said, 'It was a Sikh feeling.'
'UNITED SIKHS wrote to the head teacher, Miss Frankish, last week explaining the significance of the patka for a growing Sikh child and citing the well established legal precedents in the UK for the right of a Sikh child to wear a patka or turban to school,' said Mejindarpal Kaur, UNITED SIKHS legal director.
'We applaud the parents for standing up for their child's right and we are equally pleased that the school acted swiftly and positively by recognizing that Prabhkirat should be allowed to wear his patka,' she added.
Mejindarpal added that it is important to highlight cases where schools have acted responsibly when reminded of their duty to protect religious freedom in school. 'UNITED SIKHS has written to the school to thank them for reversing the ban on the patka and we have offered to conduct a Sikh Awareness Presentation at the school,' she added. See the letter sent to the school here.
'When UNITED SIKHS first told us of the patka ban in Broad Heath school, we were in disbelief that any Sikh child would face a problem wearing his patka in a Coventry school. Our city has a significant Sikh population of 13,000, the largest ethnic group, comprising 4.9 per cent of the population,' said Kulwant Singh, president of the Sri Guru Singh Sabha Gurdwara in Coventry, which supported UNITED SIKHS letter to the school.
'In fact there is a war memorial in the city marking the sacrifices made by thousands of Sikhs during World War II,' he added.
The patka ban came to light when Kulwinder Singh, a resident of Coventry who first wrote to the school in February, requested UNITED SIKHS to intervene.
UNITED SIKHS calls upon anyone who faces a problem wearing an article of faith in public to contact us at law@unitedsikhs.org.
To read a previous press release on UNITED SIKHS efforts for the freedom of thought, conscience and religion please click http://www.unitedsikhs.org/PressReleases/PRSRLS-04-06-2008-00.htm.
Issued by:
Gurmit Singh
Director
UNITED SIKHS
07709830442

---
Our Mission
To transform underprivileged and minority communities and individuals into informed and vibrant members of society through civic, educational and personal development programs, by fostering active participation in social and economic activity.
UNITED SIKHS is also an avenue for networking between like-minded organisations to establish and nurture meaningful projects and dialogues - whether social, cultural or political- to promote harmony, understanding and reciprocity in our villages, towns and cities.
UNITED SIKHS is a coalition of organisations and individuals, who share a common vision based on the belief that there is no greater endeavour than to serve, empower and uplift fellow beings. The core of our philosophy is an unwavering commitment to civic service and social progress on behalf of the common good.
Accordingly, UNITED SIKHS has sought to fulfil its mission not only by informing, educating and uplifting fellow beings but also by participating in cross-cultural and political exchanges to ensure that the promises and benefits of democracy are realized by all.
We at UNITED SIKHS believe that the development of enlightened and progressive societies can be made possible by socially conscious groups of people who make a commitment to develop and direct human potential. Our work, efforts and achievements stand as a testament to our faith in this vision.