Please Be Involved, Click here and Join UNITED SIKHS
To receive forthcoming bulletins join our UNITED SIKHS Yahoo group
To donate go to www.unitedsikhs.org/donate
This Press Release may be read online at: http://www.unitedsikhs.org/PressReleases/PRSRLS-14-05-2008-00.htm
Press Release: 14th May 2008, Sunday 30th Vaisakh (Samvat 540 Nanakshahi )
Press Release
| | |
| --- | --- |
| UNITED SIKHS RELIEF MISSION COLLECTS DONATED ITEMS FROM BUDDHIST MAHA VIHARA FOR ONWARD TRANSPORTATION TO MYANMAR | |
Kuala Lumpur, Malaysia - UNITED SIKHS and its coalition partners consisting of Global Sikhs, Malaysian Gurdwaras (Sikh place of worship) and Sikh organizations, today began collection of donated essential food items which were delivered to the Malaysian Buddhist Maha Vihara in Brickfields, for onward transportation via sea to Myanmar.
UNITED SIKHS, which mobilized its team last week and sent out an urgent appeal for essential food and medical supplies, has chartered a vessel capable of carrying 300-500 tonnes of supplies and is currently in discussions with the Embassy of the Union of Myanmar on where the vessel can berth. The objective of the sea-based mission is to reach previously inaccessible areas in the aftermath of the devastating cyclone Nargis.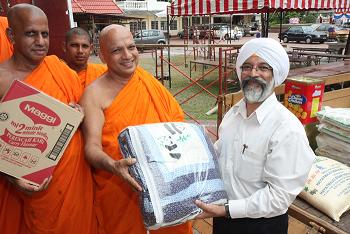 UNITED SIKHS Director Harbinder Singh collecting supplies from Buddhist Maha Vihara
"We have two delivery points for all donated items, one being the Buddhist Maha Vihara and the other being the Sikh Gurdwara in Kampung Pandan, and today, we mobilized our logistics teams to start the collection of goods from Brickfields, "said Mr Harbinder Singh, the project coordinator of UNITED SIKHS Myanmar Disaster Relief in Malaysia.
He added that while the response has been positive to-date, many members of the public who had made pledges had yet to deliver the promised goods, and appealed them to do so urgently as timing was critical, with the vessel scheduled to depart from Port Klang early next week.
"We are conscious that many potential donors are affected by media reports on stalled aid and slow distribution of supplies. However we cannot allow a let-up in our efforts to ensure that we collect as much supplies as possible to be sent to Myanmar for the hungry and homeless," said Harbinder Singh.

UNITED SIKHS, which had successfully carried out similar sea relief efforts to Aceh, in partnership with Global Sikhs, after the tsunami struck in December 2004, hopes to provide almost immediate disaster recovery to the victims of cyclone Nargis. The vessel will depart from Port Klang and is anticipated to arrive at its destination within 3-4 days; targeting areas cut off by road links and providing immediate relief to coastal areas.
The mission has received the full support and backing of the Embassy of the Union of Myanmar in Malaysia, with the Ambassador, His Excellency, U Tin Latt, and first Secretary Myat Thida Aye assisting to ensure the smooth transfer of supplies to the affected areas.
The Embassy of the Union of Myanmar, in a statement issued on Monday, acknowledged the efforts by the UNITED SIKHS Relief Mission. H.E. U Tin Latt said, "The contribution will be forwarded directly to the victims with collaboration between UNITED SIKHS, the Embassy of the Union of Myanmar and the Ministry of Social Welfare, Relief and Resettlement of the Government of the Union of Myanmar."
Members of the public interested in providing aid to the victims of cyclone Nargis are encouraged to donate basic food and medicine supplies and they can call 012 215 5966 or 012 268 9755 to make the necessary arrangements. A full list of critically needed supplies is available at http://unitedsikhs.org/myanmarnargis/malaysiasupply.php

Apart from the Buddhist Maha Vihara, supplies can also be sent to the UNITED SIKHS Myanmar Disaster Relief Command Centre at the Sikh Gurdwara, No 15, Jalan Kg. Pandan, 55100, Kuala Lumpur (Tel: 012-215 5966 or 012 268 9755 and Fax 03 9287 0021).
UNITED SIKHS will be appointing an independent auditing firm to ensure transparency and proper management of all donations, and all accounts will be made public.
Note to Editor:

1) UNITED SIKHS – established in 1999 - is a UN-affiliated, international non-profit, non-governmental, humanitarian relief, human development and advocacy organization, aimed at empowering those in need
2) UNITED SIKHS is registered as a non-profit tax exempt organization in the USA; as a Registered Charity in England and Wales; as a non-profit organization in Canada; under the Societies Registration Act 1860 in Panjab and under the French Association Law 1901. NGO registration in Ireland and Malaysia is pending.
3) UNITED SIKHS has chapters in America, Asia and Europe which pursues projects for the social and economic empowerment of underprivileged and minority communities.
4) For background on UNITED SIKHS please refer to their website http://www.unitedsikhs.org
5) To read a previous press release on the UNITED SIKHS Myanmar Disaster relief efforts please visit http://www.unitedsikhs.org/PressReleases/PRSRLS-07-05-2008-01.htm

Statement Issued by :
Lashvinder Kaur
Media and Communications Coordinator
UNITED SIKHS Myanmar Disaster Relief
Tel: O12 2155966 and 012 268 9755
Fax: 03 9287 0021
Lashvinder.kaur@unitedsikhs.org
---
Our Mission
To transform underprivileged and minority communities and individuals into informed and vibrant members of society through civic, educational and personal development programs, by fostering active participation in social and economic activity.
UNITED SIKHS is also an avenue for networking between like-minded organisations to establish and nurture meaningful projects and dialogues - whether social, cultural or political- to promote harmony, understanding and reciprocity in our villages, towns and cities.
UNITED SIKHS is a coalition of organisations and individuals, who share a common vision based on the belief that there is no greater endeavour than to serve, empower and uplift fellow beings. The core of our philosophy is an unwavering commitment to civic service and social progress on behalf of the common good.
Accordingly, UNITED SIKHS has sought to fulfil its mission not only by informing, educating and uplifting fellow beings but also by participating in cross-cultural and political exchanges to ensure that the promises and benefits of democracy are realized by all.
We at UNITED SIKHS believe that the development of enlightened and progressive societies can be made possible by socially conscious groups of people who make a commitment to develop and direct human potential. Our work, efforts and achievements stand as a testament to our faith in this vision.