| | |
| --- | --- |
| 14 February 2005 | Monday, 3 Phalgun Nanakshahi |
French Court: Not illegal to ask Sikh to remove his Turban for his drivers license photo
Cergy Pontoise, North of Paris- France
A French administrative court ruled today that it was not illegal to ask a Sikh to take off his Turban for taking a photo for his drivers license. The decision follows an emergency hearing at the administrative court which was brought by Shingara Singh, 48 years, who was asked to take off his Turban for his drivers license photo. This decision comes as a shock to the community because Mr Singh has worn his Turban for his drivers license for more than 20 years until it was stolen during a robbery last April.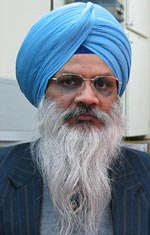 Photograph.
Mr Shingara Singh—"I will fight to the end to wear my turban…"
"The decision of the administrative court is very regrettable as it fails to give any reasons for allowing the authorities to change their position. It is a paradox that Mr Singh has a valid ID card and passport where his photo shows him wearing a Turban," Mr Singh's legal counsel, Mr Francois Jacquot, told UNITED SIKHS in a telephone interview.
"The decision was faxed to my office and it contains no grounds save to say that there was no serious doubt about the legality of the authorities' decision to ask Shingara Singh to take off his Turban for his drivers license photo," Mr Jacquot added.
"They did not answer our legal arguments and merely dismissed them out of hand. My client has instructed me to file an appeal to the Administrative High Court, which we have to do within the next 15 days," he said.
Mr Shingara Singh said: "My Turban is an integral part of my faith and I will fight this decision to the end even if I have to go to the European Court of Human Rights. Since 1986, I have always worn my Turban for all my photo documents. In 1998, I sued the government because they refused to allow me to wear my Turban when I wanted to renew my drivers license. However, the government settled the case out of court and gave me a concession to wear the Turban. They have now withdrawn this concession without a valid reason. I therefore need to settle this issue once and for all."
"I am in great difficulty as I need to drive to work more than 100 miles away and I have elderly parents who need me to drive them around especially during an emergency. There is no bus service from the train station to my home," Mr Singh added.
"The court's decision today may mean that we have lost a first battle, but we haven't lost the war," said Kudrat Singh, UNITED SIKHS Director in France.
In November last year this same administrative court had ruled that the rights of 3 Sikh school children had been illegally violated by the education authorities who had denied them a right of hearing before excluding them from school for wearing a Turban.
Sikhs in France have been in the news ever since President Chirac's government passed a law last march which banned the wearing of ostensible religious items, such as the Turban, Muslim Hijab Jewish Kippa and large Christian Crosses in state funded schools.
"The Ban law is up for review next month and we hope to convince the government that the law should be repealed not only because it has had an adverse effect on school children in state schools but that it has been arbitrarily applied in private schools forcing at least 3 Sikh school children to forgo their education altogether. Most Sikh school children have had to go to school by compromising their beliefs under duress. The effect of this law has also been extended by the administration to other areas as today's judgment shows," Kudrat Singh said.
---
For more information of the Right To Turban campaign in France see:
http://www.unitedsikhs.org/rtt/
---
Our Mission
To transform underprivileged and minority communities and individuals into informed and vibrant members of society through civic, educational and personal development programs, by fostering active participation in social and economic activity.
UNITED SIKHS is also an avenue for networking between like-minded organisations to establish and nurture meaningful projects and dialogues - whether social, cultural or political- to promote harmony, understanding and reciprocity in our villages, towns and cities.
UNITED SIKHS is a coalition of organisations and individuals, who share a common vision based on the belief that there is no greater endeavor than to serve, empower and uplift fellow beings. The core of our philosophy is an unwavering commitment to civic service and social progress on behalf of the common good.
Accordingly, UNITED SIKHS has sought to fulfill its mission not only by informing, educating and uplifting fellow beings but also by participating in cross-cultural and political exchanges to ensure that the promises and benefits of democracy are realized by all.
We at UNITED SIKHS believe that the development of enlightened and progressive societies can be made possible by socially conscious groups of people who make a commitment to develop and direct human potential. Our work, efforts and achievements stand as a testament to our faith in this vision.