Press Release: Sunday 13th November, 2005 (30th Katak, Samvat 537 Nanakshahi
UNITED SIKHS Finds 500 Families in Poonch (Kashmir) Still Waiting For Quake Relief Aid
500 houses damaged and 4 Sikhs Killed
YOU COULD HELP BUILD ONE SHELTER HOME FOR $500 (£300)
UNITED SIKHS Base Camp: Baramulla, J&K
Camp Coordinator: Bhai Esher Singh, 91-9906771207
To receive forthcoming bulletins join our Yahoo! group: PR_UNITEDSIKHS-subscribe@yahoogroups.com
USA: 1-888-243-1690, UK: 44- 870 1993328, INDIA: 91-9906771207
Bhai Esher Singh handing over the cash to a Sikh in need.
Srinagar, Jammu & Kashmir (J&K)—In the continuing effort to provide relief to Asian Quake survivors, UNITED SIKHS volunteers travelled to the Poonch district and found that relief aid had not reached this area, where 95% of the residents are Sikhs.
"The Poonch district, barely 70 km from Muzzafarabad, the epicentre of the quake, has suffered extensive damage, whereby six Gurudwaras (Sikh place of worship) were damaged and 300 houses were destroyed and 200 damaged. Residents fear that they will be without shelter before the onset of the harsh winter," said Bhai Esher Singh, the UNITED SIKHS team coordinator in Jammu and Kashmir. Click here for Bhai Esher Singh's update on the conditions in the Poonch district, which has 20,000 Sikh residents.
Local residents led by Harbans Singh, the Sarpanch (village chief ) of Gudpur village, informed UNITED SIKHS that the government has promised 100,000 rupees ($2,500) to each family whose home has been destroyed and 40,000 rupees ($1,000) to those with damaged homes.
A Family in front of their damaged home in Poonch.
"However we are told that we will only receive the cheques in 3 months. How will we survive the winter? We had received no relief aid from anyone until UNITED SIKHS arrived." said Harcharan Singh, President of the Singh Sabha Gurdwara in Poonch.
"The UNITED SIKHS team has provided emergency cash to 146 families in 6 villages, totalling 230,000 rupees ($6,000), and we will be returning with building supplies to help the worst hit villages in Poonch, where economic conditions are worse than the villages in Uri," said Bhai Esher Singh. Click here for list of names of Poonch villagers who received this cash relief.
"Even though Poonch is only 45 km from Uri, there is no direct link. From Srinagar, you have to travel to Poonch via Jammu and Rajourie," he explained why the cost of building material is higher in Poonch, which is cut-off from the rest of Kashmir.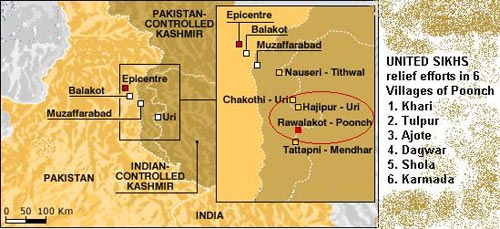 Hanwant Kaur, 24, an advocate of the district and sessions court in Poonch, said in a telephonic interview with UNITED SIKHS, "We need monetary support. More than 500 Sikh families in Poonch are affected by the earthquake. Winter has started and there is no roof over their heads. Most villagers are farmers and poor. Sikh women are highly educated and have post-graduate qualifications. However, they are unemployed with no job prospects in sight. It would be a blessing if the global Sikh community could help create more jobs in Poonch."
A Muslim family with Bhai Esher Singh in Poonch.
"There is no emergency medical facility in the village, nor any ambulance service to take people to nearby city for treatment. People die due to lack of transport" said Harcharan Singh. UNITED SIKHS is in the process of procuring an ambulance for Poonch, said Bhai Esher Singh.
7- month-old died.
The earthquake resulted in 4 Sikh fatalities. Kiran Kaur, 20, of Mohala Seesh Mahal, Poonch, died when a wall fall on her while she rushing out of her house. Balwant Singh, 80, of village Ajote died when a wooden log fell on his head during the quake. Sarswati Devi, 80, Poonch, died inside her house when the roof collapsed. Munna, 7 month old, son of Gurdial Singh, a farmer of Ajote village died when a roof collapsed on him.
Replete with old forts, Poonch, is an embodiment of rich Sikh history dating back to the days of Maharaja Ranjit Singh. Since then, Sikhs have been an integral part of this district. "I was touched by the Poonch community's spiritual fervour where 'children sang beautiful kirtan (hymns)," said Bhai Esher Singh.
To read the previous report on UNITED SIKHS relief work in Kashmir (India) see: www.unitedsikhs.org/PressReleases/PRSRLS-09-11-2005-00.htm
South Asian Earthquake Relief Links:
Issued by:
Kuldip Singh
Director
UNITED SIKHS
1-888-243-1690
---
---
Our Mission
To transform underprivileged and minority communities and individuals into informed and vibrant members of society through civic, educational and personal development programs, by fostering active participation in social and economic activity.
UNITED SIKHS is also an avenue for networking between like-minded organisations to establish and nurture meaningful projects and dialogues - whether social, cultural or political- to promote harmony, understanding and reciprocity in our villages, towns and cities.
UNITED SIKHS is a coalition of organisations and individuals, who share a common vision based on the belief that there is no greater endeavour than to serve, empower and uplift fellow beings. The core of our philosophy is an unwavering commitment to civic service and social progress on behalf of the common good.
Accordingly, UNITED SIKHS has sought to fulfil its mission not only by informing, educating and uplifting fellow beings but also by participating in cross-cultural and political exchanges to ensure that the promises and benefits of democracy are realized by all.
We at UNITED SIKHS believe that the development of enlightened and progressive societies can be made possible by socially conscious groups of people who make a commitment to develop and direct human potential. Our work, efforts and achievements stand as a testament to our faith in this vision.