Please Be Involved, Click here and Join UNITED SIKHS
To receive forthcoming bulletins join our UNITED SIKHS Yahoo group
To donate go to www.unitedsikhs.org/donate
This Press Release may be read online at: http://www.unitedsikhs.org/PressReleases/PRSRLS-13-09-2006-00.htm
Press Release: Wednesday, 13 September 2006, 29th Bhaadon, Samvat 538
Parent Power: Sikh Mother Tackles Illegal Question by Education Board
Carteret, New Jersey, USA: Linda Singh, mother of five, sought help from various organizations last month when she noticed that the Carteret Board of Education were asking an unlawful question pertaining to the immigration status of students on their re-registration form for the new school year.
UNITED SIKHS met with the Carteret Board of Education on August 24 2006 and persuaded them to review the unlawful question pertaining to immigration status on the student re-registration form for the Carteret public school system. The Carteret School Board Assistant Superintendent, Dennis Siddons, informed UNITED SIKHS that all schools in the Carteret School System would be sent an official notice on Monday September 11 clarifying that parents need not answer the question inquiring about the immigration status of their child.
Linda Singh, a resident of Cateret, said, "I'm happy they are sending a correction letter and I look forward to hearing the good news from my children's school. It's a small step but a step in the right direction of protecting the Sikh community's rights. I'm happy to have been involved in that and I hope more people would too."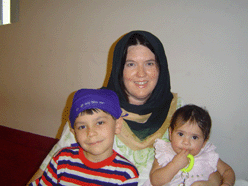 Linda Singh with son Dashvinder Singh , 5, and daughter Amrit Kaur , 8 months
The news comes as ACLU released the findings of their 9 month study which shows that one quarter of schools they surveyed were illegally requesting such information from school children.
To verify that children attending township schools do actually reside in town many school districts in NJ conducted a re-registration drive just before the start of the new school year this month. In late August Linda Singh sought the help of various organizations including UNITED SIKHS, the American Civil Liberties Union (ACLU) and Sikh American Legal Defense and Education Fund (SALDEF) when she noticed questions relating to the birthplace of children not born in the United States on the form. She pursued the case because she felt that questions asking about the child's immigration status were intrusive and "not quite right".
Facing increasing pressure in the media, the Carteret School District has now decided to make official their prior verbal assurance that leaving the contentious question blank would not invite negative repercussions on the parents.
Kuldip Singh of UNITED SIKHS Director noted, "It is important for people to be vigilant and to question their elected officials if they see something they feel is unfair or unlawful. It all comes down to individual responsibility and taking proactive action."
ACLU of New Jersey released the results of a nine-month survey showing that one out of four schools in New Jersey were in violation of the law when they asked for information such as social security numbers or immigration status. It is in such instances that advocacy organizations like ACLU, UNITED SIKHS and SALDEF help individuals and communities find their voice.
Issued by:
Rajdeep Kaur
Program Coordinator
UNITED SIKHS
1-888-243-1690

---
Our Mission
To transform underprivileged and minority communities and individuals into informed and vibrant members of society through civic, educational and personal development programs, by fostering active participation in social and economic activity.
UNITED SIKHS is also an avenue for networking between like-minded organisations to establish and nurture meaningful projects and dialogues - whether social, cultural or political- to promote harmony, understanding and reciprocity in our villages, towns and cities.
UNITED SIKHS is a coalition of organisations and individuals, who share a common vision based on the belief that there is no greater endeavour than to serve, empower and uplift fellow beings. The core of our philosophy is an unwavering commitment to civic service and social progress on behalf of the common good.
Accordingly, UNITED SIKHS has sought to fulfil its mission not only by informing, educating and uplifting fellow beings but also by participating in cross-cultural and political exchanges to ensure that the promises and benefits of democracy are realized by all.
We at UNITED SIKHS believe that the development of enlightened and progressive societies can be made possible by socially conscious groups of people who make a commitment to develop and direct human potential. Our work, efforts and achievements stand as a testament to our faith in this vision.