Please Be Involved, Click here and Join UNITED SIKHS
To receive forthcoming bulletins join our UNITED SIKHS Yahoo group
To donate go to www.unitedsikhs.org/donate
This Press Release may be read online at: http://www.unitedsikhs.org/PressReleases/PRSRLS-13-05-2009-00.htm
Press Release: 13th May 2009, Wednesday 29th Vaisakh (Samvat 541 Nanakshahi )
Press Release
SIKHS FEED MAY DAY AND PEACE ACTIVISTS
Toronto, Canada – On Saturday, May 2nd 2009, UNITED SIKHS volunteers provided langar (meal prepared in a Sikh community kitchen), at the May Day demonstrations, feeding thousands who attended from over sixty grassroots organizations who had arrived in bus-loads from Scarborough, Mississauga, Brampton, Hamilton, and Guelph. After, providing a meal consisting of samosas and chickpea soup, the meals prepared were then transported and delivered to a demonstration by the Tamil community as they voiced their desire for peace in their native land of Sri Lanka.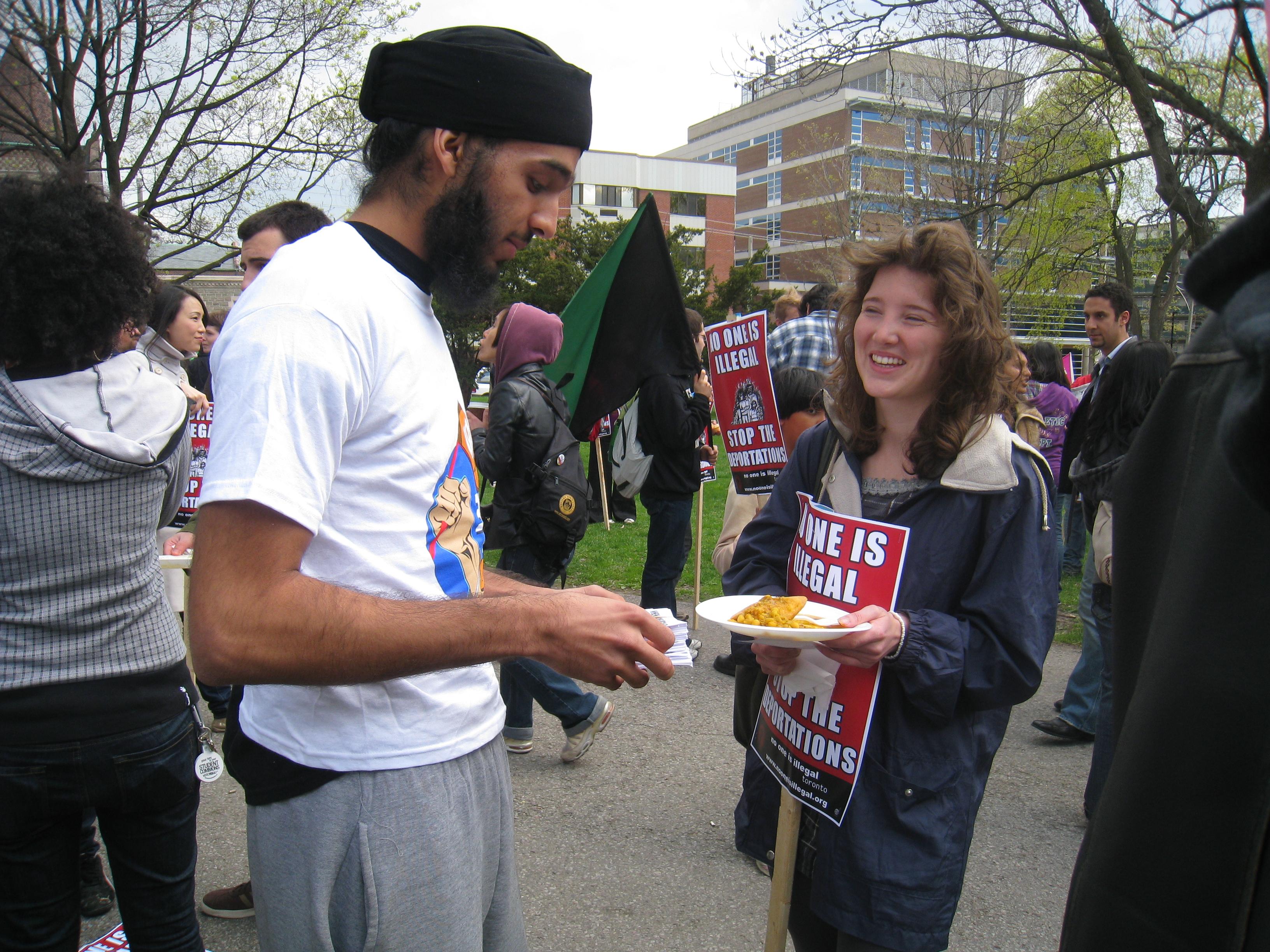 While speaking to UNITED SIKHS coordinator, Amneet Singh, Farrah Mirranda - an organizer of the May Day demonstrations commented, "I thank UNITED SIKHS for your generous contribution to the May 2nd 'No One Is Illegal Day of Action.' By providing us with food, you're enabling thousands of people from poor, homeless, and undocumented communities to march on a full stomach and assert their rights to live with dignity and respect."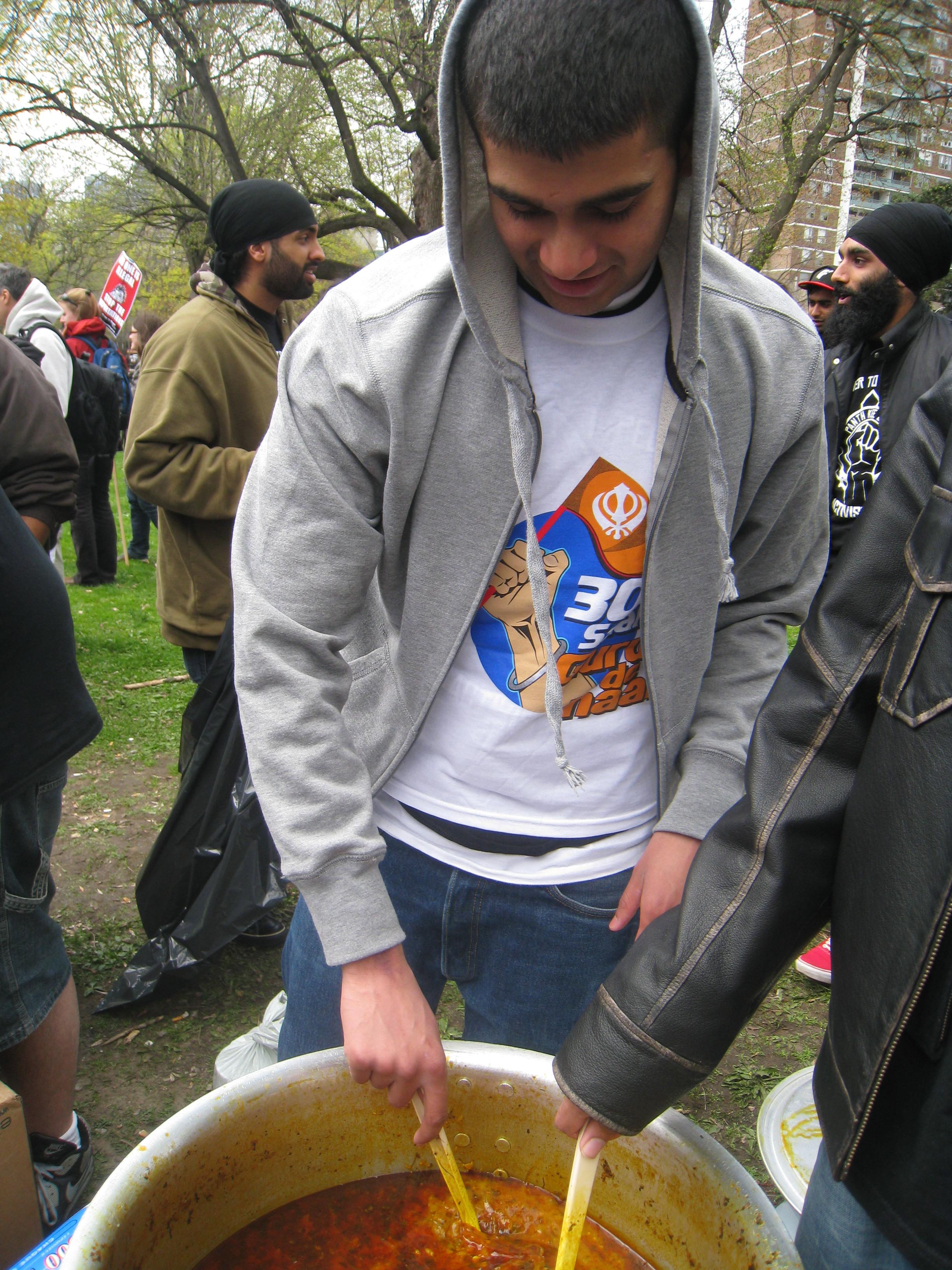 Since UNITED SIKHS was set up in Canada in 2006, we have been fighting for marginalized, racialized, and underprivileged people. More recently, we have achieved this by working with the Sikh Youth in Toronto, Ontario, Canada to assist and support grassroots organizations involved in similar work.
As a part of our assistance to address needs-based services and rights, UNITED SIKHS has developed an apolitical relationship with numerous grassroots organizations. As a part of this relationship, UNITED SIKHS has focused on spreading the universal message of the first Sikh Guru, Sri Guru Nanak Sahib Ji, by providing langar to Toronto's Sikh and non-Sikh grassroots communities.
The impartiality in the delivering of langar was inspired by the example of Bhai Ghanaiya Ji, who served in Guru Gobind Singh's army 300 years ago, who gave water and treated all the wounded on the battlefield, friend or foe, without discrimination.
For more information on how you can get involved please, contact UNITED SIKHS to sponsor a langar and/or seva event. You can become a UNITED SIKHS volunteer at www.unitedsikhs.org/join or provide a financial contribution at http://www.unitedsikhs.org/donate.
You may read a previous press release on UNITED SIKHS' Feed the Hungry project at http://www.unitedsikhs.org/PressReleases/PRSRLS-27-04-2009-00.htm
Baljit Singh
Director
UNITED SIKHS Canada
1-905-672-2245
Unitedsikhs-canada@unitedsikhs.org

---
Our Mission
To transform underprivileged and minority communities and individuals into informed and vibrant members of society through civic, educational and personal development programs, by fostering active participation in social and economic activity.
UNITED SIKHS is also an avenue for networking between like-minded organisations to establish and nurture meaningful projects and dialogues - whether social, cultural or political- to promote harmony, understanding and reciprocity in our villages, towns and cities.
UNITED SIKHS is a coalition of organisations and individuals, who share a common vision based on the belief that there is no greater endeavour than to serve, empower and uplift fellow beings. The core of our philosophy is an unwavering commitment to civic service and social progress on behalf of the common good.
Accordingly, UNITED SIKHS has sought to fulfil its mission not only by informing, educating and uplifting fellow beings but also by participating in cross-cultural and political exchanges to ensure that the promises and benefits of democracy are realized by all.
We at UNITED SIKHS believe that the development of enlightened and progressive societies can be made possible by socially conscious groups of people who make a commitment to develop and direct human potential. Our work, efforts and achievements stand as a testament to our faith in this vision.