Faiths Act Fellows to Launch the Spring of Solidarity Campaign in March
Highlights
The Spring of Solidarity Campaign will unite 25 congregations in action and giving around global health and hunger. The

common action will support an interfaith anti-malaria project in Sierra Leone and the Sri Guru Nanak food bank in Kenya.

For more information about the campaign, visit:

www.unitedsikhs.org/solidarity

New York, NY -- UNITED SIKHS and the Faiths Act Fellows, Nomi Teutsch and Hannah Shirey, are thrilled to announce the launch of the Spring of Solidarity Campaign. The campaign is set to begin on March 25th, the first Sunday of Spring. The Spring of Solidarity will bring around 25 faith communities from all 5 boroughs together to mark World Malaria Day, create lasting relationships and make a difference on the local and global scales through doing service and raising funds.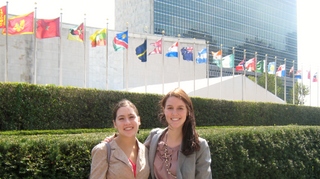 Nomi and Hannah attending a meeting of the Committee of Freedom of Religion or Belief at the United Nations

The Spring of Solidarity will stretch from March to June and will be a time in which New York City's multitude of faith communities can work together for the common good. Funds raised throughout the campaign will go to two projects related to global health and hunger crises: The Faiths Act Anti-Malaria Project in Sierra Leone and the Sri Guru Nanak Food Bank in Nairobi, Kenya.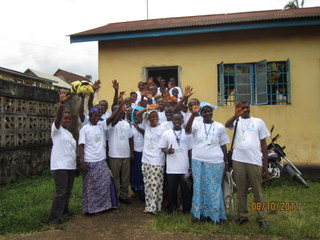 Malaria Faith Ambassadors after a training session in Bo, Sierra Leone

The campaign will launch with an exciting and innovative SolidariTEA gathering on March 25th that will bring together community members for tea and desserts. Rev. Chloe Breyer, Executive Director of the Interfaith Center, and Ruth Messinger, President of American Jewish World Service will address issues at the heart of the campaign with inspiring dialogue on the intersection of local interfaith work and global social justice. Tickets for the SolidariTEA will be available for purchase at the door on a sliding scale of $25 - $50. We hope members of the UNITED SIKHS community will come out in full force!
On March 25th, we will launch the campaign with a SolidariTEA gathering.

In April, each congregation will mark World Malaria Day.

In May, we will have Solidarity Through Service, a day of neighborhood-based volunteering

And in June, we will end the campaign with an Empty Bowl Dinner to raise awareness and funds for the famine in East Africa, as well as celebrate the collective impact of the member congregations.
We invite communities and individuals to get involved and make this Spring of Solidarity their own. We will take action together to make lasting local relationships that support positive development on a global scale.
If you would like to be involved, contact Faiths Act Fellows Hannah and Nomi at hannah.shirey@unitedsikhs.org and nomi.teutsch@unitedsikhs.org.
Visit the Spring of Solidarity website: www.unitedsikhs.org/solidarity
Hannah Shirey and Nomi Teutsch are serving as Faiths Act Fellows for the 2011-2012 year in New York City. Based at UNITED SIKHS, a community-based U.N.-affiliated non-profit organization, they are working to bring faith communities in NYC together to fight injustice. With a specific focus on the issues of health and hunger, they are working to support an interfaith anti-malaria project in Sierra Leone and a Sikh food bank in Kenya. Locally they work to build meaningful relationships through service and engagement among people of different faiths around the city. To learn more about the Faiths Act Fellowship, go here.