Please Be Involved, Click here and Join UNITED SIKHS
To receive forthcoming bulletins join our UNITED SIKHS Yahoo group
To donate go to www.unitedsikhs.org/donate
This Press Release may be read online at: http://www.unitedsikhs.org/PressReleases/PRSRLS-13-03-2008-00.htm
Press Release: 13th Mar 2008, Friday, 31st Phalgun (Samvat 539 Nanakshahi )
Washington State Issues Revised Guidelines Allowing Turbans
Join US in Fighting Religious Discrimination on Photo IDs
To report discrimination regarding your photo ID, click here: http://unitedsikhs.org/photoidreport
Seattle, WA, USA: In a victory for the Sikh community of Washington State, the Department of Licensing issued revised guidelines to its employees regarding religious headgear, late last month. UNITED SIKHS and the Sikh community applaud Governor Christine Gregoire's Office and the Department of Licensing for their swift action in rectifying this issue. Salwinder S. Atwal, Gurpreet Singh, and Kundan Singh have all received their licenses, including pictures with their turbans as they are normally worn.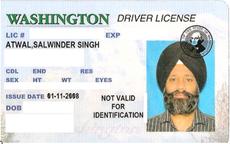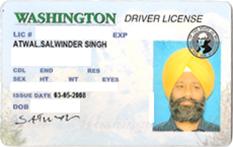 Washington Department of Licensing originally issued Salwinder S. Atwal a license with the notation "Not Valid for Identification." After UNITED SIKHS intervened, the Department of Licensing issued a new license that was valid for identification.
- If a licensing official tells you to take off or lift your turban for a photo id, you have the right to say no.
- Tell the licensing official that you always wear your turban, it is a religious requirement, and that it is part of your everyday appearance.
- If the licensing official states that you cannot obtain a license without removing your turban, or prints "not valid for identification on the license," write down the details of the incident (date, location, what happened), official's information (name, id number, and phone), and ask for a copy of the specific guidelines the official is following.
- Contact UNITED SIKHS immediately to report your incident, by clicking here or by telephone at 1-888-243-1690.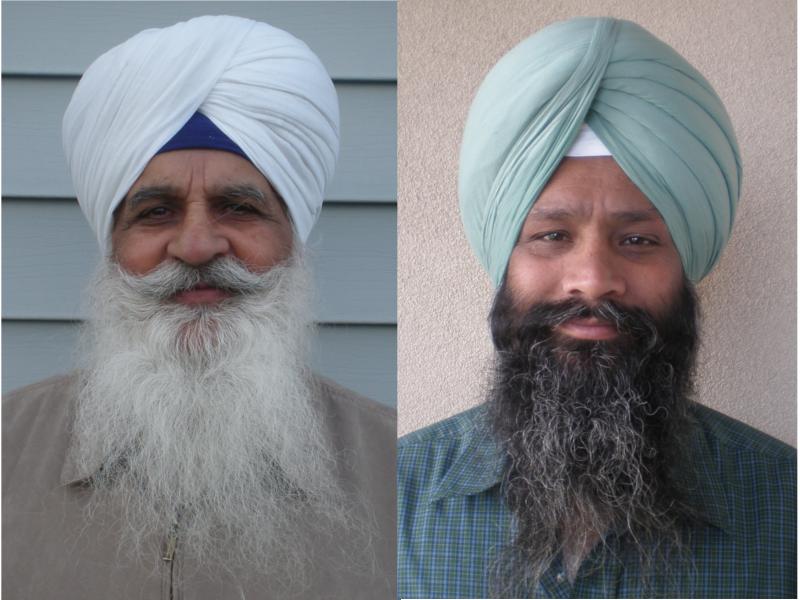 "I appreciate UNITED SIKHS taking such swift action in resolving this matter. I hope other Sikhs who face this issue will report it quickly so that they may receive a new license." - Salwinder S. Atwal
Within the last two months, as the Sikh gentlemen sought to renew their driver's licenses, they had been asked to remove their turbans or to lift them so that their hairline and ears were visible. Despite repeated explanations that Sikhs wear the turban for religious reasons and that the turban is part of their everyday appearance, Department of Licensing officials remained adamant, stating that Washington law required the hairline and ears to remain visible in photo identification. The Sikh men refused, which resulted in the Department of Licensing issuing the men driver's licenses marked "Not Valid of Identification."
In a letter addressed to UNITED SIKHS, Mykel Gable, Assistant Director of the Department of Licensing in Washington stated, "In researching Mr. Atwal's experience, we found the language in our employee procedure manual may have confused our staff. We are taking this opportunity to clarify the language in the employee manual to avoid a similar incident in the future."
The newly issued amendments to the employee manual specify that headgear should be removed "unless worn daily for religious or medical reasons," and further clarified that religious garb cannot conceal facial features, such as the eyes, nose, or mouth.
"We value the Governor's Office and Department of Licensing's cooperation in issuing clarifications and immediately implementing them state-wide to make sure that such types of discrimination do not occur in the future, against Sikhs or any others," said Harpreet Singh, Legal Director of UNITED SIKHS. "We are continuing to monitor discrimination regarding photograph identification nationwide and hope that other incidents are handled as professionally and efficiently as the State of Washington handled this one."
UNITED SIKHS would like to thank Governor Gregoire and Lee Marchisio of the Governor's office for their cooperation, as well as the Gurdwara Singh Sabha of Washington's community activists Satwant and Gurcharan S. Dhaliwal, Jaswinder S. Pannu, President Harinderpal Singh Bains, ACLU of Washington, Hate Free Zone, Hardeep S. Rekhi, and Asian Pacific Islander Coalition for their assistance and efforts to resolve these cases. "I appreciate UNITED SIKHS taking such swift action in resolving this matter. I hope other Sikhs who face this issue will report it quickly so that they may receive a new license," stated Salwinder S. Atwal.
Report your experiences, positive or negative, when applying for identification documents, so that we are able to present a complete picture of discriminatory practices against Sikhs to the appropriate authorities, at http://unitedsikhs.org/photoidreport/, or by telephone at 1-888-243-1690. As we continue to monitor discrimination nationwide, UNITED SIKHS urges all people to stand up for their constitutionally guaranteed rights, and urges the Sikh community to practice their faith freely and wear their turbans and articles of faith.
Click here to read the complete letter from Mykel Gable, Assistant Director of the Department of Licensing in Washington.
Click here to view the amendments to the manual.
For an earlier press release on UNITED SIKHS' initiative to combat religious discrimination for photograph identification, please visit: http://www.unitedsikhs.org/PressReleases/PRSRLS-26-02-2008-00.htm.
Issued by
Jaspreet Singh
Staff Attorney
International Civil and Human Rights Advocacy (ICHRA)
UNITED SIKHS
646-315-3909

---
Our Mission
To transform underprivileged and minority communities and individuals into informed and vibrant members of society through civic, educational and personal development programs, by fostering active participation in social and economic activity.
UNITED SIKHS is also an avenue for networking between like-minded organisations to establish and nurture meaningful projects and dialogues - whether social, cultural or political- to promote harmony, understanding and reciprocity in our villages, towns and cities.
UNITED SIKHS is a coalition of organisations and individuals, who share a common vision based on the belief that there is no greater endeavour than to serve, empower and uplift fellow beings. The core of our philosophy is an unwavering commitment to civic service and social progress on behalf of the common good.
Accordingly, UNITED SIKHS has sought to fulfil its mission not only by informing, educating and uplifting fellow beings but also by participating in cross-cultural and political exchanges to ensure that the promises and benefits of democracy are realized by all.
We at UNITED SIKHS believe that the development of enlightened and progressive societies can be made possible by socially conscious groups of people who make a commitment to develop and direct human potential. Our work, efforts and achievements stand as a testament to our faith in this vision.