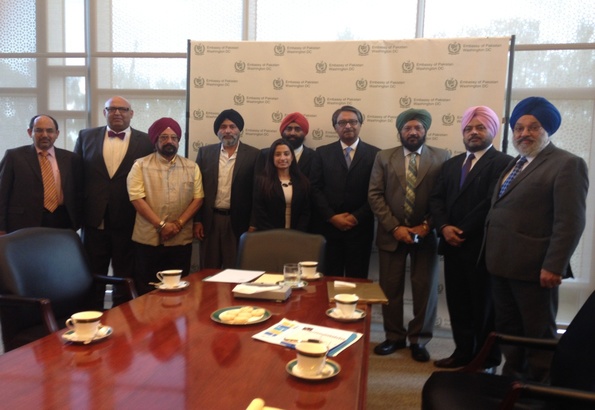 UNITED SIKHS Policy Advocate Anisha Singh and Sikh community members meet Pakistan Ambassador Mr. Jalil Abbas Jilani to discuss the dire state for Peshawar Sikhs.
Highlights-
Fight for Sikhs' safety in Pakistan continues

UNITED SIKHS' Advocacy team engages Pakistan Ambassador, Department of State, US embassy in Pakistan, Canadian MP's, Pakistan's Chief Minister KP,Secretary Home & Tribal Affairs Department KP, Core Commander Peshawar, senators and other law enforcement agencies regarding safety and security of Sikhs in Peshawar.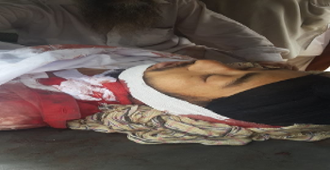 Victim of recent terror attack on Sikhs, 17-year- old Jagmohan Singh.

Peshawar,Pakistan - It has now been a year since many Sikhs have been killed or kidnapped in Peshawar. Recently, on August 6, 2014, Sikh teenager Jagmohan Singh, was shot and killed in the busy Shabab Market in the Hashtnagri area of Peshawar.On September 3, 2014, Aamarjeet Singh was also stabbed to death inside his shop in Shaheedan Bazaar. Three days later, Harjeet Singh was killed in Nothia Bazaar. These incidents are just a few examples showing the worsened state of affairs for minorities in Peshawar, instilling fear and tensions among the community. Read more here.
UNITED SIKHS has actively been on the ground in Peshawar, keeping in touch with Peshawar's 135 Sikh families and providing resources and valuable assistance when possible. We have also continued dialogues with government officials on every level urging for accountability, security, and justice in Peshawar.
UNITED SIKHS Takes Action:
Pakistan Ambassador to the United States:
In October, we met with Ambassador Jalil Abbas Jilani of the Islamic Republic of Pakistan to the United States of America at the Pakistan Embassy in Washington, DC. We raised concerns for the safety of Sikhs in Peshawar.
Calling the deaths in Peshawar a "national loss", the Ambassador expressed deep sorrow for the Peshawar and global Sikh community. He further spoke of the overwhelming support by his office for Sikhs in Pakistan,given the rich Sikh history there. Furthermore:
The Ambassador has written to the Ministry in Islamabad to bring attention to the distressing situation for Pakistan's Sikh community. He has specifically requested the need for strengthening security for areas where Sikhs reside.

He further assured that the KP government is increasing security levels.
United States Department of State (DOS):
As we continue our conversations with DOS, they have assured us:
DOS is continuing to raise the Sikh community's concerns in dialogues with Pakistani officials and in their upcoming DOS report.

Cases in Peshawar were raised in the recent release of the Department of State 2013 Report found here.This report is used by embassies, agencies, and governments around the world to reference what issues to address in any given country.

All new cases should be reported to their department so they may be added to next year's report. For individuals under threat, DOS will assist on a case by case basis. Individual's contact information must be provided for the department to investigate their situation and assist them.
United States Embassy in Pakistan:
We have also been communicating with representatives covering human rights and religious freedom at the United States Embassy in Pakistan. UNITED SIKHS has been told:
The Embassy is tracking the recent onset of killings in the Peshawar Sikh community.

Resources are available in Pakistan to provide advocacy and additional security measures for the Sikh community.
Local Assistance Continues:
In Peshawar, our team has met with the Chief Minister KP, Secretary Home & Tribal Affairs Department KP, Core Commander Peshawar, senators and other law enforcement agencies regarding safety and security of Sikhs in Peshawar. We have been assured that:
Concrete measurements will be taken for the protection of the Sikh Community in Peshawar.
While many families have also migrated to the Panjab province, some are still receiving death threats and demand for monetary bribes on their cell phones.
Since December 2009,UNITED SIKHS has provided assistance to rehabilitate affected families who had to flee their homes in the Federal Administered Tribal Areas (FATA) of Pakistan due to threats from the Taliban and the communal conflict. Read about our efforts here.
UNITED SIKHS has also been in communications with Canadian MPs about the issues and written to the Consulate General of Pakistan, Consul General Raja Ali Ejaz in New York urging him to seek assistance,justice, and added resources for Peshawar Sikhs.
As we continue our advocacy efforts to assure Peshawar Sikhs are being assisted and provided local resources, please contact us at law-global@unitedsikhs.org if you, or anyone you know in the Peshawar Sikh community is in need of assistance.
Click here to see our previous work for the Peshawar Sikh community.
We are committed to assisting in every way we can and appreciate your continued support so we may continue to advocate for Sikhs around the world.

Issued By:
Anisha Singh
Staff Attorney and Policy Advocate
International Civil and Human Rights Advocacy (ICHRA)
UNITED SIKHS
law-global@unitedsikhs.org